WND Vastly Overstates Kari Lake's Minor Legal Win
Topic: WorldNetDaily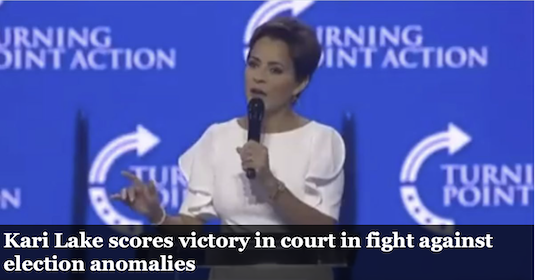 Bob Unruh gushed in a March 23 WorldNetDaily article:
Arizona gubernatorial candidate Kari Lake, who was leading in the polls but was told she lost to Democrat Katie Hobbs at the ballot box, has scored a victory in her legal challenge to the legitimacy of that election.

The Arizona Supreme Court has ruled that a part of her lawsuit must go back to trial court – where it must be determined whether Maricopa County followed the required signature verification practices in 2022.

According to Just the News, the lower court was told, "IT IS FURTHER ORDERED remanding to the trial court to determine whether the claim that Maricopa County failed to comply with A.R.S. § 16-550(A) fails to state a claim pursuant to Ariz. R. Civ. P. 12(b)(6) for reasons other than laches, or, whether Petitioner can prove her claim as alleged pursuant to A.R.S. § 16-672 and establish that 'votes [were] affected 'in sufficient numbers to alter the outcome of the election'' based on a 'competent mathematical basis to conclude that the outcome would plausibly have been different, not simply an untethered assertion of uncertainty.'"

Lake has brought up several allegations of election system failures after the election. For instance, she charges that Republican voters, who more likely vote on election day rather than by early voting methods, were disenfranchised when vote machine in at least 60% of the voting centers in Maricopa County failed on election day.

Lake, in a statement released after the court decision, said, "I am thrilled that the Supreme Court has agreed to give our signature verification evidence the appropriate forum for the evaluation it deserves."
Unruh failed to report that Lake actually saw most of the claims she made rejected. As a more honest and truthful media outlet reported, Lake made seven claims, and the court rejected six of them. He also censored the fact that the court also ruled that state officials can seek sanctions against Lake for bringing frivolous claims. Unruh failed to do any sort of analysis of Lake's claims, and thus ignored one observer who pointed out that even if errors are found in the signature verification process, it's unlikely to be widespread and even more unlikely to overturn Lake's loss.
The only allusion Unruh made to the fact that many other things happened beyond this narrow ruling came in the very last paragraph of his article, when he quickly noted that "The state court declined to review other points that Lake had raised." That's it. No wonder nobody takes WND seriously as a "news" outlet.
Posted by Terry K. at 8:58 PM EDT