MRC Complains About Media Coverage of Trump Indictment
Topic: Media Research Center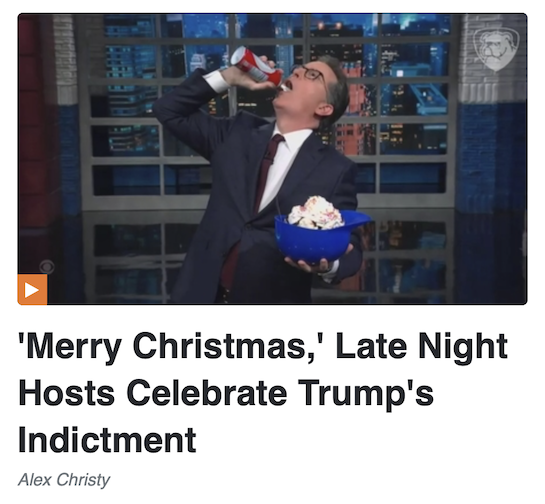 The Media Research Center spent its time in anticipation of an indictment of Donald Trump by engaging in whataboutism diversions and trying to tie his prosecutor, district attorney Alvin Bragg, to George Soros. When Bragg's indictment of Trump finally came down on March 30, the MRC spent a lot of time whining that it was reported on. Alex Christy complained that jokes were told about it:
For the late night comedy show hosts and their audiences, the Thursday indictment of former President Trump was more of a chance to enjoy a cathartic experience than anything else. However, buried beneath their joy was the sense that they haven't completely thought through the ramifications.

CBS's Stephen Colbert could not contain his glee as he opened The Late Show, "Ladies and gentlemen today I'm feeling a little extra American. One reason, today is baseball's Opening Day! Here in New York—here in New York—here in New York it was 40 degrees, but I still ate ice cream out of a baseball helmet. Why? Oh, just a little something worth celebrating today because literally three minutes before I walked out on this stage here, the New York Times reported a New York grand jury voted to indict former President Donald J. Trump."

Colbert was so happy that he broke his self-imposed embargo on mentioning Trump's name. After over 30 seconds of cheering from the audience during which he did eat ice cream out of a baseball helmet, Colbert declared, "he was right, we're finally saying Merry Christmas again!"
Curtis Houck got his pro-Trump "Soros-backed" talking points on Bragg and whined about a certain Democratic senator opined on it:
Friday's CBS Mornings featured a whopping 24 minutes and 53 seconds on the indictment of former President Trump by far-left, Soros-backed Manhattan DA Alvin Bragg and it included their latest nauseating interview with Senator Elizabeth Warren (D-MA). Co-host and Democratic donor Gayle King steered much of the conversation with softballs on Trump and a plea for gun control with her co-hosts touching on banking and TikTok.

[...]

She later added she found it "Trump is calling for, in his words, death and destruction" along with "allies to rally behind him" and "show out."

"Are you worried about violence in the streets," she asked.

Co-host Nate Burleson chimed in to decry Trump using "dangerous rhetoric," which gave King a shot to reemphasize her concern: "Yeah. It's very – I'm very concerned about that."

"It is dangerous," Warren replied, "and violence is never the answer. This is part of the reason we have a court system so that we don't resolve these things in the streets."

A forlorn King made one last plea on Trump: "Are you worried about it? Are you worried about it?"

Of course, Warren said she's "always worr[ied] about violence."
Houck didn't explain why Americans shouldn't be worried about a threat of violence from Trump, especially when he instigated an attempted insurrection.
Christy returned to complain some more:
With former President Trump being indicted there was bound to be some cable news historian who reached for an outlandish analogy while attempting to wax poetic on the news and Douglas Brinkley delivered on Friday's CNN Newsroom, declaring Trump's upcoming mugshot will be like the wanted poster for John Wilkes Booth.

[...]

Getting to Trump specifically, Brinkley claimed, "Now we're set up to see the biggest reality show that's actually real come to life and watching a the-- I can't even think of an artifact except maybe wanted John Wilkes Booth after the Lincoln assassination of a wanted poster or a mugshot that's going to be circulating around the world in the kind of way that this one of Donald Trump is."

It says more about Brinkley and his fellow liberals that they would analogize the alleged falsification of business records with the assassination of a president. More to the point, New York doesn't release mugshots, so those wanting that "artifact" should prepare to be disappointed.
Kathleen Krumhansl similarly groused that "While the Latino networks quickly buried Monday's deadly Nashville school shooting when it was learned that the assassin was a deranged transsexual, the prospect of a dream coming true in the shape of a Donald Trump mug shot was too much to ignore." As it turned out, the person who really wanted a Trump mugshot was Trump himself, whose own online store started selling a T-shirt with a fake mugshot on it.
Kevin Tober laughably attacked the hosts of "The View" as "immature and vindictive" when talking about Trump while, at the same time, immaturely and vindictively describing their audience as made up of "suburban liberal wine moms":
Ignorant legal commentary and gloating over Trump's reported indictment was the theme Friday on ABC's The View as the clucking hens who make up the cast made sure to let their audience know how immature and vindictive they were.

After setting their audience up to believe the coven was about to discuss the indictment of Trump, a soundbite of the jury in the Gwyneth Paltrow case was aired. That got a laugh from the suburban liberal wine moms in the audience.

"In other legal news," co-host Joy Behar announced before gloating how "the twice impeached, one term, once indicted, but who's counting? Former President is reportedly facing more than 30 count them—criminal charges."

[...]

Butting in once again to showcase her chronic hatred of the former President, Navarro said she wanted to "thank this special grand jury" because they are "regular New Yorkers" and "not people with a political agenda."

Getting in another juvenile shot at Trump, she shouted that he "finally won a popular vote yesterday. The Grand Jury voted to indict him!"
Tober couldn't even settle on an animal insult for the "View" hosts, starting off by sneering they were "clucking hens" but at the end declaring they were "hyenas." Looks like Kevin is the real juvenile here.
Mark Finkelstein spent an April 1 post bashing "Morining Joe" for talking about it:
From fascism to the Forbidden Fruit, and more, Morning Joe had it all on Friday when it came to the indictment of Donald Trump.

Al Sharpton gloried in the fact that Alvin Bragg, "a black man whose great-grandfather had no rights," could indict the former most powerful person in the country. Obviously, if a black Republican indicted a Democrat, this wouldn't be celebrated as cosmic comeuppance on MSNBC.

[...]

In a country-club allusion, Meacham referred to mainstream Republicans like Gov. Glenn Youngkin of Virginia: "These are men's grill enablers, right? These are 19th hole enablers of a quest for power above all." Jon the Preacher suggested our American experiment could die because Republicans obsess over "tax rates above all."

Joe Scarborough, fulfilling his contractual obligation to work "fascism" into every conversation concerning Trump, then added "the men's grill enablers of Trumpism, a form of fascism. Hope those drinks on the 19th hole are enjoyable for 'em."

Morning Joe and the rest of the liberal media might revel in Trump's predicament. But our country is headed into uncharted waters from which no one might emerge a winner. At least Willie Geist was willing to suggest that it's possible that a judge will dismiss the whole thing.
Nicholas Fondacaro attacked "The View" again for talking about the Trump indictment in an April 3 post, asserting that co-host Whoopi Goldberg spread "disinformation" in suggesting that Trump was "lying to the FEC" by bragging about how much money he has raised in fund-raising done since the indictment. He didn't explain what, exactly, was "disinformation."
Posted by Terry K. at 10:41 PM EDT
Updated: Wednesday, May 10, 2023 11:12 AM EDT