CNS Unemployment Coverage Distortion Watch: Final Edition
Topic: CNSNews.com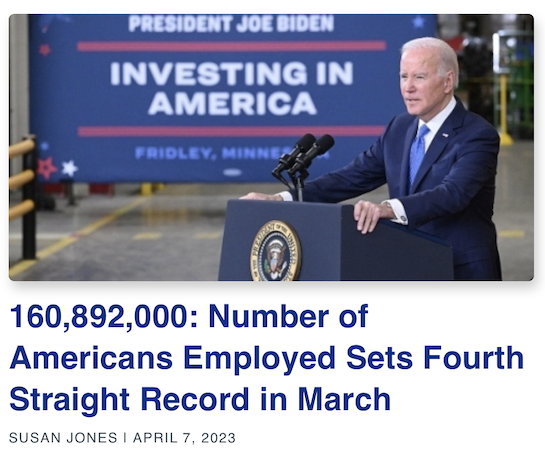 CNSNews.com's final report on monthly employment numbers -- two weeks before the website was shut down -- continued the trend of previous months in which the employment news was so good that writer Susan Jones had trouble find bad news to cherry-pick (as it does when a Democratic president is in office) in her lead article:
After setting three straight monthly records, the number of employed Americans leaped again last month, reaching another all-time high in March.

The Labor Department's Bureau of Labor Statistics says 160,892,000 Americans were employed last month, an increase of 577,000 over February's record 160,315,000.

BLS defines employed Americans as those who, during the reference week, did some work for pay or profit, or did at least 15 hours of unpaid work in a family-operated business.

As the number of employed Americans jumped again last month, the number of unemployed Americans -- no job, but looking -- dropped by 97,000, producing an unemployment rate of 3.5 percent, down a tenth of a point from February. (The 3.4 percent unemployment rate in January was the lowest it's been since 1969.)
She did, however, dig up a number that was just slightly below expections, which gave her license to hype "less positive" news: "But on a less positive note, BLS says the non-farm economy added 236,000 jobs last month, below estimates of around 239,000 and the lowest number of jobs created since December 2021. BLS said job creation has averaged around 334,000 in the prior six months."
The only sidebar was the usual one from editor Terry Jeffrey on government employment, grousing that it "increased by 47,000 in March, climbing from 22,510,000 to 22,557,000." He didn't explain why this is the bad thing he clearly wants us to believe it is.
(Because the CNS website has been deleted from the internet, the above article links go to the Internet Archive, where the rest of the the CNS website can be found.)
Posted by Terry K. at 2:24 PM EDT