MRC Melts Down Over Pride Nights At Hockey Games, Defends Players Who Won't Take Part
Topic: Media Research Center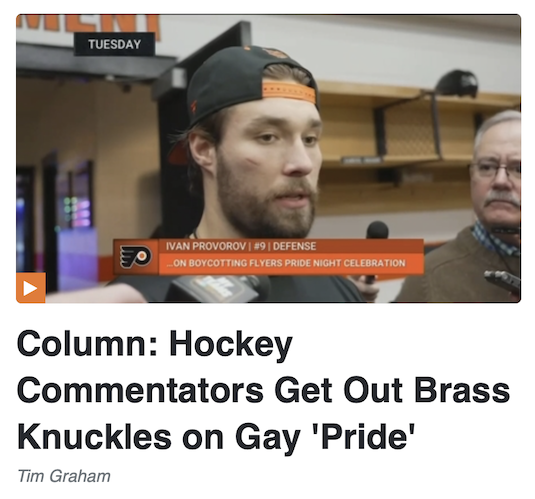 The sports bloggers at the Media Research Center not only hate LGBT people, they hate sports teams that refuse to hate them -- and the defend professional athletes who do. When an NHL player refused to wear a pride-themed warmup jersey, though, it was MRC executive Tim Graham who rushed to his defense in his Jan. 20 column:
On January 17, Philadelphia Flyers defenseman Ivan Provorov infuriated sports journalists when he refused to wear a rainbow jersey for warm-ups during "Pride Night," citing his Russian Orthodox faith. "I respect everybody and I respect everybody's choices. My choice is to stay true to myself and my religion."

On the NHL Network, analyst E. J. Hradek trashed Provorov, who moved from Russia to Pennsylvania when he was 13, saying he should go back to Russia and fight in Ukraine. "Ivan Provorov can get on a plane any day he wants and go back to a place where he feels more comfortable, take less money and get on with his life that way if it's that problematic for him," he said. "If it bothers you that much, there's always a chance to leave, go back to where you feel more comfortable — I understand there's a conflict of sorts going on over there, maybe get involved."

For their part, the Flyers didn't punish Provorov, but offered their usual corporate expressions of support for LGBTQ "pride."
Graham responded by playing the religion card, as if that makes it OK to hate LGBT people:
Journalists should know that sometimes, religious people are trying to put themselves on the right side of God, not the so-called "right side of history."

[...]

Here in America, we still have freedom of religion, even if our sports journalists no longer believe in it. Here in America, people still watch sports for the action, not for the political woke-stakes. Here in America, we can't imagine why someone would want to live in the suffocating censorship that's emerging in Canada. Let freedom ring.
Jeffrey Lord's column the next day quoted Graham's defense, then added a defense of his own with an assist from Fox News:
Got that? Hockey star (and Russian) Ivan Provorov had the nerve - the nerve!- to stand up for his religious beliefs, making it plain that "I respect everybody and I respect everybody's choices. My choice is to stay true to myself and my religion."

And with that the NHL Network's analyst E. J. Hradek freaks out.

[...]

Notably, there was also this from Fox News: Ivan Provorov jerseys selling out online after media condemned him for not wearing Pride-themed jersey

Imagine that. Hockey fans who rebel against being forced to be woke.

One can only wonder what Hradek would say if Provorov were a Muslim, and said he wouldn't wear the "gay pride" jersey because it would violate his Islamic faith. One suspects the cat would suddenly have Hradek's tongue.
Sports blogger John Simmons raged at a minor-league hockey team's pride night in a Feb. 17 post:
Pride nights are not just a major occurrence on the schedules of NHL teams. Minor league hockey clubs are going to great lengths to host LGBT-themed events as well.

The Manitoba Moose - the American Hockey League (AHL) affiliate of the Winnipeg Jets since 2015 - announced that it will host a Pride Night on Saturday that will serve as a fundraiser for Rainbow Resource Centre.

"The 2022 Pride Game aims to create a safe and welcoming atmosphere where all fans feel welcome regardless of their ethnicity, race, religion, gender identity or sexual orientation," a press release from the team announced. So by implication, the rest of the Moose games are lawless, horrific scenarios of tribal bloodletting -- "The Lord of the Flies" with beer and donuts.

But on Pride night, the fans put away their sharpened sticks and beat their scalping knives into rainbows. "This game showcases that hockey holds no biases and truly is a game for everyone."

[...]

Not only did a hockey team come up with a way to legitimize the derangement of people who think their "spirit identity is fluid," it now presumes to lecture fans on how to be more inclusive with their words. Come for the hockey, stay for the authoritarian speech moderation in the name of "inclusivity."

Am I the only one that wishes for the days when we could watch sporting events at all levels without wondering if we were going to get the LGBT agenda shoved down our throats?
Simmons cheered in a March 8 post when an entire NHL team declined to wear pride-themed warmup jerseys:
The Minnesota Wild hosted the Calgary Flames last night and lost 1-0 in a shootout. However, it was what happened before the game that was upsetting - even disgusting - to people from all sorts of fanbases.

Last night was supposed to be Minnesota's "Pride Night," but just before warmups, the Wild opted to not wear their pride-themed pre-game jerseys. Some players still had rainbow tape on their sticks, but that's all the support the LGBT agenda got from star forward Kirill Kaprizov and his teammates.

The Wild released a statement saying they still supported the LGBT community despite the choice to not got through with wearing the jerseys. But If you've watched how fans reacted to similar decisions by Philadelphia Flyers defenseman Ivan Provorov and the New York Rangers, you can probably guess that the LGBT zealots and their lefty supporters said all sorts of hateful things about Minnesota as an organization, and its players.

[...]

It's sad. The LGBT agenda inevitably corrupts those who buy into it. A large contingent of American citizens have thoughtlessly supported an agenda that makes them hateful, intolerant, and bent on shaming those who disagree with them.

What the Wild did was courageous; if they don't agree with the LGBT lifestyle, they shouldn't be expected to wear pride jerseys. But the reactions of the people who gnashed their teeth at these hockey players for expressing their views serves as a sobering reminder of what political LGBT is really about, and a warning to never embrace it.
Simmons would never describe being a homophobic right-winger as being a "lifestyle."
Simmons cheered another non-participating hockey player in a March 20 post:
Courage is contagious, and a slew of NHL players and teams are providing courage for millions of normal Americans who might be afraid to take a stand against the LGBT agenda.

The San Jose Sharks hosted a pride night on Saturday before playing host to the New York Islanders. The team used its Twitter account to publish facts about the LGBT community instead of providing updates about the game (which San Jose lost, 4-1), and all players wore pride-themed warmup jerseys.

All players, except James Reimer, that is.

The Sharks goaltender chose to abstain from this PR stunt and instead provided a statement on how his religious beliefs led him to make this choice. San Jose, to its credit, also posted Reimer's response on Twitter, which may have dialed down the force of backlash he would inevitably get from the progressive media.

[...]

What's happening is more and more athletes in the NHL are recognizing that they do not have to accept the agenda that people like Slone evidently support. They are gaining enough courage to stand against the toxicity of the LGBT movement and inspiring others to do the same.
Simmons didn't explain what is supposedly "toxic" about being LGBT or what is supposedly courageous about hating LGBT people.
Jay Maxson spent a March 23 post raging at minor-league hockey player Luke Prokop for criticizing players who refuse to take part:
Prokop scolded the dissidents for refusing to focus on the NHL's initiative to grow advocacy for the rainbow cause. Gee, I mistakenly thought the cause was pursuing the Stanley Cup. My bad.

"Everyone is entitled to their own set of beliefs but I think it's important to recognize the difference between endorsing a community and respecting individuals within it," Prokop whined.

Well trained in the LGBTQABCD mantra, Prokop said he "strongly" believes that the NHL can become "an environment where every player feels comfortable bringing their authentic selves to the game" if teams and players can "prioritize diversity and inclusion."

That's all so much nonsense distracting hockey teams and players from pursuit of the Stanley Cup. Let sports be sports … without the rainbow shenanigans. Hockey rinks, football and baseball fields are not the place for people to come out of the closet and affirm their true selves.
It appears Maxson is well trained in homophobic mantras.
When reports surfaced that the NHL may get away from pride nights, Maxson praised the idea in a March 30 post:
At long last, one professional sports league gets it. The National Hockey League is thinking about discontinuing pride night events, due to the increasing number of team and individual opt-outs.

Commissioner Gary Bettman (appearing in photo) indicated the NHL may reevaluate the future of taking a knee to LGBTQABCD pressure groups and team sponsorship of pride events.

"This is the first time we've experienced that, and I think it's something that we're going to have to evaluate in the offseason," Bettman said. "This is one issue where players, for a variety of reasons, may not feel comfortable wearing the uniform as a form of endorsement."

The NHL was the last of the four major North American leagues to start schmoozing the alphabet mob. Dropping pride night would be unthinkable for the woke NBA, NFL and Major League Baseball.

Hockey players and three teams this season said "no thanks" to helping spread pride propaganda. For some, it was a matter of upholding their religious beliefs. For Russian players, it was due to their nation's refusal to celebrate rainbow nonsense and the fear that family members back home could be punished by the government for their decision to wear pride-themed uniforms.
Like Simmons, Maxson thinks that hating LGBT people deserves some sort of badge of courage:
The commissioner bravely defended those who resisted the LGBTQABCD mob, which has canceled people and threatened the careers of resisters.

Left of center media do not share that respect. Sports Illustrated and The Athletic trashed the Rangers, accused them of "bungling" pride night and warned that any "retreat on Pride Night" would send a "somber message to younger, closeted players."

By standing firmly on their beliefs, the NHL players and teams proved that courageous stands can achieve positive results, namely the right to live out one's faith and preserve freedom of conscience. Such values are in short supply in these troubling times.
The MRC, however, does not believe that LGBT people have any rights or should have "freedom of conscience."
Posted by Terry K. at 10:10 PM EDT