MRC's Graham Still Going On About Supposedly Rude Reporters During The Trump Years
Topic: Media Research Center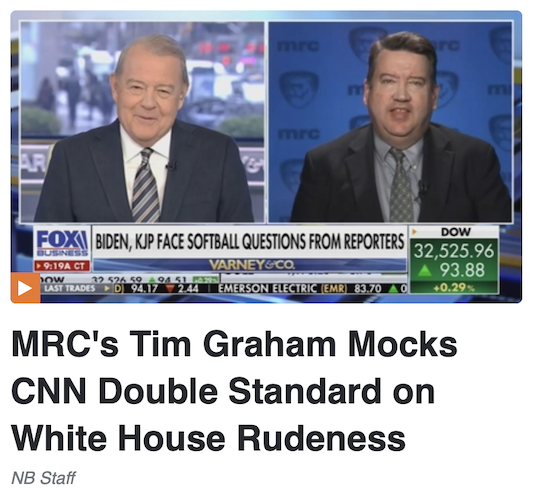 It seems Media Research Center executive Tim Graham still can't stop whining about how mean some White House reporters supposedly were during the Trump years. An anonyously written March 28 post hyped Graham appearing on Fox Business to whine about this:
NewsBusters Executive Editor Tim Graham appeared on the Fox Business show Varney & Co. on Tuesday morning to discuss his nationally syndicated column on reporters who have screamed in the White House briefing room. Host Stuart Varney showed some very polite questions from correspondents in the Biden White House briefing room.

Varney asked if there were any reporters who were "willing to take on Biden, given all this failures?" Graham replied "I'd have to start with the reporters from Fox and Fox Business, you know?" So there's Steve Doocy and Jacqui Heinrich from Fox, as well as Ed Lawrence and Hillary Vaughn from Fox Business. He noted they challenge Biden and press aides politely, no screaming.

Varney asked if there was anyone else. "There are a few others," he said. There's Philip Wegmann at Real Clear Politics, James Rosen of Newsmax, and Blake Burman of NewsNation.
Strangely, niether Graham nor Varney brought up the reason for this renewed whinefest, even though it was in the column Graham was promoting: Simon Ateba, who actually did to White House press secretary Karine Jean-Pierre what Graham claims reporters did during the Trump years. Instead, the usual names were brought up, though the anonymous writer actually dinged his boss for getting a fact wrong:
Varney then asked if April Ryan "took a job" on TV after her antics. Graham noted she became a CNN analyst. (He also said Jim Acosta became a CNN analyst, but that was an oops -- Acosta was their screaming CNN reporter. We'll guess he meant [Brian] Karem, the Playboy writer, as he mentioned in his column.)
Needless to say, neither Graham nor Varney cited any specific examples of this supposed bad behavior by these reporters, let alone any explanation of how they purportedly equaled Ateba's behavior.
Posted by Terry K. at 11:15 AM EDT