MRC's Jean-Pierre-Bashing, Doocy-Fluffing Watch
Topic: Media Research Center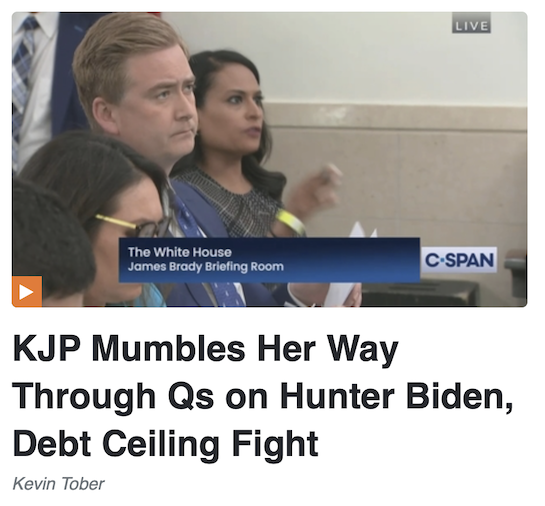 The Media Research Center's Curtis Houck spent an April 11 post cheering that White House press secretary was pressed on why President Biden wasn't holding the number of press conferences deemed to be sufficient by the White House press corps:
In the final White House press briefing ahead of President Biden's trip to Ireland and Northern Ireland, a few reporters blasted the administration for yet again shielding the bumbling, stumbling commander-in-chief from even friendly questioners in the press corps. And seeing as how the Bidens would rather talk to Drew Barrymore and Al Roker, it's safe to say anyone in their position would be miffed.

The Wall Street Journal's Ken Thomas kicked it off with a simple question for inept Press Secretary Karine Jean-Pierre's frequent crutch, John Kirby: "Do you expect a news conference on this trip? I'm sure the press corps would be interested in one."

Kirby actually laughed at this idea, saying he doesn't "expect there'll be a news conference on this trip."

The question came back when Kirby had left the room and the AP's Zeke Miller sounded off: "It's a four-day trip to two countries. You know, why can't the President take questions from the press?"

Jean-Pierre tried to brush this off by reiterating there wouldn't be any press availability for Biden even though he "always loves to take your questions." Miller shot back, "Apparently not."

She pushed back with mumbo jumbo:
Houck thinks anyone who fails to parrot right-wing talking points like he does is speaking "mumbo jumbo." And because Houck is apparently contractually obligated to fluff Fox News evern time he attacks Jean-Pierred, he added: "Also in the briefing, Fox Business's Grady Trimble questioned whether the Biden administration was concerned with China inserting its tentacles into the electric vehicle battery industry. Of course, Jean-Pierre ducked."
Houck's writeup of the April 19 briefing was all about the Doocy-fluffing:
Wednesday's White House press briefing featured ever-inept Press Secretary Karine Jean-Pierre being super-glued to talking points about Republicans supposedly holding the country hostage over the debt ceiling, so it fell to reporters like Fox's Peter Doocy to focus her elsewhere.

On his turn, he grilled her on China, economy anxiety, and exposing the White House for seemingly having little regard for the victims of the Covenant School shooting and instead all the care in the world for the so-called Tennessee Three.

Doocy's third question focused on Jean-Pierre's announcement at the top of the briefing that the three far-left lawmakers would be rewarded for their disruptive antics with a White House visit on Monday. This led Doocy to wonder: "Have any of the victims or the victims' families been invited to the White House?&rdquo

This stopped Jean-Pierre in her tracks: "I don't have anything to read out to you about any invite."

When Doocy followed up with "why," she did as leftists have done in abandoning the victims and the wider Covenant Presbyterian Church community and instead lifted up the dark-blue Democrats demanding mass gun control.
Houck didn't mention that the connective link to the string of gun massacres over the past few years is guns, and he didn't explain why wanting a certain level of gun regulation is a bad thing.
Kevin Tober served up his usual malicious incompetent-diversity-hire narrative on Jean-Pierre in writing up the April 20 briefing, apparently believing like Houck that failure to parrot right-wing talking points is "sub-par":
Another day, another sub-par performance from incompetent Press Secretary Karine Jean-Pierre (KJP) during Thursday's White House press briefing in which Jean-Pierre struggled through basic questions ranging from the recent IRS whistleblower in the Hunter Biden tax fraud investigation to the looming fight over the debt ceiling. Each time, KJP mumbled her way through the briefing. Even her frequent crutch, John Kirby couldn't save her.

After what WMAL radio host Vince Coglianese calls the "adult press briefing" conducted by Kirby concluded, it was KJP's turn to butcher the English language and stonewall reporters in the room. The first reporter to challenge her was the Associated Press's Chris Megerian who brought up the IRS whistleblower who alleged the Biden administration is protecting Hunter Biden from the consequences of his own actions.
Tober was also annoyed when the MRC's transgender enemy of the moment got mentioned:
By far the dumbest question of the entire briefing was when CBS's Nancy Cordes complained about people being mean to transgender activist Dylan Mulvaney after he appeared in that preposterous Bud Light ad campaign. To make matters worse, Cordes played into his delusions and referred to Mulvaney as "she."

"The transgender actor and influencer Dylan Mulvaney has been the target of a barrage of attacks from anti-trans individuals online after she did an ad with Bud Light a couple of weeks ago," Cordes whined before asking if "anyone here at the White House reached out to her since she became the target of these attacks?"

Jean-Pierre replied by lecturing that "When a transgender American posts a video about a brand of beer they enjoy and it leads to bomb threats, it's clear that that level of violence and vitriol against transgender American has to stop."
But hate and vitriol against transgender people is pretty much
all the
MRC has
.
Posted by Terry K. at 10:24 PM EDT