Hate-Filled MRC Sports Blogger Pushes Even More Anti-LGBT Hatred
Topic: Media Research Center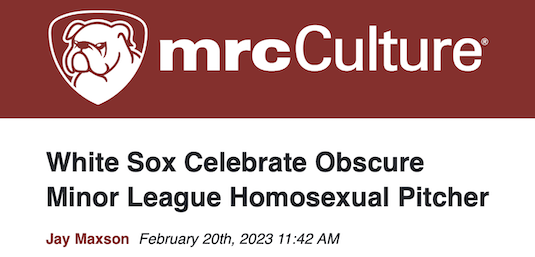 Mysterious Media Research Center sports blogger Jay Maxson has always hated LGBT people, despite having an sexually ambiguous name and an utter lack of presence outside the MRC that makes it unclear what gender Maxson is. Maxson reprised his (or her) hatred of transgender athletes in a Jan. 17 post:
Welcome to your nightmare as the incoming president of the NCAA, Charlie Baker. At the NCAA's most recent convention, people protested the association's leniency on allowing males to compete in women's sports. You're also bringing along trans baggage from your time as the former governor of Massachusetts. Hope you can handle the heat!

The NCAA convention in San Antonio ended three days ago, but not without boiling controversy. Demonstrators blasted the NCAA for allowing men, like Penn U. swimmer Will "Lia" Thomas, to compete in and destroy the competitive balance in collegiate women's sports. They gathered 10,000 petition signatures against this nonsense.

[...]

Bottom line? Lia Thomas wannabes, elbow the women aside and walk right into their locker rooms and have a go at ill-gotten national fame and glory. The NCAA appears primed to maintain the status quo – making a mockery of women's athletics.
Maxson used a Jan. 26 post to praise an Australian basketball team for rejecting a pride-themed jersey:
A brave pro basketball team in Australia said "no" to the 'bow Wednesday. As in the LGBT rainbow pride uniform logo they refused to wear in their game. Several team members felt the pride event was an affront to their religious beliefs, and the entire team rebuffed pride night. No American pro sports team has ever displayed such courage against the LGBT mafia.

[...]

It's a sad statement that in this Australian league each team's toughest opposition comes from the LGBT mafia.
Maxson never explained what this "LGBT mafia" is supposed to be or even who its members are; do they whack you if don't give them a cut of your pride jersey revenue?
Maxson returned on Feb. 1 to hype a Fox News commentary by anti-trans college swimmer Riley Gaines, adding: "The woke madness needs to stop...and women's sports need more people like Gaines with the courage to speak up against the injustices perpetrated on them."
Maxson ranted about another pride jersey-related incident in Australia in a Feb. 16 post:
Remember when the LGBTQABCD was an appeal for live and let love liberalism? Those day are long gone., and the tolerant folks have gone fascist. They continually try to impose their views on others, and now six-year-olds in Australia have been given an ultimatum to either wear rainbow shirts or sit out a high-profile kids' soccer game.

Next week, children will play during the halftime of an A-League pro match between Melbourne Victory and Adelaide. That is, they'll play only if they bow down and wear the rainbow shirt. Those refusing to go along with the rainbow power move will not play in front of a large crowd.

[...]

A soccer fan Tweeted that forcing kids to wear pride shirts is not about inclusion. The fan is right. It's all about indoctrination and treating non-participants as pariahs.

Note that Maxson has to run to Australia -- where the MRC's readership is negligible -- to feed his anti-LGBT outrage machine.
Maxson spent a Feb. 20 post sneering at a minor-league baseball player who came out as gay:
No active Major League Baseball player has ever come out of the closet. The alphabet mafia is hoping for that day, but for now, LGBTQABCD folks can only get excited when obscure minor leaguer announce that he's homosexual while playing in the bus leagues or somebody comes out after he's given up baseball.

The alphabet crowd was crowing over the weekend when Anderson Comas, a pitcher somewhere in the depths of the Chicago White Sox organization announced he digs guys.

The Chisox announced on Twitter, "We are all so proud of you, Anderson!" Oddly enough, the Sox post also included the name of singer Lady Gaga and the name of her song "Born This Way." Whatever.

Comas, 23, pitched last season for the Kannapolis, N.C. Cannon Ballers, a Class A affiliate of the White Sox. He was called to the mound just 11 times and recorded an awful 6.35 earned run average. His unearned pride average is now soaring though.

[...]

Heterosexual players are never congratulated or celebrated for helping to raise the next generation of human beings.
Maxson lashed out at transgender athletes again in a March 2 post:
Quick, what is Minnesota's state bird? If you said "loon," you nailed it. Some of those loons are not the feathered kind, but those of the robed variety. As in members of a Ramsey County district court that ruled USA Powerlifting violated the human rights of a man seeking to compete in the women's division.

Equally loony? The state legislature, which created the Minnesota Human Rights Act, which is a get-out-of-male card allowing people to compete in any division they want to. Most notably, it prevents the ability of women to compete on a level playing field of sports without the intrusion of stronger males.
This was followed by a March 8 post cheering Elon Musk and "non-woke" ESPN talking head Sage Steele for having the conservatively correct opinion about this.
Maxson used a March 13 post tohave a freakout over soccer star Megan Rapinoe (whom Maxson and the MRC despise for her failure to be heterosexual) for being a bit critical of white heterosexuals:
If soccer players could score goals with their big mouths, Megan Rapinoe would have scored 10,000 times on the pitch by now. Late last week, she received one of Time magazine's woman of the year awards and turned the awards ceremony into a thorough trashing of straight white women and the states attempting to ban transgender males from women's sports.

Like a shock jock, Rapinoe took the stage, with her underwear sticking up above her slacks, saying, "Ya all gotta be f**ked up, goin' after (fellow woman of the year award winner) Angela Bassett and f**k you, man. This f**ked up." It was all downhill from there for Rapinoe. Real classy. Nice selection there, Time.

"White women have left black women—and everyone else—behind. Straight women leave queer women behind," Rapinoe told those in the Los Angeles audience. "Let's not be those kinds of people. Being a woman: make it expansive. Don't ever leave anybody behind.

"Let's bring everyone in and figure the rest out from there," she concluded.

Yeah, let's turn the world into one big gender-confused mess and see what happens. What a splendid idea. And what a role model, she isn't.

[...]

Unfortunately, nothing about the grandstanding Rapinoe's presence on the world stage is indicative of any shrinkage or softening. She's all big mouth, all rainbow rad, all the time - not to mention a terrible role model for young girls.
Says a guy (or gal) who can only grandstand by spewing hate at a right-wing blog.
Posted by Terry K. at 11:08 PM EDT
Updated: Wednesday, April 5, 2023 11:19 PM EDT