How Is Newsmax Fawning Over Trump These Days?
Topic: Newsmax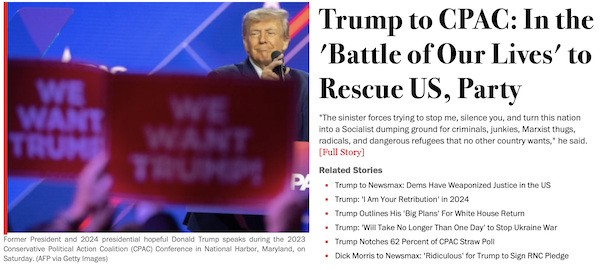 Newsmax remains Trump-fluffer central (in case you were worried otherwise). For instance, it cranked out articles hyping Trump's visit to East Palestine, Ohio, the site of a train derailement that released chemicals in the area) even though no member of the Trump administration ever visited the site of a train derailment during his presidency).
Newsmax also generated a plethora of articles out of Trump's March speech at CPAC. The main article by Sandy Fitzgerald gushed that in his "highly awaited speech," Trump "spoke out about the 'battle for our lives' against both Democrats and establishment Republicans, and told an enthusiastic crowd that they have been engaged 'in an epic struggle to rescue our country from the people who hated it and want to absolutely destroy it.'" That was followed by numerous sidebars covering not only the speech but a interview Trump did with Newsmax during CPAC and other CPAC-related things:
In the midst of all this CPAC activity, Fitzgerald even wrote up an article on how Trump congratulated adviser Kellyanne Conway for getting divorced from her husband, George Conway, "a frequent Trump critic."
In the midst of its
hysteria
over Trump's (initially failed) prediction he would be "arrested," Newsmax also generated several articles out of a March 25 Trump campaign rally in Waco. Texas:
Newsmax's Rob Schmitt did an "esclusive phone interview" with Trump on March 24, and that led to more article generation:
It seemed no Trump utterance was too minor to devote a "news" article to. Here are some of the bits of stenography Newsmax has done for Trump since the beginning of the year:
Posted by Terry K. at 2:34 PM EDT
Updated: Wednesday, April 26, 2023 9:31 AM EDT