MRC's Jean-Pierre-Bashing, Doocy-Fluffing Watch, NPR Edition
Topic: Media Research Center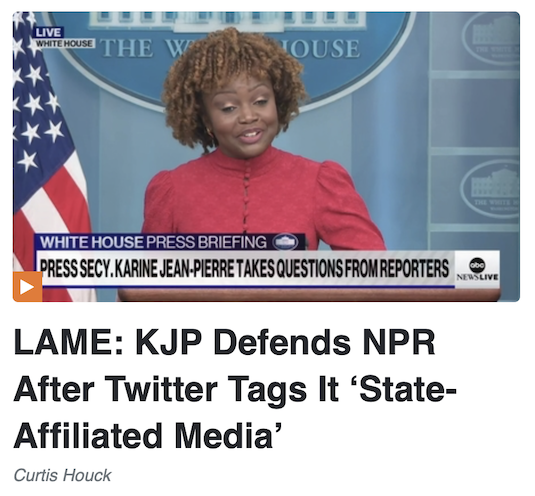 The Media Research Center kicked off April's round of attacking White House press secretary Karine Jean-Pierre with a writeup by chief Karine-hater Curtis Houck of the April 4 briefing, in which he whined that she wouldn't take a reporter's bait and continued the Biden White House's refusal to comment on Donald Trump's indictment:
During the media-wide prostration over New York City Tuesday for former President Trump's arrest and arraignment, a White House press briefing took place and reporters such as The New York Times's Michael Shear called out Jean-Pierre and President Biden for the double standard in refusing to weigh into some but not all criminal probes.

Shear came a few moments after Doocy Time as the Fox correspondent asked why the White House wouldn't say more about something the country has never seen before. Shear latched onto Jean-Pierre's ducks and dodges, noting Biden including "at least two major speeches that I can think of, and he's talked at length" about it despite there being "more than 500 active legal cases going on."

Noting that those "potentially could have been affected...by whatever his opinions were," Shear questioned "what is different between his being willing to talk about...the issues presented by — by what happened on January 6th and questions about" Trump.

"But there are issues that are presented — people have been talking about it for weeks now — when a former President — any former President would be indicted for the first time and arrested for the first time. What is the White House's reticence? And what's the difference between that and this," he added.

Jean-Pierre insisted Biden was within his bounds because "January 6th was a devastating day" and people "died" in a "devastating" "attack on our democracy" that "millions and millions of Americans...watched".

"[A]nd so the President will never shy away when it comes to our democracy, when it comes to the fabric of who we are as a country and what makes this country who it — what it is and so it — it was a different, different moment and a different time," she explained.

[...]

Jean-Pierre stuck to her talking points that January 6 "was incredibly devastating" and "people died on that day," so it's been necessary for Biden to weigh in on a subject such as "protecting our democracy" and has left "many people...scared"
Of course Houck had to sneak in his "Doocy Time" man-crush, even if it was only linking to a tweet. In writing up the next day's briefing, he got mad that Jean-Pierre defended National Public Radio after Elon Musk aribrarily changed its description on Twitter to "state-affiliated media" (a fit of mallicious trolling that the MRC absolutely loved):
Tuesday was a banner day for liberals and their media allies as not only did they see former President Trump arrested and arraigned in New York on 34 charges, but they flipped the Wisconsin Supreme Court and the far-left candidate won the Chicago mayoral runoff. But some still ended the day infuriated as Twitter chose to label National Public Radio (NPR) as "U.S. state-affiliated media." As such, it came up at Wednesday's White House press briefing.

Marek Wałkuski of Polskie Radio — which is NPR's equivalent of state-run media in Poland — bemoaned to Press Secretary Karine Jean-Pierre that the designation placed NPR "in the same category as Russia Today or Chinese media."

Asked to comment, Jean-Pierre rushed to NPR's defense, gushing that "there's no doubt of the independence of NPR's journalists and has been — if you've ever been on the receiving end of their — of their questions, you know this."

She continued with the gag-tastic takes: "You know that they have their independence in journalism. NPR journalists work digitally [sic] to hold public officials accountable and inform the American people. The hard-hitting, independence nature of their coverage speaks — speaks for itself and so I'll leave it there."

At the other end of the spectrum, Fox's Peter Doocy did his thing in pushing Jean-Pierre, starting with this:"[D]oes it bug President Biden when former presidents suck up all the oxygen?"
For his writeup of the April 6 briefing, Houck complained that Jean-Pierre let Jhn Kirby handle most of the questions about a new report on the U.S. withdrawal from Afghanistan:
On Thursday's White House press conference, the incompetent Karine Jean-Pierre once again used National Security Council Coordinator for Strategic Communications John Kirby as a crutch by letting him brief the members of the White House press corps for nearly the entire time. The topic of the day was the conveniently timed release of the Biden regime's post-mortem on the disastrous withdrawal from Afghanistan. The reporters in the room skewered Kirby on the report's findings as well as the pre-holiday news dump. During what WMAL radio talk show host Vince Coglianese refers to as "the grownup press briefing," Kirby struggled with the rare barbs from all sides.

First up was CBS's Ed O'Keefe who was furious at what he called the "major holiday news dump." "I think I speak on behalf of my colleagues in this room when we want the record to reflect that this was sent to us about 10 minutes before the briefing began with little notice," O'Keefe fumed.

"So, why today? And is this all we get? And is this a response to the studies that were done by the agencies? Or is this considered a summary of them?" O'Keefe asked.
Houck then ramped up his mancrushing over you-know-who:
Then came the moment everyone waits for at every press conference: Fox News White House correspondent Peter Doocy:

"Who's going to get fired over this?," Doocy demanded to know.

"The purpose of the document that we're putting out today is to sort of collate the chief reviews and findings of the agencies that did after-action reviews," Kirby responded in bureaucratic gibberish.

"Do you admit that the intel was bad? So how can President Biden ever trust, when they come into the Oval Office with the PDB, that anything in there is legit?" Doocy shot back.

"What I said was intelligence is hard business, and they get it right a lot too. There were some pieces here that weren't accurate," Kirby replied.

Then things got heated between Doocy and Kirby.
We suspect that Houck's definition of "everybody" who is waiting for Doocy to hurl biased questions at White House press briefings doesn't extend beyond the MRC's headquarters and may not even extend much farther than Houck's cubicle.
Posted by Terry K. at 9:03 PM EDT