MRC Desperately Puts Pro-Musk Spin On NPR Standing Up To Musk's Threats
Topic: Media Research Center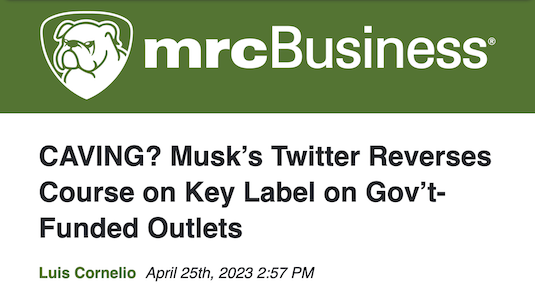 The Media Research Center absolutely loved it when Elon Musk, seeking to generate some desperate clickbait after getting caught not giving right-wing hate and extremism a totally free pass, arbitrarily labeled NPR's Twitter feed as "state-affiliated media." When Musk dialed the label back a bit to "government-funded media," the MRC's Luis Cornelio fretted that it was a "fake news victory."
Whwen Musk completely reversed himself and dropped such labeling not just for NPR but for all similar media organizations -- even the ones that were clearly state propaganda, somehing the MRC insisted NPR was but could never prove -- a dejected Cornelio lamented even more in an April 25 post headlined "CAVING?"
Twitter 2.0 appears to be caving to leftist pressure by removing the "government-funded" labels it slapped on taxpayer-financed outlets like NPR.

Twitter owner Elon Musk initially supported labeling government-funded media labels for the outlets that receive funds from the government. Still — after pressure from the left — Twitter has removed labels that accurately described NPR and other news organizations as "government-funded." NPR even actively promotes on its website how "[f]ederal funding is essential to public radio's service to the American public and its continuation is critical for both stations and program producers, including NPR."

This is not the first time Twitter 2.0 caved to the left. Earlier this month, Musk slapped NPR with a "state-affiliated media" label but switched gears after left-wing backlash.
Cornelio didn't mention that Musk dropped the label for indisiputable state propaganda, not just NPR -- or that an official with Russian state media outlet RT praised Musk for doing so. Instead, he whined that people defended NPR:
NPR President and CEO John Lansing threw a hissy fit over Musk's move by barring the company from publishing its news on Twitter, The Washington Post reported. "We were disturbed to see last night that Twitter has labeled NPR as 'state-affiliated media,' a description that, per Twitter's own guidelines, does not apply to NPR," Lansing said. NPR opted to quit Twitter after the Twitter labels.

Even White House press secretary Karine Jean-Pierre rushed to defend NPR journalists at an April 5 press conference, claiming they "work diligently to hold public officials accountable and inform the American people." "The hard-hitting independent nature of their coverage speaks for itself," she decried. CNN's Kaitlan Collins similarly defended NPR. "That's not obviously NPR," Collins said in reference to the definition of state-affiliated media. "NPR does great journalism."
Cornelio then huffed, "The evidence of NPR's left-wing, pro-Democrat talking points is endless" -- which disproves that it's state-controlled media, because if it were it would have offered Republican propaganda when Donale Trump was president.He then cited as anexample of this a correcpondent who " dubbed the Wuhan laboratory leak story one of the "biggest conspiracy theories" about COVID-19" -- which means that the narrative is nothing more than a right-wing talking point and certainly not a search for truth (and he didn't explain how, exactly, how the narrative is "left-wing").
When Musk tried to coerce NPR into tweeting again by threatening to give its Twitter handle to someone else -- even though NPR had not met Twitter's own standards for abandoning an account handle, which is based on logging into the account, not tweeting -- Cornelio misleadingly framed it ina May 3 post as NPR being "triggered" by Musk instead of the reality that Musk threatened NPR:
Twitter owner Elon Musk managed to trigger the leftist, taxpayer-funded NPR — again.

Musk pledged to transfer the username of NPR's main Twitter account (@NPR) to a different organization or person with the same acronym according to email correspondence between Musk and NPR reporter Bobby Allyn. Musk's comment came as a response to NPR's hissy fit decision to abruptly quit Twitter after being accurately labeled as "government-funded."

"So is NPR going to start posting on Twitter again, or should we reassign @NPR to another company?" Musk allegedly said in a Tuesday email. "'Our policy is to recycle handles that are definitively dormant,'" Musk wrote in another email to NPR. "'Same policy applies to all accounts. No special treatment for NPR.'"
Actually, Musk is the one who's throwing a hissy fit, but Cornelio won't tell you that, nor will he mention that there's no evidence NPR has abandoned its handle based on longstanding Twitter guidelines. Instead, he quoted a fellow MRC employee bizarrely claiming that Musk is trying to execute a power play (never mind that it violates Twitter corporate policies) and tried to insult the NPR reporter for pointing out facts:
MRC Free Speech America & MRC Business Director Michael Morris reacted to Musk's actions against NPR. "I think what Musk is really doing here is putting a thumb on NPR to pressure it to reveal the true nature of its government funding," he said. "If Musk does take @NPR's handle, he shouldn't give it back until NPR comes clean. #DefundNPR."

Allyn further complained that journalists are no longer able to differentiate between what is "real and what is fake" now that blue check marks are available for all Twitter users, not just the elite.

"By recently making 'verified' blue checks available for purchase, Musk has created a turbulent social media landscape, blurring the lines for users between what is real and what is fake on one of the most influential social networks," he wrote.

Allyn topped his child-like tantrum off by praising Twitter 1.0. (Yes, the same platform that muzzled a sitting president and colluded with the government to censor information amid the COVID-19 pandemic).

"For most of its 17-year history, Twitter has had rules that maintained a certain level of order and offered both individuals and organization some control over their presence on the platform," the reporter claimed.

Yikes, cry more.
It's highly unlikely that Allyn or anyone else at NPR is crying over this situation -- that would be Musk, who is losing content because of his own impulsiveness and insistence on generating right-wing clicks and trying to own the libs ahead of sound business practices.But Cornelio won't tell you that either.
Posted by Terry K. at 9:33 PM EDT