Morris, Newsmax Made Sure Trump Got Credit For McCarthy's Speakership
Topic: Newsmax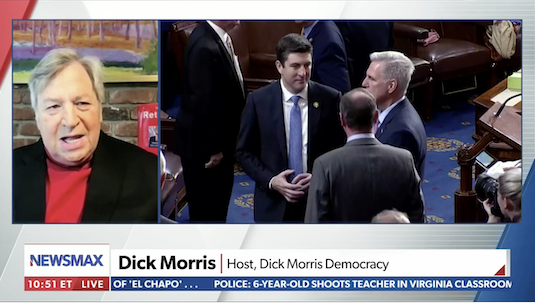 Newsmax's coverage of the House leadership battle didn't start out on a promising note: A Jan. 3 article by John Gizzi started by delaring that "Despite facing at least a solid 10 "no" votes, Kevin McCarthy will prevail Tuesday and become House Speaker. But his close supporters in the House told Newsmax it will likely come on the second ballot."
That didn't age well at all. Thatr forced Gizzi to take a more pessimistic tone for a Jan. 5 article:
After six ballots and still not being any closer to the speakership than when the votes began on the House floor, Kevin McCarthy may be poised to finally break the impasse that has kept him from his longtime dream of wielding the speaker's gavel.

Sources close to the embattled House Republican leader said his campaign team agreed Wednesday night to a proposal floated by the conservative Club for Growth to win over enough of the 20 House Republicans who have continuously voted for candidates other than McCarthy for speaker — and thus denied the Californian the 217 necessary to win.

It has been suggested that the Club for Growth deal could move about 10 votes to McCarthy. While not enough to make McCarthy speaker, it would give him tremendous momentum.
Later in the piece, Gizzi quoted a Republican congressman vaguely referencing an earlier incident:
Speaking to Newsmax on Wednesday afternoon, Michigan Rep. John Moolenaar underscored why McCarthy will remain in the race until he wins.

"In 2015, after he said some unfortunate things on TV about how the hearings on the massacre at Benghazi [when the U.S. ambassador was killed in Libya] and was widely attacked by Democrats, Kevin suddenly withdrew from the race for speaker because he felt it was the right thing to do for our country," recalled Moolenaar.

"Now he will stay in the race — and continue to have the unwavering support of 202 of us — because he feels it is the right thing to do for the country," he continued.
What the "unfortunate" thing McCarthy said? Gizzi won't tell us. In fact, he told the truth (known in DC parlance as a Kinsley gaffe) that the purpose of the GOP-led Benghazi hearings were to drive down Hillary Clinton's poll numbers.
As the speaker battle dragged on, it became time to put a pro-Trump spin on things. Dick Morris obliged in another Jan. 5 article:
"I've been talking to Trump, and he's getting really mad about this. He's annoyed," Morris told Newsmax on Thursday afternoon, while appearing on "American Agenda" with another segment guest, former Georgia Rep. Doug Collins, a Republican.

"[Trump's] mad [the 20 GOP holdouts who refuse to vote for Rep. Kevin McCarthy, R-Calif.] are holding out, embarrassing the party, standing for absolutely nothing," Morris continued. "There's no substantive demand that hasn't been met. And [Trump] thinks they're absolutely fouling up the process."

From Morris' own perspective, the GOP holdouts — a group headlined by Reps. Matt Gaetz, R-Fla., Lauren Boebert, R-Colo., Andrew Clyde, R-Ga., Dan Bishop, R-N.C., and Mary Miller, R-Ill. — are "killing" their political careers by continually fighting McCarthy's speakership bid.

"They probably couldn't get elected as dog catcher in their district. For the party, as a whole, 'chaos' was always a Democrat thing. The Republicans were typically the grown-ups in the room, there to restore order; and now, it's completely flipping," reasoned Morris, author of "The Return: Trump's Big 2024 Comeback."
Morris followed up the next day with some (presumably Trump-approved) sucking up to McCarthy:
Political analyst Dick Morris told Newsmax on Friday the skills Rep. Kevin McCarthy, R-Calif., used to get fierce opponents of him as speaker back on his side shows promise for when he finally assumes the role.

A new agreement among House Republicans earlier Friday broke a logjam in the fight for the speakership, as 15 of the 20 holdouts flipped to McCarthy's side. But after the 13th round of balloting, the California Republican still fell short of the 218 votes needed to become speaker. (Newsmax reported Republicans believe they have the votes for McCarthy in the 14th round, which was set to take place at 10 p.m. EST Friday.)

"I think that this demonstrates that McCarthy will be a very good speaker," Morris said on "Rob Schmitt Tonight.""To navigate everything he's navigated and to succeed at it and go through it and get those votes one at a time, I think it was an act of juggling that would have made Sam Rayburn, the historic speaker of the House, proud."
Well, the 14th vote failed too. But McCarthy ultimately won on the 15th ballot, and Newsmax's Eric Mack knew who to credit in a Jan. 7 article:
Former President Donald Trump was derided for having some of his staunch supporters holding out against House Speaker Kevin McCarthy, R-Calif., but Trump's dramatic call to House chamber to Reps. Matt Gaetz, R-Fla., and Andy Biggs, R-Ariz., is credited for closing the deal.

"Thank you Kevin," Trump posted Saturday morning to Truth Social, along with video of the newly tapped speaker hailing Trump's late-night call. "It was my great honor!"

Rep. Marjorie Taylor Greene, R-Ga., an advocate for the rights of the imprisoned Jan. 6 defendants, tweeted photos of the calls from Trump to the six holdouts standing firm against McCarthy through the 14th failed vote.

"I do want to especially thank President Trump," McCarthy, once a critic of Trump from Jan. 6, 2021, told reporters after his speaker acceptance speech and the swearing-in of members. "I don't think anybody should doubt his influence. He was with me from the beginning. Somebody wrote the doubt of whether he was there. And he was all in. He would call me and he would call others.
"He really was — and I was just talking to him tonight — helping get those final votes."
Morris returned for a victory lap later that day to make sure Ron DeSantis got no credit whatsoever:
The high drama early Saturday morning in the House concluded after former President Donald Trump closed the deal with a phone call, not Florida GOP Gov. Ron DeSantis, presidential adviser Dick Morris told Newsmax.

"I think it was enormous," Morris told "Saturday Report" about Trump's last-second call to avert an adjournment to Monday and bringing a 15th vote that would elect Rep. Kevin McCarthy, R-Calif., as House speaker. "I think what we really just witnessed was the new Republican leadership team: McCarthy and Trump, Trump and McCarthy."

[...]

DeSantis, who once served in the House with many of those GOP members, would not have had the political cachet to pull off what Trump did at the stroke of midnight, according to Morris.

"And for those who like Ron DeSantis, he couldn't have done this," Morris said.

It is McCarthy's House and still Trump's Republican Party, according to Morris.

"They work beautifully together, despite centrifugal forces," Morris admitted, saying even some staunch Trump supporters were never McCarthy, but ultimately stepped aside to allow the centrist to become speaker of 118th Congress.
Trump surely approved of Morris' sycophancy.
Posted by Terry K. at 9:10 PM EST