CNS Commentaries Also Pushed Bogus Narrative Blaming ESG Policies For Bank Collapse
Topic: CNSNews.com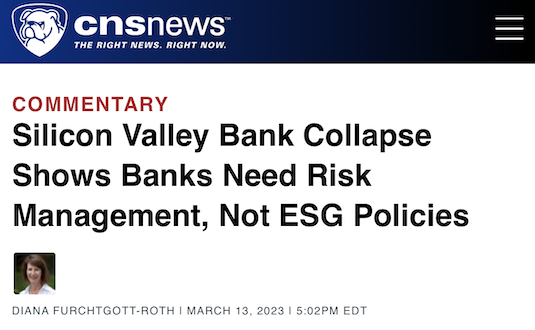 CNSNews.com's commentary side joined its "news" side in pushing the bogus right-wing narrative that caring about environmental, social and governmental issues is the reason Silicon Valley Bank failed in March. A March 13 commentary by Diana Furchtgott-Roth of the right-wing Heritage Foundation acknowledged some management issues at the bank but also tried to blame ESG:
While neglecting critical risk management, the bank's 2023 proxy statement records 40 mentions of the environmental, social, and governance—or ESG—movement currently in vogue at many corporations and financial institutions.

In a "key change," the board expanded the Governance and Corporate Responsibility Committee's oversight role in ESG.

The committee's oversight includes, according to the proxy statement, "environmental sustainability, climate change, the Company's external diversity, equity and inclusion ("DEI") initiatives, Board diversity, as well as our philanthropic strategy and advocacy activities."

This shows a misplaced sense of priorities. The four members of the Governance and Corporate Responsibility Committee (including Garen Staglin, who operates a Napa Valley winery) were among the six members of the Risk Committee. In retrospect, more time devoted to the Risk Committee would have been advisable.
A March 20 commentary by Hans Bader actually started by trying to reflexively blame President Biden, claiming that his "massive government spending caused inflation ... led to the collapse of a big bank, by shrinking the value of its long-term loans and bonds," then criticized "woke San Francisco Fed Chief Mary Daly" for allegedly focusing too much on ESG stuff and attacked bank officials for the same thing:
The head of financial risk management at Silicon Valley Bank (SVB) UK spent the months leading up to the shocking bank collapse launching and leading LGBTQ campaigns for the company. Jay Ersapah, the head of financial risk management, organized a month-long pride campaign, a space for employees to share their coming out stories, and co-chaired the European LGBTQ Employee Resource Group, as the bank was at the brink of collapse.
Bader offered no direct evidence that any ESG-related action is directly responsible for the bank's collapse, but he did complain that "Bank officials gave money to Democratic politicians."
Posted by Terry K. at 8:11 PM EDT