MRC Tries To Bury Musk's Twitter Blue-Check Debacle, Continues Doing PR For Him
Topic: Media Research Center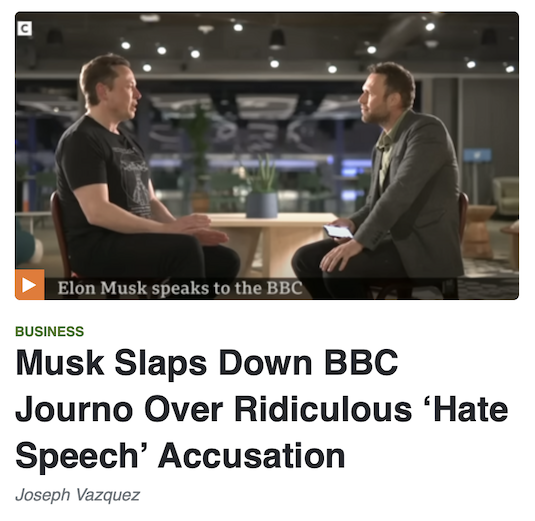 When it wasn't gushing over Elon Musk for arbitrarily putting a false "state-affiliated media" tag on NPR's Twitter feed, the Media Research Center was doing PR for Musk in other ways as well.Joseph Vazquez cheered Musk spouting the MRC's narrative against so-called "liberal media" in an April 3 post:
Twitter owner Elon Musk identified what many Americans know to be true about the leftist New York Times: Its incessant propaganda isn't even good enough to line a birdcage.

Musk tweeted April 2 that the "real tragedy" for The Times is that their "propaganda isn't even interesting." In addition, Musk said in a follow-up tweet, "their feed is the Twitter equivalent of diarrhea. It's unreadable." Musk is right and it doesn't take much digging into the NewsBusters archives to see the kind of brain-melting nonsense that The Timesspits out on a regular basis.
Catherine Salgado happily repeated Musk repeating right-wing talking points about Donald Trump's indictment in an April 5 post:
Don't kill the messenger... er, realtor? Elon Musk brought humor to recent news, as he mocked the ridiculousness of Donald Trump's indictment on Twitter.

Musk reacted to the April 4 temporary arrest and arraignment of Donald Trump in New York. He tweeted a meme mocking the Democrats' irrational hatred and attacks on Trump. "If the Dem Party had a time machine," Musk joked, with a meme showing a younger Trump and the comment, "'Why do time travelers keep trying to kill me? I'm just a realtor!' -Donald Trump, 1980." Musk previously shared a March 18 meme showing a man saying, "The banking system is collapsing" with a woman screaming in reply, "Arrest Donald Trump"!

In a more serious vein, prior to the official indictment, Musk predicted how a Trump arrest might affect Trump's reelection chances.

On March 18, he responde to a reshare by Viva Frei of a Fox News clip and a tweet in which Mario Nawfal remarked, "Trump may be HANDCUFFED and arrested next week. This is as a result of a possible indictment. Could this be the end of Trump?" Musk disagreed. "If this happens, Trump will be re-elected in a landslide victory," he insisted.

Also on March 18, Musk critiqued Manhattan DA Alvin Bragg's financial tie to leftist billionaire George Soros.
In fact, Bragg arguably has no "financial tie" to Soros -- he never contributed any money to Bragg's campaign, though hedid give money to an organization that campaigned for Bragg.
In an April 12 post, Vazquez giddily wrote that "Twitter owner Elon Musk took the leftist U.K.-based BBC to the woodshed when the latter accused the platform of being plagued by a rise of so-called "hate speech." Never mind, of course, that numerous studies have shown an increase in hate speech on Twitter since Musk took over.
The MRC's unpaid (as far as we know) Musk PR stenography continued on other fronts as well:
Meanwhile, the MRC had little to say about the debacle Musk's attempted revamping of Twitter's blue checkmark system had become. In hyping Musk's attack on Twitter, Vazquez waited toward neer the end of his post to note that "Musk's mockery of The Times comes as the newspaper lost its verified checkmark status on Twitter reportedly due to refusing to pay the verification fee like everyone else. Musk lambasted in response how The Times was being 'incredibl[y] hypocritical here, as they are super aggressive about forcing everyone to pay *their* subscription.'"
In fact, "everyone else" was not paying Musk for a blue checkmark, which contrary to Vazquez's assertion offered no meaningful verification -- it simply showed that someone was paying Twitter $8 a month. (Also, paying Elon for a checkmark that means nothing is not the same thing as paying for a newspaper subscription.) Meanwhile, despite announcing that legacy checmarks would disappear for people who didn't buy one would start on April 1, that didn't happen, and the only account that seemed to have lost its checkmark was ... the Times, which arguably indicates a certain level of arbitrary enforcement, something we thought the MRC hated. When those checkmarks finally did start disappearing, impostor accounts popped up, and so few people actaully paid for the checkmarks that Musk resorted to slapping them on celebrity accounts whether they paid for them or not (including dead celebrities).
Rather than offer any meaningful commentary about Musk's debacle, Vazquz bizarrely whined in an April 21 post that George Soros -- the MRC's greatest enemy -- wouldn't buy a checkmark from Musk:
Leftist billionaire George Soros is willing to spend billions of dollars to radically transform society into his own bizarre leftist utopia but he was apparently a cheapskate when it came to paying Twitter's blue checkmark fee.

Twitter owner Elon Musk tweetedvApril 11 that April 20 would be the "final date" for removing legacy blue checkmarks from users who refuse to pay the $8 fee. Soros clearly didn't pony up the cash and his account of roughly 388,000 followers was stripped of its blue checkmark.

To put this newfound miserly behavior into perspective, Soros transferred an enormous $18 billion of his own money in 2017 to his Open Society Foundations for the purposes of fueling a philanthropic giant that would spread his radical views on abortion, Marxist economics, anti-Americanism, defunding the police, environmental extremism and LGBT fanaticism, to name a few.
Or, perhaps, Soros understands that Musk has rendered the checkmark meaningless, since all it currently proves is that a person was suckered into to giving $8 a month to a multibillionaire and getting nothing of value in return. That would seem to make Soros a smarter investor than Musk, who wildly overpaid to buy Twitter and even admits the company is now worth less than half of the $44 billion he paid for it.
Posted by Terry K. at 9:30 PM EDT
Updated: Sunday, May 14, 2023 10:18 PM EDT