MRC Suggests Biden's Daughter Is Like A Porn Star
Topic: Media Research Center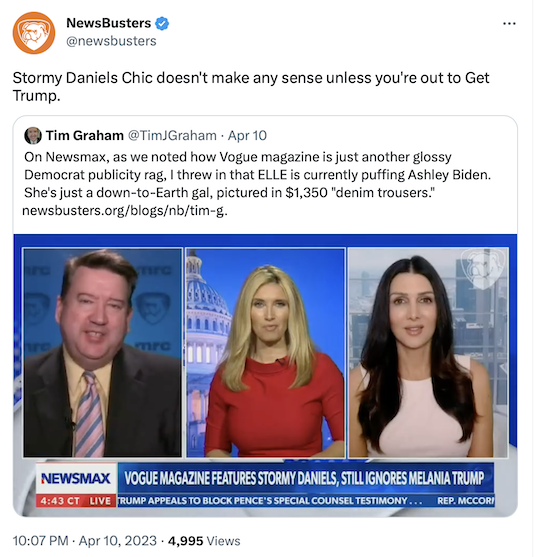 Media Research Center executive Tim Graham's lingering case of Jill Biden Derangement Syndrome -- who has committed the offense of being a nice person who is nothing like Melania Trump -- has apparently extended to Ashley Biden, daughter of Joe and Jill. Graham spent an April 10 post ranting that she was featured in a magazine:
The fashion magazine ELLE is a routine stop for Democrats getting a glitzy publicity shoot, often wearing expensive fashions while liberal journalists pile on the glamour. Ashley Biden, the only child of Jill and Joe Biden, has been extremely reluctant to grant interviews, but has decided that now is the time to be celebrated as one of the very best Bidens. On the cover, it only says "Ashley Biden Speaks Out."

[...]

Meanwhile the captions sell expensive fashions. So the social worker is promoting "Dress by Brandon Maxwell, $3,295" and for casual wear, "Jacket, Altuzarra, $1,995; Denim Trousers, Loro Piana, $1,350."
Graham complained that "Ashley's stolen diary is briefly discussed, but not what's in it," but he didn't comment further on the fact that, as noted in a blockquote, it was "stolen and sold to" the right-wing activists at Project Veritas, which has resulted in criminal charges.
The same day, Graham ran to Newsmax to complain about this, which also involved the host bringing up that Stormy Daniels got a profile in Vogue magazine, which Graham asserted was because "they all thought Stormy Daniels would be the downfall of Trump." (Graham didn't mention that the charges of falseifying business records Trump had been indicted on a week or so earlier were based on the hush money he paid to Daniels.) They all whined that Melania Trump didn't appear in any of these fashion magazines despite, Graham asserted, "how fashionable she was."
The NewsBusters tweet promoting this appearance, however, seemed to liken Ashley Biden to Daniels. On In retweeting a post from Graham promoting how he noted that "ELLE is currently puffing Ashley Biden. She's just a down-to-Earth gal, pictured in $1,350 "denim trousers." the NewsBusters tweet added: "Stormy Daniels Chic doesn't make any sense unless you're out to Get Trump."
Looks like Graham needs to have his Ashley Biden Derangement Syndrome treated along with the Jill Biden variation. Maybe his therapist can give him a volume discount.
Posted by Terry K. at 10:34 AM EDT