CNS Joins Right-Wing Narrative Campaign To Blame Bank Collapse On ESG Policies
Topic: CNSNews.com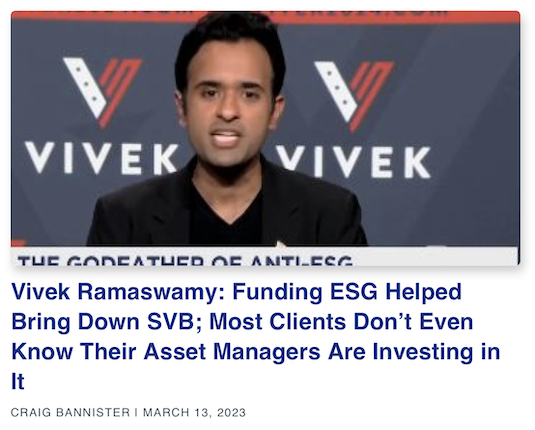 Just as its Media Research Center parent did, CNSNews.com sought to exploit the collapse of Silicon Valley Bank by imposing right-wing narratives to blame things that didn't actually happen.
Susan Jones kicked off things with an unusually straightforward story, though she still found a to inject bias with a snarky shot at President Biden, claiming that a statement on the collapse released by the White House was done "in President Joe Biden's name." Then it was narrrative-pushing time, as Jones wrote an article baselessly suggesting that the collapse was caused by the bank following ESG policies (a narrative CNS has been heavily pushing lately):
"Our values guide everything we do," says Silicon Valley Bank's "Environmental, Social and Governance Report" for 2022.

"We start with empathy, take responsibility, speak and act with integrity, embrace diverse perspectives, and keep learning and improving," says the introduction written by (former) SVB President and CEO Greg Becker.

Federal regulators took over the failed bank on Friday, following a run by depositors. The Biden administration says all of SVB's depositors will get their money back, even those who exceed the $250,000 limit for federally insured deposits.

SVB's 66-page ESG report lays out the following social justice initiatives that were important to the bank, which mainly served technology startups:
Jones then hyped that "Vivek Ramaswamy, a 2024 presidential Republican candidate, says he would not bail out Silicon Valley Bank, if it were up to him," for the purported sin of taking ESG into consideration. Later in the day, managing editor Michael W. Chapman gave Ramaswamy -- a right-wing darling CNS' MRC parent helped hype into a presidential run -- his own article to rant (and to further the anti-ESG narrative):
Commenting on the collapse of the Silicon Valley Bank (SVB), Vivek Ramaswamy, a highly successful asset management chairman, best selling author, and GOP presidential candidate, said the bank should not be bailed out by the government but should be allowed to fail, "if needed."

Bailing out SVB is nothing more than "crony capitalism," he added, noting that we saw all this happen before with the bank bailouts in 2008.

[...]

The anti-woke money manager also criticized the ESG (Environmental, Social, and Governance) agenda followed by SVB.

"Silicon Valley Bank just last year made a $5 billion commitment to sustainable finance to ensure a better and more sustainable planet," noted Ramaswamy. "If they had actually sought for a more sustainable balance sheet, they would have better done their job."
Jones returned to gush over partisan commentator and Fox Business host Charles Payne -- whom she laughably described as a "financial journalist" -- weighing in on the bank's collapse:
"First and foremost, for me, that was a bailout of Silicon Valley. Not Silicon Valley Bank -- of Silicon Valley. And everyone needs to be clear on that. This was not a bailout of hard-working Americans with small accounts. This was a bank that only catered, for the most part, to Silicon Valley and their customers.

"So how did Silicon Valley (Bank) get so big? All the money that cascaded into our economy at the beginning of the pandemic helped to spur...over a thousand IPOs (initial public offerings)," Payne said. He said 59 percent of those IPOs were SPACs.

(A SPAC, or Special Purpose Acquisition Company, is one without commercial operations that is formed to raise capital through an IPO for the purpose of acquiring or merging with an existing company).

Payne said 90 percent of the SPACs were "pure crap."

"The others all went out overvalued," he continued.
Jones didn't mention that Donald Trump's social media website Truth Social is linked to a SPAC.
After a couple more articles tepidly reporting on what non-conservatives had to say, Craig Bannister served up even more anti-ESG ranting from Ramaswamy:
Funding ideological environmental, social and governance (ESG) causes, instead of the most profitable ventures, helped cause last week's failure of Silicon Valley Bank (SVB) – and most clients don't even know their retirement account managers are investing in ESG, Republican 2024 presidential candidate Vivek Ramaswamy says.

"Silicon Valley Bank just last year made a $5 billion commitment to sustainable finance to ensure a better and more sustainable planet," Ramaswamy told CNN on Sunday.

"If they had actually sought for a more sustainable balance sheet, they would have better done their job," he noted.

Bannister did not quote Ramaswamy providing any direct evidence of a link between ESG and the bank's collapse.
When questions were raised about a bank deregulation law signed by Trump that may have contributed to the bank's collapse, Melanie Arter contributd a March 14 article featuring a Republican trying to change the subject:
Rep. Andy Barr (R-Ky.), who serves on the House Financial Services Committee, said Tuesday that the failed Silicon Valley Bank was not because of a failure of banking regulations, and more regulation on regional banks "is not the answer."

Instead, he said, it was fueled by "overspending by the Democrats, which fueled inflation," among other things.

"Well, what we need to be doing right now, what we need to be focused on is not assigning premature blame but instead focusing on vigorous oversight of the financial regulators to make sure we prevent systemic risk and restore financial stability," Barr told Fox Business' "Mornings with Maria."
There were a few more articles that, of course, mostly leaned right:
The rest of CNS' coverage of the SVB collapse occurred in the commentary section, which differentiates itself from its "news" division only in the degree of bias allowed.
Posted by Terry K. at 1:26 PM EDT
Updated: Wednesday, April 12, 2023 11:26 PM EDT