Newsmax's Pro-Trump, Anti-Justice Outrage Machine Continued The Day After Indictment
Topic: Newsmax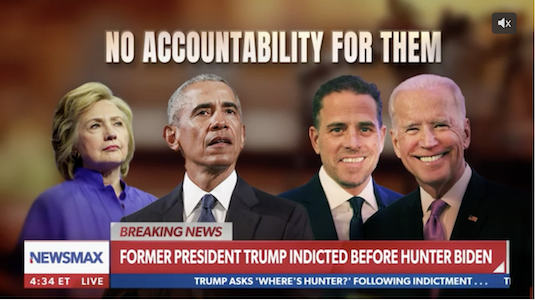 The pro-Trump toadies at Newsmax launched an extended freakout over Donald Trump's indictment and arraignment. That continued on April 5, the day after his arraignment:
With these 17 articles, that makes 111 attack-and-defend articles published by Newsmax since the indictment became news on March 30. Newsmax snuck in the occasional bit of news that wasn't aggressively pro-Trump or anti-Bragg:
Newsmax's pro-Trump columnists contributed as well. Blaine Holt ranted in an April 3 column:
President Donald J. Trump is the first president in U.S. history to be spied on, impeached twice under a hoax, betrayed by public officials, forced to divulge tax records, raided by federal law enforcement, and indicted on timed-out misdemeanor counts elevated to felonies.

The current administration that calls any whisper of a compromised 2020 election "The Big Lie," is so insecure in their apparent victory precedent and legal standing has been thrown to the wind, to take down the 45th commander in chief permanently.

"Get Trump" at any cost is now job number one.

New York District Attorney Alvin Bragg has fulfilled his campaign promise to political activist and financier, George Soros.

Hey, Manhattan -- you guys paying attention yet?
Holt providence no evidence of any "campaign promise" Bragg personally made to Soros. Mike Clancy did his own huffing in his April 5 column:
Now this weaponization of the justice system has reached an unimaginable historical crescendo: a grand jury indictment of Donald Trump, a former president and a current candidate for president.

The indictment alleges a felony of falsifying business records related to the $130,000 that former Trump associate Michael Cohen paid to quiet Stormy Daniels from publicizing her alleged affair with Mr. Trump.

All the circumstances and the anemic legal theory suggest that Manhattan District Attorney Alvin Bragg's pursuit of this indictment was maliciously motivated for political purposes.

For the sake of the integrity of the judicial system, the court should dismiss the indictment.
Clancy went on to purport to explain how what Trump did was not a crime, even though all the evidence has not been released yet and, thus, he cannot possibly know for sure that no crime was committed. Then it was back to ranting:
The indictment is pathetically weak. Bragg should have followed the judgment of the FEC and the U.S. Attorney, and not pursued such a frivolous indictment.

The Trump indictment is an affront to our justice system.

Worse, it is an assault on our elections.

Democrats will go to any extreme to discredit Mr. Trump as a candidate for president.

In 2016, it was Hillary Clinton and the bogus Steele Dossier.

Today, it's Bragg with an insidious, unprecedented, unsupportable indictment.

The court should end this travesty of the judicial process and promptly dismiss the case.

Let's instead leave the election to the voters to decide.
Newsmax's "news" coverage of the Trump indictment tapered off after that,with only a relative few articles each day. Apparently that's enough to keep the outrage machine simmering at Newsmax.
Posted by Terry K. at 4:16 PM EDT