MRC Continued To Lash Out At Expelled (And Reinstated) Tenn. Legislators
Topic: Media Research Center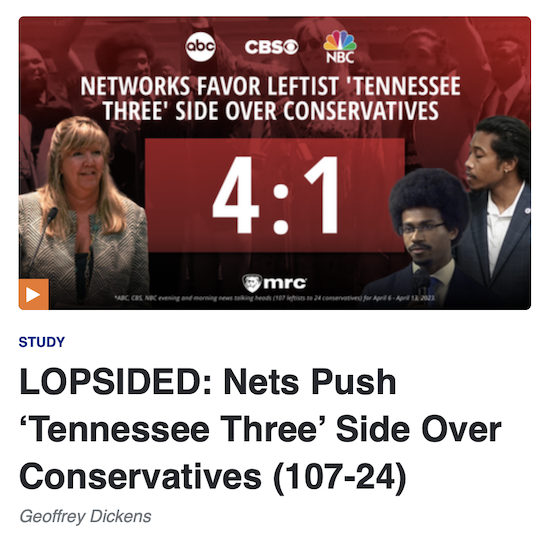 The Media Research Center just couldn't stop lashing out over the fact that the Tennessee legislators who were expelled for taking part in an anti-gun protest following a gun massacre in Nashville got media attention (though they downplayed the fact that if the Republicans in the Tennessee legislature hadn't rushed so quickly to expel them, they wouldn't have received all that attention). Tim Graham spent an April 11 post complaining people said nice things about the expelled legislators returning:
In Tennessee, the Bullhorn Justins -- ousted state legislators Justin Jones and Justin Pearson -- routinely employ the metaphor of crucifixion in reference to their expulsion, and now resurrection. Lindsey Kornick at Fox News reports these same metaphors comparing the Democrats to Jesus are broke out Monday night on MSNBC.

On The Beat with Ari Melber, Rev. Mark Thompson, who hosted a leftist talk show for Sirius/XM satellite radio for almost 20 years, spoke live from a rally for the two men, after Jones are voted back in by the Nashville Metro Council (a similar vote is expected for Pearson in Memphis on Thursday).

Thompson said: "The word is right. It's jubilant. Last week they sent these two gentlemen home, but it's Easter weekend. So they've been resurrected. They're back in their seats. And whatever the Republicans here were up to has been thwarted for now."

Guest host Melissa Murray agreed, "This is an Easter miracle of sorts, the resurrection of the political careers of these two men, or what will be two men if Memphis does the same thing." Washington Post columnist Eugene Robinson merely hailed them as "mega-political stars," not quite Jesus.
Graham didn't mention that Kornick is a former MRC employee who is part of the great exodus of employees to Fox News.
On April 13, Kevin Tober grumbled that it was pointed how bad a look it was for a group of white Republican politicians to expel two black legislators:
On Wednesday night, The Grio's April Ryan spent her time on MSNBC's The 11th Hourgloating and hurling allegations of racism at Republicans in the Tennesee legislature because they held two of the three Democrat insurrectionists accountable for stirring up a mob on the House floor. Leftists in the media like Ryan apparently believe insurrections are a good thing so long as it's in pursuit of their agenda. If you try to hold them accountable, they cry racism.

Host and MSNBC's resident dunce Stephanie Ruhle teed up Ryan by proclaiming "Both of these then-expelled, now soon to be reinstated, lawmakers have a huge national platform." Ruhle then asked "Did this whole thing completely backfire on Republicans? Did they not know how the rules even worked?"

"Yeah, it completely backfired," Ryan agreed before smearing Republicans as racist: "They wanted their guns by any means necessary, even if it meant expelling two young African Americans who are fighting for the right for children to be able to live and learn in school. And just people to be able to live."

[...]

This is the kind of commentary you get on MSNBC. Everything is racist. But if everything is racist, then nothing is racist.
Does that mean if everything is biased, as the MRC repeatedly tells us, then nothing is biased?
The same day, Clay Waters groused that a PBS host "used PBS's favorite euphemism for gun control, 'gun safety,' while NPR's [Tamara] Keith fiercely defended the left-wing legislative disruptors and emphasized race, while wondering why the Biden administration didn't do so initially as well." He made sure to add that the shooting was perpetrated "by a trans-man (i.e., a biological woman) at a Christian school."
An April 14 post by Brad Wilmouth tried to push back on the fact that Republicans have heavily gerrymandered the Tennessee legislature to their advantage:
On Tuesday's CNN This Morning, the show used the recent expulsion (and eventual reinstatment) of two Democratic state legislators in Tennessee as an opportunity to promote the discredited liberal trope that Republicans were only able to solidly majorities in some states because of gerrymandering, which then allegedly leads them to enact extreme agendas against the will of voters who were unable to vote them out.

[...]

What went unmeantioned was the 2020 presidential election results when Donald Trump defeated Joe Biden in the state by a whopping 61 to 37 percent. Trump also won 92 of the 95 counties in Tennessee. The three counties that Biden did win -- Davidson, Shelby, and Haywood -- contain only 24 percent of the state's population, so it's not shocking that Democrats only hold about one in four seats in the state house.
But as observers have noted, Republicans hold 27 of the 33 seats in the state Senate (82%) and 75 of the 99 seats in the state House (76%) -- clear evidence of gerrymandering.
It wouldn't be the MRC if there wasn't a coverage-count item, and Geoffrey Dickens predictably whined that non-right-wing channels didn't follow right-wing narratives attacking the legislators:
The Big Three (ABC, CBS, NBC) fell in love with their new heroes, the so-called "Tennessee Three" as they devoted a full week to cramming their evening and morning shows with clips of the unruly gun-grabbing trio and their supporters.

MRC analysts looked at 92 minutes, 22 seconds of network evening and morning coverage of the ousting of the disruptive and disrespectful Democrats from April 6 to April 13 and discovered a whopping disparity in clips with the leftist Tennessee threesome and their supporters overwhelming conservative Republicans by a 107 to 24 count.

Yes, viewers of these programs were four times (4 to 1) more likely to hear from the leftist Tennessee State Representatives Justin Jones, Justin Pearson, Gloria Johnson and their vocal supporters like Vice President Kamala Harris than Tennessee Republican House Speaker Cameron Sexton and State Representative Sabi Kumar.

Instead of focusing on how the three Democrats had flouted the rules, network anchors and hosts largely spent their time advancing the narrative that these two Democratic black legislators and one white female were bravely facing down a bunch of racist pro-gun GOP lawmakers.

Not only did the networks quickly brush-past the disorderly conduct of the "Tennessee Three," they completely ignored State Representative Justin Jones' charges for misconduct for his assault of a driver at a 2020 "racial-justice" protest.
As usual, Dickens failed to document how Fox News covered the story to provide an example of how he believes the story should have been handled (you know, with lots of right-wing bias).
Posted by Terry K. at 11:18 PM EDT
Updated: Sunday, May 21, 2023 11:25 PM EDT