CNS Unemployment Coverage Distortion Watch, Inability To Distort Edition
Topic: CNSNews.com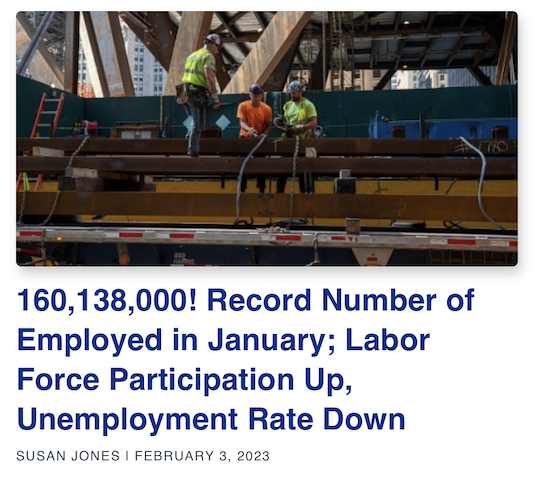 As has been the trend in recent months, the employment numbers have been so good that CNSNews.com -- which routinely labors to cherry-pick less impressive numbers when a Democrat is in the White House -- has trouble talking down the numbers. Indeed, the main article by Susan Jones on January's job numbers carried the unusually excited headline "160,138,000! Record Number of Employed in January; Labor Force Participation Up, Unemployment Rate Down," and Jones herself reflected that in the article intself:
The first employment report of 2023 shows robust strength in the labor market, as the Federal Reserve continues to raise interest rates.

The Labor Department's Bureau of Labor Statistics says a whopping 517,000 non-farm jobs were created in January, way above estimates of 183,000.

"Job growth was widespread, led by gains in leisure and hospitality (+128,000), professional and business services (+82,000), and health care (+58,000). Employment also increased in government (+74,000), partially reflecting the return of workers from a strike," BLS said.

In another headline number, the unemployment rate dropped a tenth of a point to 3.4 percent -- after remaining in the 3.5-3.7 percent range since March.
Sometime after Jones' article was posted, the headline was toned down without explanation to remove the exclamation point and simply read "160,138,000: Record Number of Employed in January." Presumably, Jones was also lectured by her bosses about not positively portraying news that makes a Democratic president look good.
The only form of criticism she could find is noting that the labor force participation rate -- her favorite cherry-picked alternative number -- "is now just one point below the Trump-era high of 63.4 percent recorded in February 2020, just before the COVID-prompted shutdowns."
There was no sidebar story this month, such as editor Terry Jeffrey reporting on manufacturing jobs. That also presumably is a function of CNS not wanting to make this news look too good for Biden.
Posted by Terry K. at 1:15 PM EST