MRC Prepped For Trump Indictment With Lots Of Whataboutism
Topic: Media Research Center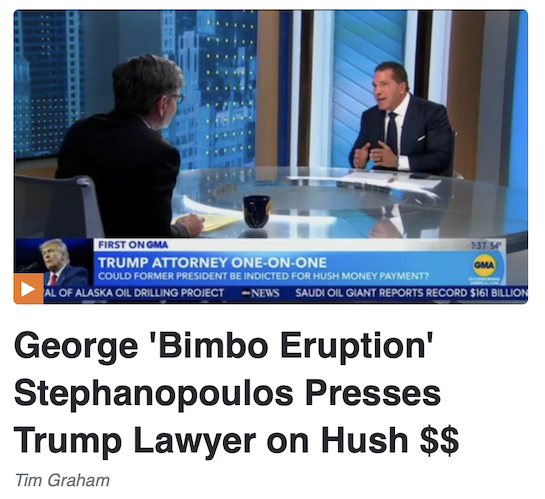 The Media Research Center's coverage (and equivocation and dismissal) of Donald Trump's latest round of legal troubles began with an odd flashback to the 1990s -- read: a lingering case of Clinton Derangement Syndrome -- courtesy of Tim Graham, who huffed in a March 14 post:
On Monday's Good Morning America, co-host George Stephanopoulos grilled Trump lawyer Joseph Tacopina about the Manhattan District Attorney apparently pressing forward with an indictment for a $130,000 payment made to porn star Stormy Daniels in 2016 to squash a National Enquirer story about her alleged affair with Trump.

As usual with Trump's prosecutors, Stephanopoulos never told the audience that the current and former Manhattan DAs are elected Democrats. Typically, the people still investigating Trump are elected Democrats, and typically, the media imply they are simply prosecutors without a party. The news here was that Tacopina said Trump will not accept an invitation to participate in the grand jury proceeding. The invitation usually implies an indictment is coming.

You don't have to believe Trump is innocent here to find a role reversal. For about five years, this was what George Stephanopoulos did for Bill Clinton. Hillary Clinton trusted him to squash "bimbo eruptions," to claim Bill Clinton was innocent and partisan persecutors were trying to destroy him with lies about sex. Why would ABC pick Stephanopoulos to be the interviewer on this? Are they saying the other hosts aren't qualified?
Four days later, Graham's CDS was still inflamed, so he went after Stephanopoulos again, complete with antoher "bimbo erpution" reference:
It happened again. First, ABC Good Morning America co-host George Stephanopoulos interviewed current Trump lawyer Joe Tacopina about a hush-money payment to porn star Stormy Daniels. Then on Friday, Stephanopoulos returned to the bimbo-eruption beat to interview former Trump lawyer Michael Cohen.

George was much milder this time. He sounded like he was prepping Cohen for the hard work ahead. He began: "So you have spent days with prosecutors. Based on all that, are you convinced an indictment of President Trump is coming? Are you prepared for cross-examination?"

Cohen said "absolutely," and added "I talk about the credibility issue that everybody wants to attack me on. They want to attack me on the five counts of the tax evasion or the misrepresentation."

In his toughest line to Cohen, he noted "Well, you are a convicted liar." Cohen objected, naturally, saying he lied for Trump, so you should believe him now.
Mark Finkelstein played whataboutism to distract from Trump's violent rhetoric in another March 18 post:
On her MSNBC show this morning, Katie Phang and two lawyer guests all suggested that Trump's Truth Social post calling on people, in response to his apparently imminent arrest, to "Protest, Take Our Nation Back," could be the basis for additional criminal charges against him.

Are the MSNBC folks aware that not long ago, another prominent politician repeatedly used a virtually identical phrase? Indeed, that politician actually gave a speech entitled, "Taking Our Country Back," employing that phrase no fewer than six times in the course of remarks. The speech repeatedly called on people to "fight!"

Even more shocking, the speaker bragged to the audience, "I come to you with bloody knuckles" after 120 days of fighting the Trump administration.

Bloody knuckles? Such violent imagery . . . Kamala Harris! Yes, it was Harris who, as a US senator, gave that speech to the California Democrat [sic] Convention, just two years before launching her ill-fated, short-lived quest for the White House.
Finkelstein didn't mention that Harris, unlike Trump, has no record of inciting supporters to launch a violent insurrection because of a mental inability to accept an election loss.
The following day, Finkelstein spun away another commentator's argument that Trump's words had a violent intent by insisting the commentator had "a vivid imagination" -- again, ignoring that Trump has previously incited an attempted insurrection -- and even tried to justify Trump's tone by claiming that "Trump is trying to gin up outrage at an elected Manhattan Democrat [sic] district attorney arresting a former president of the United States for political reasons." He offered no evidence of those purported "political reasons."
Graham served up a different (though more current) brand of whataboutism distraction in promoting his March 20 podcast:
Over the weekend, Donald Trump proclaimed on Truth Social he would be indicted by a Manhattan grand jury and "arrested on Tuesday," leading to many hours of speculation on TV news channels over the weekend about how the walls were closing in again. The network Sunday shows on ABC, CBS, CNN and NBC aired almost 47 minutes on the topic, and zero seconds on the latest Biden family cash-grabs from China.

Most politicians throw red meat at their supporters, but Trump is throwing red meat at his enemies in the press. They expressed horror that Trump asked his supporters to protest, which they suggested was another incitement to rioting. Who exactly is the president now? These networks could have covered both Trump and Biden, but the protection racket for the Bidens looks intense in this contrast.
After Trump's proclaimed arrest date passed with no arrest, Nicholas Fondacaro grumbled in a March 22 post that this "annoyed the cast of ABC's The View on Wednesday, as they whined about being duped and getting their hopes up to see him in cuffs and his mug shot." And, yes, Fondacaro libeled co-host Sunny Hostin yet again as a "racist" because he doesn't understand how metaphors work.
Finkelstein returned to whine on March 27 that MSNBC host Joe Scarborough urged Republican voters to ditch Trump and support Ron DeSantis:
"Endorsed by Joe Scarborough!" -- Not something you're likely to see in any Ron DeSantis GOP presidential primary ads anytime soon.

But Scarborough did come close to doing that on today's Morning Joe.

Condemning Trump for what he described as his disregard for the rule of law, Scarborough addressed himself to Trump supporters, saying, "go to DeSantis." His notion was that DeSantis represents policies similar to Trump's without posing what Scarborough sees as Trump's threat to democracy.

Scarborough, presumably mentioning DeSantis because he's closest to Trump in preliminary polling, suggesting "it could be anybody." Maybe he's hoping for Larry Hogan to enter the race?
Finkelstein further complained that "This is a departure from most ex-Republican Trump haters, who are currently hating DeSantis with the same ardor that they hate Trump." But he didn't explain why anyone should stick with Trump in the first place.
Posted by Terry K. at 10:18 PM EDT
Updated: Monday, May 8, 2023 10:47 PM EDT