CNS Continued Pushing Anti-ESG Narratives Before Its Demise
Topic: CNSNews.com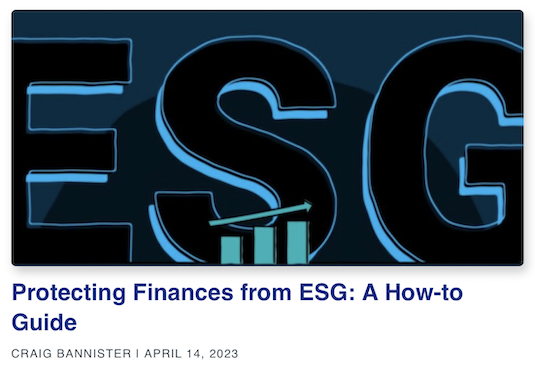 Before its demise, CNSNews.com was heavily pushing right-wing-mandated narratives against investing that take environmental, social and governmental issues into consideration, and it continued to do so pretty much until the end. Craig Bannister, CNS' chief ESG-basher, attacked a bank that wasn't even in the United States in a March 9 article:
A "Climate Modifier" bonus for top executives is among the tactics being used to advance the Royal Bank of Canada's (RBC) environmental, social and governance (ESG) goals, the bank revealed Monday, announcing the publication of its 2022 Climate Report and ESG Performance Report.

"These reports reflect the importance that RBC places on identifying, understanding and responding to the ESG topics that matter most to our stakeholders and our business," RBC explains in its press release.

[...]

The Royal Bank of Canada isn't alone in its efforts to mix business with politics in an effort to advance ESG ideology.

In February, a global asset management corporation handling total portfolio funds in excess of nine hundred billion dollars began providing financial incentives to its employees to make investment decisions that subordinate profit maximization to the advancement of environmental, social and governance goals.
Bannister hyped a claim that ESG isn't as profitable as regular investing in a March 20 article:
While powerful asset managers, such as BlackRock, are pressuring companies to cater to liberal environmental, social and governance (ESG) agendas, a new analysis finds that companies that aren't influenced by politics outperform those that are.

In a Wall Street Journal commentary, "Is ESG Profitable? The Numbers Don't Lie," veteran investment industry experts Mike Edleson and Andy Puzder present the findings of their study of the effect of ESG politics on company fortunes.
Bannister ignored other research showing that companies that embrace ESG principles have seen higher revenues, stronger growth of profits and greater access to finance.
The next day, Bannister gave Vivek Ramaswamy -- who was previously given a platform by CNS to falsely blame the collapse of Silicon Valley Bank on ESG policies and whose presidential ambitions have been touted by CNS' Media Research Center parent -- to rage some more against ESG:
"The issue with the ESG movement – it stands for environmental, social and governance factors – it's designed to sound boring for a reason," Republican presidential candidate Vivek Ramaswamy warns.

The reason the ESG movement doesn't want Americans to take an interest in it is that it seeks "to accomplish through the back door what government could not get done through the front door using the Constitution," the biotech entrepreneur explains in a video posted to his Twitter page.
A March 28 article by Bannister hyped a claim about "the apparent bubble-burst of the environmental, social and governance (ESG) investment market" made by a "financial and economics Author" writing at the right-wing blog Liberty Nation.On April 11, Bannister touted fossil-fuel interests (which CNS loved to do) as allegedly doing well despite not being embraced under ESG:
Despite being shunned by fund managers trying to advance liberal ESG (environmental, social and governance) ideology, coal industry stocks have been outperforming both the overall market and those of other forms of energy, a new analysis reveals.

"The Zacks Coal industry stocks staged a rebound in 2022 courtesy of global demand and surging natural gas prices," Yahoo! Finance reports in an April 6 article analyzing the performance of an 11-stock group of companies engaged in the discovery and mining of coal.
Bannister spent an April 14 article hyping a group pushing anti-ESG talklinjg points:
A list of ways Americans can protect themselves from the financial harm inflicted by Environmental, Social and Governance (ESG) ideology is being provided by a website warning of the little-known dangers of the ESG movement.

"ESG is a highly subjective political score infiltrating all walks of life forcing progressive policies on everyday Americans resulting in higher prices at the pump and at the store," cautions State Financial Officers Foundation (SFOF) CEO Derek Kreifels, whose group sponsors the Our Money, Our Values website.
Bannister didn't disclose that the SFOF is a Republican group that's simply peddling partisan narrative -- perhaps because that's what Bannister was doing as well.
Posted by Terry K. at 11:29 AM EDT