Yes, Dick Morris Is Still A Total Trump Sycophant
Topic: Newsmax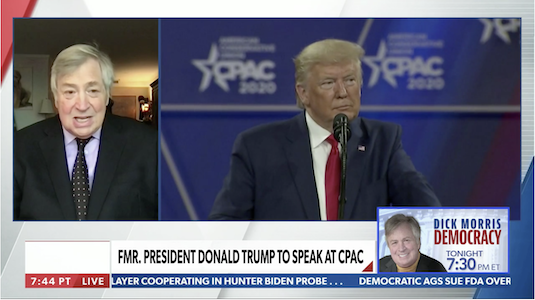 We've shown how perpetually wrong Newsmax pundit Dick Morris has been peddling more faulty Biden-bashing prognostications of late, buthe hasn't forgotten his first love of sucking up to his current gravy train, Donald Trump. He already tried to give Trump credit for making Kevin McCarthy House speaker, but he's done other Trump sycophancy as well. For exampe, there's that Jan. 21 TV appearance:
Polls showing former President Donald Trump's numbers climbing for his chances of a GOP nomination in the 2024 presidential race as the field of potential candidates grows because the "anti-Trump vote gets sliced into different pieces," Dick Morris, a Newsmax contributor and author of "The Return: Trump's Big 2024 Comeback," said on Newsmax Saturday.

"The Trump people are polling this weekend and we'll have accurate data from John McLaughlin early next week, but two earlier polls, two private polls, one by Harvard-Harris, which is usually pretty accurate, and the other by Economist/YouGov both show Trump with a huge gain in the last month or two in his favorability," said Morris on Newsmax's "Saturday Report."

The results are "really graphic," because Trump's favorable numbers were underwater by 21 points last month, but now are down by three points, he added.
It's questionable that McLaughlin will supply 'accurate data" since he's at least as much of a Trump sycophant as Morris is. You will not be surprised to learn that Morris' sycophancy continued:
Morris also contributed to the Newsmax freakout over Trump getting indicted, bizarrely portraying alleged criminality as strength:
Indeed, Morris is arguing that Trump should be allowed to do whatever he wants and not be bound by anyone else's rules, not even those of his own political party. He huffed in a March 4 appearance:
Political author Dick Morris decried on Newsmax the notion of former President Donald Trump signing a pledge from the Republican National Committee that would have him support the Republican presidential nominee in exchange for his chance to appear on the GOP presidential debate stage.

Speaking to "Saturday Report" on Trump signing the pledge, Morris, author of "The Return: Trump's Big 2024 Comeback," said, "Oh, it's ridiculous. He's 18 points ahead. He's clearly likely to be the nominee. And he does not want to give a blank pledge supporting anyone who wins the Republican nomination; doesn't mean he's going to run as a third party."

"The significant thing," Morris said, "is everyone else taking that pledge. But this is a phony issue. They're using it to try and trip Trump up ... And it would be appropriate if he were two or three points ahead, and it was a close horse race, but 18 points ahead, come on."
As if Trump didn't have a reputation of lying to people or not living up to his word.
Posted by Terry K. at 1:48 PM EDT
Updated: Tuesday, May 2, 2023 1:51 PM EDT