MRC's Jean-Pierre-Bashing, Doocy-Fluffing Watch (Sans Doocy)
Topic: Media Research Center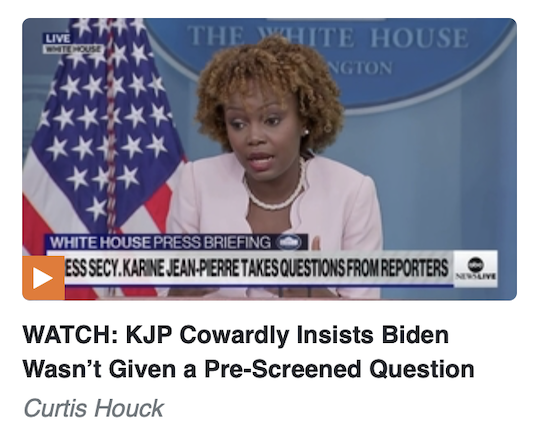 Curtis Houck sounded much more like a PR flack for Kevin McCarthy than the "media researcher" he's supposed to be in his writeup of the April 21 White House press briefing:
Prior to the weekend, more Hunter Biden headlines, and Monday's media tsunami regarding Tucker Carlson and Don Lemon, there was Friday's White House press briefing and it began with a rant from White House Press Secretary Karine Jean-Pierre ghoulishly claiming House Republicans want to "fill our cities with smog," "give asthma to our children," and allow oil companies to use chemicals that would "melt bones."

This rant represented no basis in reality, but not one White House reporter stepped up to the plate to condemn this, including the front row of NBC's Peter Alexander, ABC's Mary Bruce, CBS's Nancy Cordes, Reuters's Steve Holland, CNN's Kevin Liptak, and Darlene Superville of the Associated Press. There wasn't even an installment of Doocy Time to call this out.

The plan spearheaded by Speaker Kevin McCarthy (R-CA) would only, among other things, roll spending back to 2022, ax new spending for the Internal Revenue Service (IRS), and impose additional work requirements for certain welfare programs. So, yes, Republicans would be going back to the dark, old days where bones were melted and cities were filled with smog in....2022?

Jean-Pierre had been hawking Biden's "bold climate and environmental justice agenda" when she argued it "could not stand in starker contrast to the dangerous proposals MAGA House Republicans are putting forward."

Citing a pants-on-fire chart behind her, she declared McCarthy's "ransom note" would mean the party wants "to kill jobs, fill our cities with smog, and give asthma to our children."

"The proposal would repeal the Inflation Reduction Act's green energy tax credits," she continued, "sending thousands of jobs back to China" and "make it easier for oil companies to use toxic chemicals that cause severe burns, damage people's eyes, and quite literally melt bones."
Houck offered no actual evidence anything Jean-Pierre said was wrong -- he just mocked her and repeated similar mocking from his fellow right-wingers.
Houck spent his writeup of the April 24 press briefing whining that everyone was talking about Fox News firing Tucker Carlson and nobody was talking about Hunter Biden, and that a right-wing reporter asked about an old story:
While media observers, Twitter, and cable news viewers were lighting their hair on fire Monday over the monumental shakeup with CNN firing Don Lemon and Fox News axing Tucker Carlson, the Biden White House held its near-daily press briefing and there were a few moments that slipped under the radar, including one about Hunter Biden.

The New York Post's Steven Nelson took advantage of National Security Adviser Jake Sullivan serving as Press Secretary Karine Jean-Pierre's crutch for the day and asked about an April 11 revelation from a former Obama-Biden official that alleged Sullivan — then a top Biden aide — called for support to the Ukrainian gas industry just after Hunter Biden signed on with Burisma.
Houck's April 27 briefing writeup was heavy on the right-wing scandal du jour (let's call it "Questiongate"):
Thursday's White House press briefing featured an embarrassing performance by the ever-inept Press Secretary Karine Jean-Pierre as she tried to defend and explain away an infamous photo captured of President Biden holding a card Wednesday afternoon with the name of a reporter he called on (Courtney Subramanian of the Los Angeles Times) and a typed-out question that was close to the one she asked.

Fox's Jacqui Heinrich brought it up, but treaded carefully: "The LA Times said that their reporter did not submit any questions in advance of yesterday's press conference, so, to people who saw that pocket card, can you explain how that ended up there and why the President needed something like that?"

Jean-Pierre thanked Heinrich for bringing it up and, sure enough, had comments. She insisted "[i]t is entirely normal for a president to be briefed on reporters who will be asking questions at a press conference and issues that we expect they might ask about" and thus "it is not surprising" to hear the White House anticipated questions about 2024 and semiconductors.

Adding that press briefings also serve as a way of gleaning what reporters are interested in, Jean-Pierre proclaimed: "[W]e do not have specific questions in advance. That's not something that we do. And in fact, I would point out the questions that was asked was different than what it was on the card that you all saw."

After she insisted such preparation was done in order to shape the news coverage, the Daily Caller's Diana Glebova wasn't having it: "How are the reporters decided?"

Jean-Pierre actually replied, explaining the White House "reach[es] out to a number of reporters who — who were going to — who we know are going to be at the press conference and that's what we did yesterday and also...who has not gotten a question in a while."
Houck censored the fact that both of these reporters work for right-wing outlets -- thus demonstrating their bias -- or that it's standard procedure for presidents and other officials to be briefed on what reporters are likely to ask them at a press briefing.
Posted by Terry K. at 8:34 PM EDT
Updated: Tuesday, May 30, 2023 11:10 PM EDT