CNS Climbs Aboard The Right-Wing Anti-ESG Bandwagon
Topic: CNSNews.com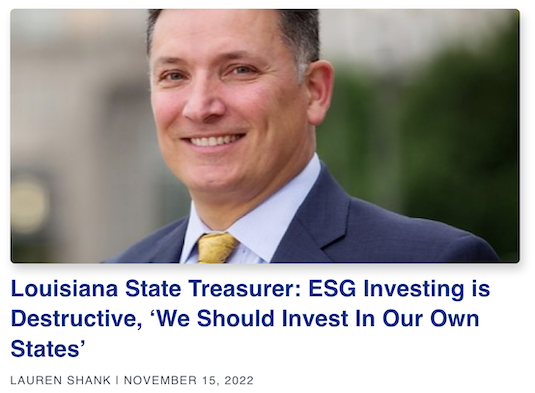 The latest right-wing fad is to express performative outrage over investment policies that focus on environmental, social and governmental issues -- or ESG for short -- and CNSNews.com was pretty much ideologically ordered to hop aboard that bandwagon. Lauren Shank wrote in a Nov. 15 article:
The woke investing of ESG – Environmental, Social, and Governance – by state governments and other entities is destructive and a threat to pension holders, said Louisiana State Treasurer John Schroder on Monday in Washington, D.C. "We should invest more in our own states," he said, "if you don't invest in your own state, who is?"

Schroder made his remarks at the State Financial Officers Foundation (SFOF) National Convention on Nov. 14, where he was joined by state treasurers and auditors from Arizona, Arkansas, Florida, Idaho, Indiana, Kentucky, Mississippi, Nebraska, Ohio, Pennsylvania, South Carolina, and eight other states.

As explained by the U.S. Securities and Exchange Commission, " ESG stands for environmental, social, and governance. ESG investing is a way of investing in companies based on their commitment to one or more ESG factors. It is often also called sustainable investing, socially responsible investing, and impact investing."

At the convention, CNS News asked Schroder how people can combat ESG investing, and what he has done to protect Louisiana from the effects of it.
As befits someone who cares more about pushing a narrative than being the fair and balance journalist she purports to be, Shank talked to no supporter of ESG investments. Instead, she hyped a study claiming that ESG investments perform relatively poorly.
Fellow fall intern Peyton Holliday also made a trip to that same convention, and she churned out a similarly biased article the same day:
"Elections matter" and Americans should strive to "elect people that are representing the interest of pensions," said Kentucky State Treasurer Allison Ball on Monday in Washington, D.C. She also sharply criticized ESG investing and explained that many voters are unaware that their pensions are being invested in ESG companies instead of in what is best for their retirement and their state.

Ball made her remarks on Nov. 14 at the State Financial Officers Foundation (SFOF) National Convention, where she was joined by state treasurers and auditors from Arizona, Arkansas, Florida, Idaho, Indiana, Kentucky, Mississippi, Nebraska, Ohio, Pennsylvania, South Carolina, and eight other states.
Like Shank, Holliday made no effort to talk to an ESG supporter. But this narrative is apparently such a priority for CNS' parent, the Media Research Center, that both of these articles were reposted at NewsBusters. Apparently, there is no more wall between news and activism, if indeed there ever was.
She followed up with another anti-ESG article on Nov. 29 combined with Elon Musk stenography:
Entrepreneur and business magnate Elon Musk considers ESG -- environmental, social, and governance investing or 'woke' investing -- to be "the devil."

Musk was tagged in a Twitter post by Carol Roth who wrote, "Remember when @ElonMusk wanted to bring free speech to Twitter and then S&P removed Tesla from their ESG 500 index, but kept in Exxon?"

"ESG is business social credit," she added. "It's a means to control capital, keep business people in line with the narrative, and, ultimately, control you."

To which Musk responded, "ESG is the devil."
Holliday did note a reason why Musk might be a little sour about ESG investments: Tesla, where he serves as CEO, was removed from from S&P 500's ESG index.
Craig Bannister served up another Republican anti-ESG promotion in a Dec. 5 article:
Florida is pulling $2 billion of assets from BlackRock, the world's largest asset management firm, because the company should be choosing investments based on its clients' best interests, and not on an environmental, social and governance (ESG) agenda, the state's attorney general explained Monday.

"Governor DeSantis (R) has been very clear: Florida is where 'woke' goes to die. But, this is a bigger picture," AG Ashley Moody said in an interview with Fox & Friends First:

[...]

Florida funds don't belong in "these large institutions that were doing anything other than looking at risk, return and diversification, any other sort of ideological agenda," Moody said.
Bannister served up more Republican anti-ESG stenography the next day:
On Tuesday, six House Republicans launched a probe into whether a group of banks and money managers, wielding the influence of a reported $60 trillion of investments, is violating federal antitrust laws in order to promote ESG (Environmental, Social and Governance) policies.

The letter, sent to two investment executives on the steering committee of Climate Action 100+, is signed by the incoming chair of the House Judiciary Committee, Rep. Jim Jordan (R-Ohio), joined by Reps. Dan Bishop (R-N.C.), Matt Gaetz (R-Fla.), Scott Fitzgerald (R-WI), Cliff Bentz (R-OR), and Tom McClintock (R-CA).

[...]

"Woke corporations are collectively adopting and imposing progressive policy goals that American consumers do not want or do not need," the letter adds.

[...]

The letter also lists other ESG-related goals, such as abortion access, climate change fear-mongering, reducing greenhouse gas emissions, gun control and censorship of so-called disinformation.

Good intentions, no matter how dearly they are held, do not excuse antitrust violations, the letter explains, requesting that the information sought be provided by December 20, 2022.
Bannister became very much an anti-ESG propagandist for Republicans, writing in a Dec. 7 article:
The committee is looking into the ways, and extent, that BlackRock's efforts to achieve an ideological agenda is harming its Texans and the state's pension plans by boycotting some industries, such as coal and oil, in favor of less profitable, so-called "green" initiatives.

[...]

Texas Comptroller Glenn Hegar has described the ESG movement as an "opaque and perverse system," where financial institutions "use their financial clout to push a social and political agenda shrouded in secrecy."
More propaganda -- and a promotional piece -- followed in a Dec. 9 article:
"If somebody tries to sell you on environmental, social, and governance (ESG) investing, hold on tight to your wallet and to your values – ESG is coming for both," Senior Fellow at the School of Public Policy Pepperdine University Andy Puzder warns in a PragerU video.

Puzder details how, due to the ESG investment strategy, "companies, and even whole economies, go from woke to broke – including your 401(k)."

ESG is an anti-capitalism investment strategy that assumes that "If you're a company just trying to make a profit, you're the problem" – even though the profit motive has brought about some of mankind's greatest inventions – including electric cars, solar panels and wind turbines, Puzder notes.
Bannister was back in a Dec. 22 article:
A bank tried to use his loan application as leverage to coerce him into publicly expressing support for Environmental, Social and Governance (ESG) ideology, businessman Bud Brigham alleged in testimony at a Texas Senate Committee on State Affairs hearing.

Brigham, founder and executive chairman of Brigham Minerals, detailed his allegation at a December 15, 2022 hearing examining the harm that the ESG movement - in which financial institutions limit their investments to companies aligned with specific leftwing environmental and social causes - is doing to Texans, their access to capital, and their investment portfolios.

In his testimony, Brigham claimed that Credit Suisse, a global investment bank and financial services firm, suggested that his company would have its loan application approved – but, only if he tweeted out statements repeating and promoting principles of liberals' climate agenda.

"I'm going to provide you with a couple of specific examples of how corrupt it is, looking at the ESG movement," Brigham began his testimony.
This article was also reposted at NewsBusters.
In none of these articles did Bannister offer any sort of balance in the way of a pro-ESG viewpoint. That's because CNS is paying him to be a biased propagandist, not a balanced journalist.
Posted by Terry K. at 8:23 PM EST
Updated: Friday, April 7, 2023 12:06 AM EDT