CNS Attacks Biden Over Policy Change To Allow ESG Investments
Topic: CNSNews.com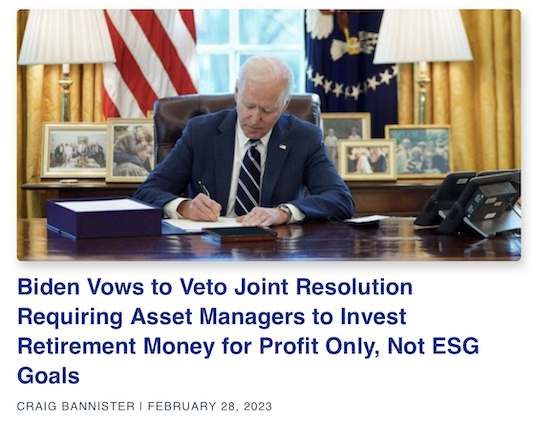 Earlier in the year, CNSNews.com -- which has been dutifully taking part in the current right-wing obsession du jour over hating investments that take environmental, social and governmental issues into consideration -- freaked out when the Biden administration rolled back a Trump mandate restricting ESG investments. As Republicans pushed a resolution through Congress opposing the rollback, Craig Bannister dutifully hyped it in a Feb. 28 article:
On Monday, President Joe Biden vowed to veto a joint resolution working its way through Congress this week that would nullify the administration's recent rule allowing retirement and pension fund managers to choose investments based on environmental, social and governance (ESG) considerations.

Under federal ERISA law, asset managers have a fiduciary responsibility to their clients to base investment decisions on their expected financial profitability alone, but a Labor Department rule that went into effect last month now gives fund managers the freedom to pick investments based on anticipated ESG benefits, as well.
Bannister hyped the "bipartisan" votes the next day:
On Wednesday, the Senate followed the House in passing a joint resolution to nullify a recent Biden Administration rule that allows asset managers to prioritize less-profitable ideological causes over profit maximization when investing their clients' retirement funds.

Biden's Labor Department rule had freed managers of retirement account and pension funds from their fiduciary responsibility to consider only profitability, so that they could put their clients' money in environmental, social and governance (ESG) investments yielding lower returns with higher fees.

The joint resolution (H.J. Res. 30) passed the Senate by a four-vote margin, with the help of two Democrat senators, Townhall reports:

[...]

On Tuesday, H.J. Res. 30 passed the House, on a bipartisan of 216-204 – the same day that the White House released a statement promising that President Joe Biden intends to veto the measure.
Bannister failed in both articles to disclose that the Biden policy change simply reverts investment policies to pre-Trump standards.
CNS also cranked out stenography articles quoting Republican politicians over the ESG policy change that didn't allow anyone to rebut them:
When Biden did indeed veto that resolution, Bannister whined about it in a March 20 article:
On Monday, President Joe Biden issued his first presidential veto, in objection to a bipartisan Congressional joint resolution nullifying his administration's rule freeing asset managers to invest their clients' retirement savings in political causes, rather than in the most profitable investments.

"[T]his resolution [joint resolution H.J. Res. 30] would prevent retirement plan fiduciaries from taking into account factors, such as the physical risks of climate change and poor corporate governance, that could affect investment returns," Biden wrote Monday in his "Message to the House of Representatives — President's Veto of H.J. Res 30."

[...]

Biden posted a snarky tweet celebrating his veto on Monday, in which he derided the joint resolution as a product of House Republicans who want to "make America great again" (MAGA), such as firebrand Rep. Marjorie Taylor Greene (R-Georgia), and claimed that politically-motivated ESG investments, somehow, "protect your hard-earned savings":

"I just vetoed my first bill.

"This bill would risk your retirement savings by making it illegal to consider risk factors MAGA House Republicans don't like.

"Your plan manager should be able to protect your hard-earned savings — whether Rep. Marjorie Taylor Greene likes it or not."
Note that Bannister falsely put words in Biden's mouth -- hedidn't call ESG investments "politically-motivated."
In none of these articles, by the way, is it explained why Americans should be prohibited from investing their money the way they choose, given that personal freedom is something right-wingers like the folks who run CNS are supposed to be in favor of.
Posted by Terry K. at 3:44 PM EDT