MRC Tries To Defend Right-Winger's Brain Freeze On Defining 'Woke'
Topic: Media Research Center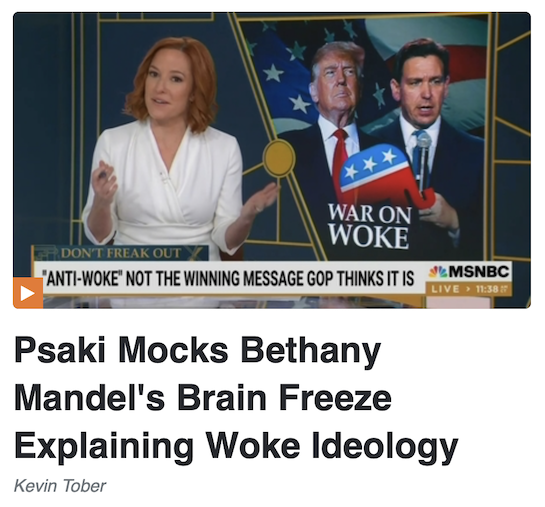 Right-wing activist Bethany Mandel got a little attention some weeks back when she was unable to define "woke" during an interview in which she was promoting a book she co-wrote that raged against "the current woke indoctrination happening in politics, education, medicine, mental health, entertainment, and culture." (Of course, right-wingers have used the word to describe anything and everything they don't like, to the point that it no longer has a fixed definition, if indeed it ever had one.) The Media Rsearch Center's Kevin Tober rushed to Mandel's defense in a March 19 post, partly by insulting others:
During the inaugural episode of MSNBC's Inside With Jen Psaki, the former Biden White House press secretary dedicated an entire segment on her otherwise bland show to mocking conservatives for their fight against the left's woke ideology. She particularly focused in on a moment from an interview given by conservative author and commentator Bethany Mandel in which she had a brief brain freeze when asked to define wokeness.

Of course, it's all the more hypocritical when you recall that Psaki's immediate successor, the inept diversity hire Karine Jean-Pierre, is incapable of putting a coherent sentence together even on her best day.

"In a recent interview, it was even too difficult for at least one conservative commentator to define what woke actually even means. Conservative author Bethany Mandel has written a book that covers this exact subject." Psaki started off noting.

She then cut to video of Mandel's interview on The Hill's Rising in which the leftist co-host Briahna Joy Gray asked the gotcha question:
Yes, Tober really did call Mandel being asked what "woke" means a "gotcha question" even though, again, she had just co-written a book railing against "woke indoctrination." And all the insult-hurling suggests that he really doesn't have a coherent argument to defend her.
Tober continued to whine that Psaki mocked Mandel's brain freeze on the subject on which she has presented herself as a expert, going on to insist that Mandel is "extremely smart and articulate" based on alleged personal experience:
We all have our bad moments, Psaki knows that better than anyone. This writer has met Mandel and she's extremely smart and articulate. Despite that, Psaki decided to use this as an opportunity to claim that the GOP's attacks on the left's woke mind virus aren't a winning issue.

Psaki lectured Mandel and the GOP: "Just two cents from someone who has worked a few years in communications. If you can't explain it, and people don't understand it in 15 seconds, it may not be the winning message you think it is."

"So everyone out there, it sounds like you can let your woke flag fly," Psaki proclaimed.

Yes leftists, keep imposing your woke ideology on Americans. See how that works out for you in 2024.
Strangely, Tober failed as well to offer a definition of "woke," despite using it in right-wing-insider terms like "woke mind virus," a term that seems to have an even more ambiguous defintion than "woke."
If neither Mandel nor Tober can define "woke" despite using the word as a main part of their activist vocabularies, why should they be listened to about anything?
Posted by Terry K. at 10:25 AM EDT