Musk PR: MRC Childishly Mocks NPR For Quitting Twitter Over Twitter's Arbitrary Label Change
Topic: Media Research Center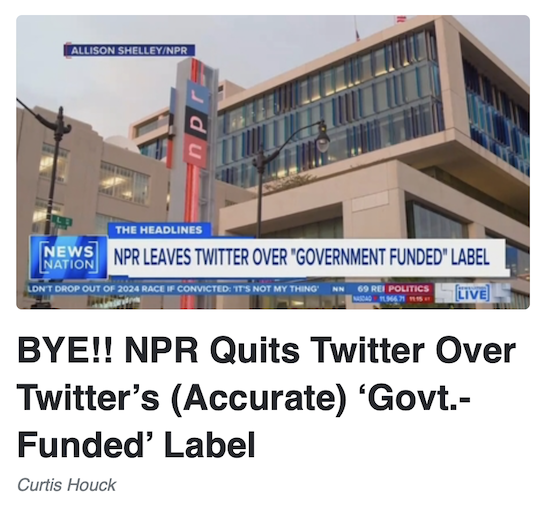 We've shown how the Media Research Center took the bait when Elon Musk needed a distraction from bad right-wing press and happily embraced how he arbitrarily changed the label of NPR's Twitter account to "state-affiliated media" -- even though nobody can plausibly argue that NPR is anything like state-controlled media in authoritarian countries. When NPR decided it would no longer publish anything on Twitter due to Musk's capricious targeting of it, the MRC found this hilarious and decided that NPR -- not Musk -- was the bad guy, even though it had done nothing to provoke Musk. Curtis HOuck ranted in an April 12 post:
On Wednesday morning, taxpayer-funded National Public Radio (NPR) upped the ante in its hissy fit against the Elon Musk-owned Twitter as, in light of the fact that Twitter added the "state-affiliated media" label to NPR's account and then tweaked it to say "government-funded media." The far-left crackpots are quitting the social media platform because Twitter was "falsely implying that we are not editorially independent."

To reiterate, NPR quit Twitter in a childish fit of rage because the free speech platform accurately labeled them as government funded in the same way as wholly state-run media outlets in China and Russia are labeled. Therefore, staying would be a supposed affront to their "journalism".

NPR and its litany of liberal defenders also purposefully left out the fact that Twitter has slapped the same label on BBC, who's also incensed despite existing thanks to a royal charter and fee set by the government and charged to nearly every British business and household.
To reiterate -- correctly, unlike what Houck did -- NPR quit Twitter because Musk had a childish fit of rage and decided that he alone could decide how media organizations are labeled, ignoring that nobody, not even NPR, is obligated or mandated to use Twitter. (He also didn't support his assertion that NPR is "far-left.") Houck then maliciously described NPR justifying their decision as "whining" (though identifying no actual whining) and playing games with how NPR describes its funding:
On NPR's website, media correspondent David Folkenflik took a pause from his life's mission to kill Fox News to report his outlet "quits Twitter after being falsely labeled as 'state-affiliated media'".

Talk about some serious coping and seething. Folkenflik would probably hate if we shared links harkening back to the days when defunding NPR and PBS were seen as killing Big Bird.

Folkenflik explained the move extended "to its 52 official Twitter feeds" and parroted his bosses in whining it was offensive to NPR to being depicted with "the same term it uses for propaganda outlets in Russia, China and other autocratic countries."

He insisted in a comical take that NPR isn't "government-funded" and rather "a private, nonprofit company with editorial independence" that "receives less than 1 percent of its $300 million annual budget from the federally funded Corporation for Public Broadcasting."

So, NPR receives money from a federal board? That sure seems like government funding. Also, what a relief to know tax dollars are so infinitesimal to NPR's survival that it wouldn't be a threat to their existence if Congress defunded and shuttered the CPB, which received $465 million in 2022.

Simply put, Folkenflik and his likeminded lemmings play accounting games.
Houck and the MRC might be taken more seriously as "media researchers" than they are if they didn't engage in such gratuitious, childish insults. And his attempt to claim that Folkenflik as a " life's mission to kill Fox News" is rather hilarious considering his own liffe's mission to kill NPR, CNN and every other media outlet that's not as right-wing as Fox News.
Houck then bizarrely accused Folkenflik of engaging in "mind-numbing egotism and use of stochastic terrorism" by pointing out that journalists could be endangered by Musk's arbitrary relabeling." Of course, Houck couldn't be bothered to actually prove Folkenflik wrong, instead choosing to hurl even more immature insults instead. He concluded with one more petulant rant:
According to longtime NPR lefty Steve Inskeep, [NPR CEO John] Lansing stopped by Morning Edition's production meeting to insist Musk's site "no longer has the public service relevance that it once had" (meaning it's no longer controlled by pro-censorship leftists).

Those cries you hear? That's the sound of a liberal political strategy firm realizing they've lost control of a key medium to shovel their propaganda.
Houck seems weirdly outraged by all this, considering that absolutely none of it affects him personally. It's almost as if he's getting paid by the insult -- but by who, the MRC or Musk?S
Speaking of petulant: Later that day, Tim Graham devoted a post to Musk reacting badly to NPR quitting Twitter (though, of course, that's not how he framed it) by repeating the right-wing mantra "Defund NPR":
For many years, NewsBusters has urged the Congress to "defund NPR." It doesn't mean taking away all their funding -- just the government funding. They often claim only two percent of their funding comes from government. In that case, why not give it up? Today, Elon Musk tweeted out "Defund NPR" in the wake of NPR's arrogant proclamations about how great they are. So now we have celebrity endorsers!

Musk tweeted an email from NPR's tech reporter Bobby Allyn asking for comment on NPR's decision to abandon Twitter. "Because of the label, NPR is quitting Twitter across all of our 50+ accounts. Our executives say the government-funded media label calls into question our editorial independence and undermines our credibility," huffed Allyn. "Some wonder if this will cause a chain reaction among news orgs. What's your reaction?" He probably wasn't prepared for the answer.

[...]

But note Allyn begging for a "chain reaction" of liberal media following NPR off Twitter. CNN's partisan liberal media reporter Oliver Darcy tweeted "NPR becomes first major news org to stop using Twitter," as if they'll be the first of many. Will CNN be next? This shows that the leftist media are unhappy that Twitter has become a free-speech platform that doesn't bend to NPR whims -- like insisting the Hunter Biden laptop was a "pure distraction."

Like a feisty NPR liberal, Allyn cried hypocrisy at Musk: Tesla, "which has received billions of dollars in government subsidies over the years, does not appear to have the label."

NPR's main Twitter account has (had?) 8.8 million followers. This means that Twitter has one less major national misinformer.
Needless to say, Graham didn't describe Musk as acting on a whim by arbitrarily relabeling NPR's Tweitter feed for no reason other than an attempt to own the libs and generate right-wing clicks and attention.
Kevin Tober dutifully regurgitated Houck's malicious "hissy fit" framing when noting that other media outlets reported on Musk's hissy fit:
Hours after National Public Radio threw what NewsBusters managing editor Curtis Houck described as a "hissy fit" against the Elon Musk-owned Twitter and left the platform over being accurately described as "state-affiliated media" and later "government-funded media," CBS Evening News anchor Norah O'Donnell clearly seemed saddened by the left-wing outlet leaving. CBS later attempted to slime Musk's stewardship of Twitter by falsely claiming that "misinformation" on the platform was up 42 percent. They then omitted a BBC reporter getting called out by Musk when he couldn't point to an example of "hateful content" on Twitter.

[...]

Later on in the report, correspondent Jonathan Vigliotti whined about "rampant misinformation" on Twitter and cut to a BBC interview Musk gave where he addressed those false claims:

MUSK: I actually think there's less these days because we have eliminated so many of the bots, which were pushing scams and spam. And previously, previous management turned a blind eye.

Despite just explaining why claims of "misinformation" were untrue, Vigliotti pushed a bogus study claiming "accounts that often linked to false information have seen engagement increase 42 percent since Musk purchased the company last October."
Tober offered no evidence to support his claim that the study was "bogus."
Graham concluded the MRC's April 12 activity on the subject by having Houck on his podcast to rant some more. Graham tried to addhis own purported zingers: "They like to think they are a herd of independent minds, but they sound like National Public Relations for Democrats. Or National Press Release." Never mind that both he and Houck are actively doing PR for Musk by allowing themselves to be distracted by his clickbait.
Posted by Terry K. at 10:14 PM EDT