MRC Tried To Attack Wis. Court Candidate
Topic: Media Research Center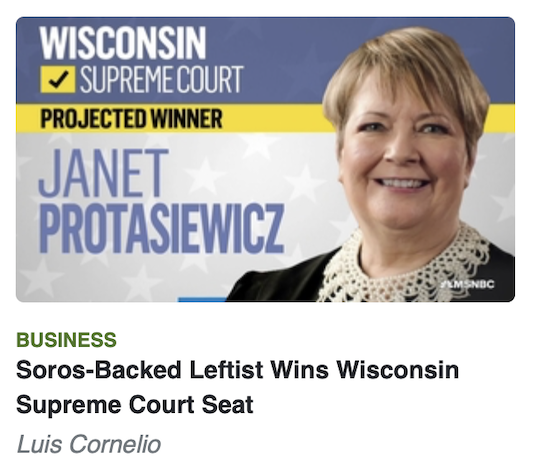 The Media Research Center gave a little attention earlier this year to an election for a Wisconsin Supreme Court seat -- almost entirely to attack the liberal-leaning candidate. Mark Finkelstein took the first shot in a Feb. 25 post:
This was political kabuki theater at its transparent worst.

The Wisconsin Supreme Court balance could tip leftward in a general election in April. On his new Saturday Showon MSNBC, Jonathan Capehart invited on the liberal candidate Janet Protasiewicz. The clear intent was to signal to voters and donors how she would vote on key issues before the court, notably abortion.

[...]

Capehart might as well have had a flashing screen graphic: "Vote/Donate To Protasiewicz! She'll strike down Wisconsin law restricting abortion!!!" Even The New York Times has reported "Judge Protasiewicz has pioneered what may be a new style of judicial campaigning. She has openly proclaimed her views on abortion rights (she's for them) and the state's legislative maps (she's against them)."

Protasiewicz also condemned the "extremism" of the current court, which has a conservative majority. She wants to get back to "normal." Because, you know, there's nothing more "normal," and non-extreme, than supporting abortion up to the moment of birth with no restrictions!
Finkelstein didn't mention that Protasiewicz's opponent, Dan Kelly, has a long history of right-wing activism -- even having declared that abortion "involves taking the life of a human being" -- and had been endorsed by Wisconsin anti-abortion groups (even as he laughably insisted his politics didn't matter).
Alex Christy bashed a temporary "Daily Show" host for endorsing Protasiewicz in a March 30 post:
Comedy Central The Daily Show temp host John Leguizamo fulfilled show creator Lizz Winstead's dream of using the show to promote abortion on Wednesday as he campaigned for liberal Wisconsin Supreme Court candidate Janet Protasiewicz. Leguizamo would also accuse Republicans of stealing the state legislature because conspiracy theories about stolen elections are apparently okay when liberals are the ones peddling them.

The election will determine the ideological balance of the court, as Leguizamo explained, "All right, let's move on to Wisconsin because they're about to have an election for the state supreme court that's hugely important, and not just for there, but for the whole goddamn country. And it's a little complicated to explain why in a short time, but fortunately, I'm a Latino New Yorker and I can talk very fast… So, let me break it down for you in my new segment: 'A New York Minute.'"

[...]

It's not a great endorsement of Protasiewicz's legal philosophy that Leguizamo wants people to vote for her because she'll give them policies liberals can't win through regular elections.
Christy overlooked the fact that Republican gerrymandering of thet state legislature effectively rigged the system and made it difficult to pass policies supported by a majority of state residents.
Kevin Tober issued a more direct attack on Protasiewicz in an April 3 post:
On Tuesday, Wisconsin voters will decide the ideological balance of the state Supreme Court for the first time in fifteen years. This election will have national implications on everything from abortion to gun rights to election integrity. Despite this, both the national and local media in Wisconsin have refused to look into the soft-on crime record of the Democrat candidate for the Wisconsin Supreme Court, Janet Protasiewicz.

A recent email exchange between Dan Curry of Restoration News, part of the non-partisan political action committee Restoration of America PAC (ROA), and Corrinne Hess, a political reporter for the Milwaukee Journal Sentinel, showed how uninterested the leftist media are in covering any unfavorable stories having to do with Democrats.
Tober is being highly dishonest by portraying ROA as "non-partisan" -- Restoration PAC is indisputably a right-wing organization funded by billionaire Richard Uihlein that pushes right-wing causes. Restoration PAC funded a different PAC that spent more than $2 million on ads supporting Kelly and attacking Protasiewicz. Despite Tober's framing that the Journal Sentinel was "uninterested" in what the Restoration PAC guy was peddling, the more simple and obvious explanation is that the paper was choosing not to cozy up to a partisan activist who had other means (and the money) to push his narrative.
Tober made sure to include his own attack line as well: Unsurprisingly, Protasiewicz was also being backed by liberal billionaire George Soros." Like the MRC's attempts to link DA Alvin Bragg to Soros, this isn't as clear-cut as he'd like you to believe; a Soros PAC donated money to a PAC supporting Protasiewicz, which is not the same thing as Tober's insistence that Soros donated directly to her campaign.
After Protasiewicz won the election, Luis Cornelio spent an April 5 post in a full anti-Soros rage (to the point that he had problems spelling her name correctly):
George Soros's scheme of funneling millions of dollars to overhaul America's judicial system seems to be paying off, with Wisconsin becoming his latest return on investment.

Judge Janet Protasiewicz, a Soros-tied leftist candidate for the Wisconsin Supreme Court, won the April 4 election, effectively establishing a Democrat majority on Wisconsin's highest court for the first time in 15 years, the Associated Press reported April 5.

Wisconsin campaign finance filings, first revealed by Fox News on March 28, show leftist mega-donor George Soros funneled $1 million to the Democratic Party of Wisconsin on February 22, marking the largest donation to the party between Feb. 7 and March 20 alongside Illinois Governor J.B. Pritzker (D), who also reportedly donated $1 million.
There was no mention of the money supporting Kelly's campaign coming from the likes of billionaires like Uihlein.
Cornelio then touted how "Protasiewciz's [sic] opponent, Dan Kelly —a former Wisconsin Supreme Court justice —conceded the election but not before slamming the Soros-tied leftist candidate as a "serial liar" and raising the alarm about what's to come in Wisconsin" -- even though he immediately contradicts himself by quoting Kelly as saying that "I do not have a worthy opponent to which I can conceit [sic]." Cornelio unsurprisingly concluded by repeating his employer's talking points on tying Bragg to Soros.
Posted by Terry K. at 11:26 PM EDT
Updated: Thursday, May 11, 2023 11:28 PM EDT