Michelle Induces Another Fit Of Obama Derangement Syndrome At The MRC
Topic: Media Research Center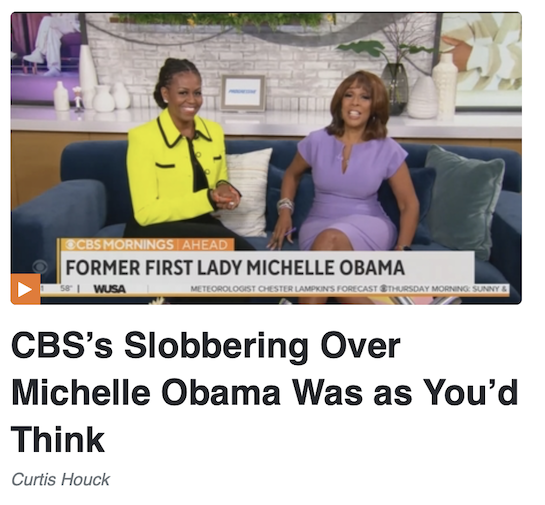 Barack Obama hasn't been president for years, yet the Media Research Center continues to suffer outbreaks of Obama Derangement Syndrome. This happened again when Michelle Obama appeared on TV to promote a book, and Alex Christy whined about it in an April 20 post:
Former First Lady Michelle Obama reignited her book tour on Wednesday as she stopped by NBC's The Tonight Show for an interview with host Jimmy Fallon, who was espicially interested in one specific chapter.

Fallon led Obama with more of a statement than a question when he reported, "There's also a chapter dedicated to, 'When they go low, we go high.'"

After Obama recalled, "Well, people still keep asking me, "you still mean that?," Fallon continued, "But, that was -- that was an epic line. That was just -- it just - it stuck in everyone's head… Did you realize how powerful that would be years after you--?"

Recently, Obama went low by insisting that racism wouldn't let her wear her hair in a way she may have preferred while she was first lady.

[...]

All in all, Obama spent 20 minutes on The Tonight Show including two interview segments one pre-recorded segments where she and Fallon surprised people at a book store.
As we've noted, right-wingers like Christy would have absolutely caused a controversy if Michelle Obama had changed her hair in the White House, and it's not racist or "going low" to point that out.
The same day, another interview with Michelle Obama sent Curtis Houck into a full ODS rage:
After having teased former First Lady Michelle Obama's appearance all week, Thursday's CBS Mornings lived up to the embarrassing hype with an astounding nine teases plus 14 minutes and 20 seconds over two segments prostrating themselves over the ground she walked on, led by co-host, Democratic donor, and Obama family friend Gayle King (neither of which was, as usual, disclosed to viewers). All told, democracy died in a lack of journalism.

King couldn't even get a second beyond welcoming viewers to the show before reminding them Obama would be there. After the Eye Opener, King exclaimed they were "very excited because we've got a very special guest in the show today" after having "tour[ed] the country" and "spreading the word about her book."

She added the title of her second book was The Light We Carry: Overcoming in Uncertain Times and remarked, "And boy, don't we have some uncertain times right now." Co-host Nate Burleson agreed, gushing, "And her light shines bright."

Two teases later, King swooned over how Michelle was so highly anticipated at CBS that, in a move she claimed has never happened before, "a techician came to me and said, 'how does Mrs. Obama like her room temperature?'"

The second part was even dumber as King called over a staffer to relay how this woman's mom had chided her for planning to wear jeans in the presence of Obama[.]

[...]

King pivoted to her second book and gushed over "the difference between the two books because Becoming was a best-selling novel, over 12 million sold. Drop the microphone, thank you so much."

"So when you started writing the second one, did you feel pressure that I have to top that, or I want to make another bestseller," she asked.

Obama explained she wasn't contractually obligated, but did anyway due to "the last few hard years of being in quarantine, dealing with COVID, all the political uncertainty" and thus "had a lot of time on my hands to just sort of stew and to mull over questions that young people...would ask about managing life in uncertain times."

[...]

King's final question was eye-rolling: "What gives you joy these days, Michelle Obama? What are you looking forward to?"

And because they couldn't get enough, the show ended with King thanking Obama.
Tim Graham rehashed all of this for his April 21 podcast:
Meanwhile, Michelle Obama drew typical goop about her line "when they go low, we go high" and whether she would please her superfans by running for president someday. NBC late-night host Jimmy Fallon hailed her "epic line," but Michelle Obama has certainly gone low over the years, including in convention speeches. CBS morning host Gayle King gushed all over her, as usual, as you might expect, since they have vacationed together. But Mrs. Obama had a gaffe when she claimed America's the only country with "unfettered access to firearms." Many felons, domestic abusers, and mental health patients don't get access.
In fact, many right-wingers oppose red-flag laws that would keep guns out of the hands of domestic abusers, "mental health patients" and other people deemed to be dangerous.
Posted by Terry K. at 10:39 PM EDT