MRC Falsely Frames Tenn. Capitol Anti-Gun Protest As A 'Violent Insurrection'
Topic: Media Research Center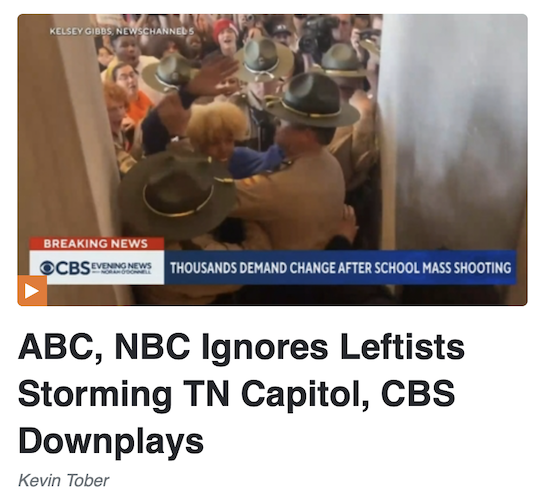 As if attacking the shooter's alleged transgender identity wasn't enough, the Media Research Center found another reason to distract from the gun massacre in Nashville in which six people were killed. When protesters made a ruckus at the Tennessee Capitol by demanding state legislators do something abut gun violence, Nicholas Fondacaro spent a March 30 post trying to maliciously portray it as being as violent as the Capitol riot, even calling it an "insurrection":
There was more leftist violence in America on Thursday as a mob of over 1,000 people descended on the Tennessee State Capitol. What started as just a protest to abolish gun rights quickly turned into a scuffle. Online videos showed people fighting with police officers as they tried to break into the legislative chamber, eventually succeeding. What some online were calling a violent insurrection went unreported on MSNBC, which was outside the building. Instead, they claimed it was just "people singing songs."

Appearing on MSNBC's Chris Jansing Reports, correspondent Lindsey Reiser described the crowd as "hundreds of people showed up today. I mean, probably about 1,500, maybe even upwards of that showing up. A lot of young people, a lot of young students, skipping school. A lot of parents bringing their young kids here as well."
Note that Fondacaro's source for all this supposed violence is "some online." In reality, nobody was injured or arrested at the Nashville protest and were not trying to overthrow the government, as Fondacaro's right-wing buddies were trying to do on Jan. 6, 2021.
Nevertheless, Kevin Tober hyped the purported violence by a "mob" of "the left" in "what some described as a violent insurrection" in another post that day:
For the second time this week, the left turned violent Thursday when a mob of over 1,000 gun control activists stormed the Tennessee State Capitol in what some described as a violent insurrection. Much like their cable news colleagues from earlier in the day, the three evening news broadcasts either ignored or downplayed the violent riots at the Tennessee State Capitol. While the news of the indictment of former President Donald Trump soaked up much of the oxygen in the news cycle late Thursday, the three networks had plenty of time to cover the Tennessee mobs.

ABC's World News Tonight and NBC Nightly News completely ignored the riots at the Tennessee Capitol in favor of stories on a snowboarder in Washington state being rescued after getting buried in the snow (ABC), and a sitdown interview with a disgruntled former Fox News producer to smear her former employer (NBC).

While CBS Evening News did cover the story, it was only briefly and when the footage of the leftist rioters clashing with capitol police was aired, CBS downplayed the violence.
Um, because there was no actual violence?
After Republican state legislators prepared to retaliate against three Democratic representatives who took part in the (non-violent) demonstration, Alex Christy complained in an April 6 post that the protesting legislators were getting support -- and like his co-workers, tried to make the protest sound worse than the Capitol riot:
As the Tennessee House of Representatives prepared to vote on Thursday to expel three Democratic lawmakers for disrupting proceedings by leading demonstrators with megaphones inside the House chamber, CNN Inside Politics host John King came running to their defense, claiming that "They were trying to get a discussion." At the same time, chief national affairs correspondent Jeff Zeleny argued "no one cares about the rules of the Tennessee House."

King began the panel discussion by suggesting expelling the lawmakers is excessive, "Now again, they broke the rules in speaking up. The question is okay, six people were shot and killed in your community. Emotions are raw. Do you expel them for speaking up?"

[...]

Sure, the lawmakers weren't trying to get the governor out of office, but they literally did seize control of the chamber to the point where [Speaker Cameron] Sexton had to call for a recess. Furthermore, no GOP lawmaker stood on the House floor with a megaphone during January 6.
Tober returned to clutch his pearls about "decorum" in a post later that day:
On Thursday afternoon, the Tennessee legislature voted to oust three Democrat [sic] members of the state's House of Representatives due to their instigation of an insurrection earlier in the week over the left's demand that the legislative body passes a gun control bill. Later Thursday evening, the big three evening newscasts were clearly angry that Republicans would dare enforce decorum and punish the three Democrats for acting like children rather than serious lawmakers.

Filling in for David Muir on ABC, Linsey Davis opened World News Tonight by disapprovingly reporting on the "dramatic fallout after that mass shooting at Covenant School in Nashville." Davis bemoaned that "Tennessee lawmakers are voting to expel three Democrats from the state legislature after they protested for stricter gun control on the floor of that chamber."


[...]

All three networks huffed over the Tennessee Republican legislature holding three Democrats accountable for attempting to incite an insurrection, yet they had no problem with then-Speaker Nancy Pelosi (D-CA) removing all of Kevin McCarthy's (R-CA) Republicans from her sham January 6 committee.
Tober is wrong -- Pelosi did not "remove" all of McCarthy's Republicans from the January 6 committee (which was very real and not a "sham"). Pelosi rejected two of the five Republicans McCarthy had named to the committee because they were pro-riot (we don't recall anyone from Al Qaeda being appointed to the 9/11 Commission, after all), and McCarthy pitched a hissy fit and withdrew all his nominees rather than work with Pelosi to seat Republicans both could agree on.
Actually, only two of the three Tennessee legislators targeted for removal were actually removed -- the two black ones, in fact; the third one, who is white, was ultimately not removed. When folks pointed out the optics of that, Christy complained in an April 7 post:
The Thursday edition of The 11th Hour came unhinged as Tennessee Lookout editor-in-chief Holly McCall responded to the expulsion of two Tennessee Democrats from the state House by asking if the state ever left it's KKK past, declared the state to lead the way in "backwards and discriminatory legislation" and wondered if Gov. Bill Lee even cares about his own daughter and friends.

A third Democrat, Gloria Johnson, was not expelled and host Stephanie Ruhle was confident she knew why, "Let's lay it out there, three state representatives, all protested hand-in-hand together - two were black men, one was a white woman. Did she do anything different based on your reporting that would keep her in her position and keep these men out?"

[...]

Addressing expelled-Rep. Justin Jones, [former Repubican chairman Michael] Steele tried to wax poetic, "every last one of those bastards who voted you out will rue that moment… it makes a mockery of the very Constitution that you swore to uphold as a representative, so you continue to do you."

No, using a bullhorn to shut down legislative proceedings makes a mockery of that oath. Not deterred, however, Steele continued, "Today, folks, what we saw was Tennessee telling two young African-American men to not get so uppity."

This is an argument to also expel Johnson, not to not expel Jones and Justin Pearson. In any case, Johnson was likely spared because she was the least disruptive of the trio.
Mark Finkelstein similarly complained:
Right on, Don! Just because someone blatantly flouts the House rules, and uses a bullhorn to incite the crowd inside the Tennessee Capitol, it doesn't mean he's being "rude or boisterous" or "whatever." He's just expressing himself! And if you don't understand how "we" express ourselves, you're a racist!

That was part of Don Lemon's take on the expulsion of two black members of the Tennessee House, during Friday's CNN This Morning. And of course, Lemon concluded that it was due to "racism."

Lemon's spiel came after a clip was played of Kaitlan Collins' interview with the chairman of the Tennessee House GOP caucus, Jeremy Faison. He gave some interesting background: that this was far from the first episode of this nature. The representatives who were expelled had a history of disrupting proceedings on the floor as well as in committee meetings.
Finkelstein huffed that the ousted legislators were being turned into martyrs with a platform (but didn't blame the Republican legislators who made that possible: "But being expelled could well turn out to be the best thing that ever happened to the two men. Overnight, they went from being obscure state representatives to hero status for a swath of Americans. Not to mention the liberal media. Witness the fact that one of the reps was treated to an interview on Friday's show for a second day running."
Meanwhile, Fondacaro was still pushing the bogus "violent insurrection" narrative:
A little over a week and a half after a leftist trans terrorist shot up a Christian school in Nashville, Tennessee, CBS Mornings spent part of their Friday newscast telling Republicans in the state that they could be the target of more leftist violence. And according to CBS Prime Time host John Dickerson, the violence would be caused by Republican state legislators voting to expel Democrats, who led a violent insurrection at the state Capitol and disrupted official proceedings on the floor of the House.

"Well, politics needs some cartilage. It needs some give. It can't be totally brittle," Dickerson described the situation. He went on the warn that Republicans supposedly took a "maximalist" approach and left "no give" for Democrats. "[T]here are a series of steps to punish. But when you go to the maximalist, when you kick them out, that's brittle. There's no give," he huffed.

Dickerson then suggested that Republicans should not be surprised if their actions led to Democrats getting violent:

[...]

Earlier in the newscast, they treated the legal vote to remove the Democrats like a travesty of justice and tried to compare it to elements of the civil rights movement. "We begin this morning with the growing uproar after two black lawmakers were expelled from Tennessee's legislature," fill-in anchor Natalie Morales announced, trying to inject race into the situation.

"Never before has a Tennessee lawmaker, never mind two Tennessee lawmakers, been expelled on partisan grounds. But in a polarized country, the gloves are off," correspondent Mark Strassmann clutched his rhetorical pearls.

Strassmann declared them "the Tennessee Three," an apparent attempt to frame them as akin to the kids of the Little Rock Nine, who were the face of the desegregation of schools and faced angry mobs of racists.
Fun fact: In the early part of his career, Johnny Cash's backing band was called the Tennessee Three, but the name was changed to the Tennessee Two for a while, then became the Tennessee Three again. So the actual name alludes much more to in-state heritage than to the Little Rock Nine stretch Fondacaro is trying to make.
Posted by Terry K. at 9:54 PM EDT
Updated: Saturday, April 29, 2023 12:09 AM EDT