Kaepernick Derangement Syndrome Lingers At The MRC
Topic: Media Research Center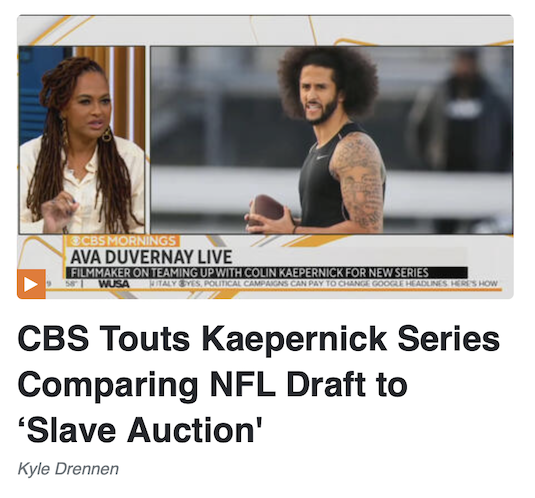 Despite the fact that he hasn't played in the NFL since the2016 season, Colin Kaepernick continues to live rent-free in the collective heads of the Media Research Center. It's not that the MRC doesn't know that fact. In a September 2020 post, Jay Maxson pointed it out in ranting that Kaepernick (whom Maxson called a "vastly overrated SJW" in the headline) was being added to that year's edition of the Madden NFL video game:
Aiming to cash in on social justice warrior dollars, EA Sports is bringing Colin Kaepernick back to Madden video football as a featured quarterback in the Madden NFL 21 edition of the game. He hasn't played in the National Football League since 2016 and is the only long-time inactive quarterback included in the video game.

Not only is Kaepernick's name on the Madden 21 player roster, but his player rating parallels that of past Super Bowl champion Ben Roethlisberger. It's also surprisingly better than that of Cam Newton and Jared Goff.

Why aren't Peyton Manning, Andrew Luck and Tony Romo and other recently retired former quarterbacks included in Madden 21? There's no SJW dollar to be made off those good citizens who never shamed their country when they played.

[...]

To the radical Left, Kaepernick is the second coming of Muhammad Ali and a useful idiot for Black Lives Matter. His sycophants just can't stop talking about him, and the media won't stop pressuring teams to sign him. Any mention of Kaepernick's name or forum to make him visible has been regarded as vindication for his disgusting behavior.
You'd think that Maxson and Co. would want to studiously ignore Kaepernick. Instead, they have continued to lash out at any mention of him , or at anyone who dares to say anything nice about him, in the (non-right-wing) media. Here are the posts the MRC devoted to attacking Kaepernick just in in 2021:
The MRC's Kaepernick obsession continued into 2022:
That's a total of 30 articles in two years -- a half-decade after Kaepernick last played in the NFL -- talk about Kaepernick Derangement Syndrome. And these are just the ones that reference Kaepernick in the headline; there are numerous others that reference him in the post itself that aren't counted here.
Kapeernick Derangement is already off and running at the MRC for this year. A Jan. 27 post by Maxson whined:
Football pariah Colin Kaepernick seems to have given up on tweeting endless workout videos in favor of his true calling: smearing America and law-enforcement. After bombing in a tryout with the Las Vegas Raiders last year, Kaepernick appears to be less interested in returning to the NFL, more focused on producing woke television documentaries and taking potshots at cops.

Kaepernick's next documentary is a three-part series, "Killing County," targeting the Bakersfield, Calif., police department. People Magazine reports the series debuts Feb. 3. Kaepernick and ABC News Studious teamed up on the series featuring the story of Jorge Ramirez Jr., who was killed by police.

People said the documentary covers the story of the Ramirez shooting at a hotel and how it catapulted his family toward "a struggle for justice and answers in their loved one's death."

The People story by Tristan Balagtas describes the documentary as an exploration of distrust by the Ramirezes and other families toward police officers. Kaepernick is all about distrust of cops.
Maxson didn't demand that the police stop doing things that engender distrust; instead, he (or she) complained that Kaepernic "has compared them to slave patrolmen" -- a not-inaccurate claim.
Posted by Terry K. at 8:58 PM EST
Updated: Thursday, February 9, 2023 9:23 PM EST