WND Trots Out Its Favorite Right-Wing Prophet To Rant Against Biden
Topic: WorldNetDaily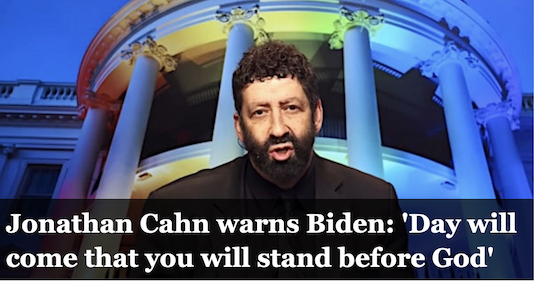 Jonathan Cahn has long been a WorldNetDaily favorite (and onetime cash cow) -- a self-proclaimed messianic rabbi whose prophecies just happened to coincide with his (and WND's) right-wing editorial agenda -- and it's been trotting him out again recently. In January 2022, it promoted an event featuring Cahn that purported to be "focused on America's history, its spiritual foundations and the importance of its covenant with God." Given that it also featured fringe figures like pseudo-historian David Barton and election denier and MyPillow guy Mike Lindell, it's unlikely the event offered any sort of enlightenment (not to mention the fact that Cahn diminished what standing he has by appearing with such grifters).
In April, Art Moore interviewed Cahn to promote his latest "harbinger" pronouncements in a film in which he claimed to be "answering the 'what now' question that many have posed to him as current events mirror the biblical pattern he wrote about in 2011 in his first book." Cahn did another interview with Moore in September, in which he hyperbolically likened the secularization of Western culture to Nazi Germany and Soviet Russia: ""It's never neutral. The Soviet Union wasn't neutral. Nazi Germany wasn't neutral. And this isn't neutral ... It's just exposing itself now."
Cahn returned for a Jan. 3 article by Bob Unruh hyping his latest attack on President Biden, this time for not hating gay people:
Messianic rabbi Jonathan Cahn, who famously warned Joe Biden when he became president to follow God's laws or see America's blessings vanish, now is insisting that Biden prepare himself for the time that will come that he will face God.

"The day will come that you will stand before God and you will have no more position, no administration, no government, no media and no public opinion. It will just be you and Him, and He will ask you to give account of what you did, what you did with regard to His Word and His ways."

Cahn said, on video, "Judgment will come."

"Mr. President, the hour is late and eternity is soon coming. Repent and turn to God. The only hope yo have, and all of us have, is salvation."

Biden recently marked his 80th birthday.

Cahn noted he had asked Biden when he took office how he could place his left hand on a Bible, and then with his right hand sign laws that "war against the Word of God."

The issue at that point was the abortion-promoting agenda that Biden was pursuing. The latest video notes Biden's celebration of the misnamed "Respect for Marriage Act" that declares marriage to be whatever two people say.

Cahn cited his warning about following God's laws, or breaking them.

"Now you've done it," he said, citing Biden's decision to officiate over a ceremony that altered federal law.

"You did something no president had ever done," which was enshrine an alternate to marriage into federal law.

Then Biden held a "festival," Cahn said.
Unruh inserted his own bias along with Cahn's attacks:
Since he's been in office, Biden has overseen inflation of up to 9.1%, sky high fuel costs, an open southern border drawing millions of illegal aliens to America, an unstable relationship with foreign powers, shortages of medicine, radical ideologies forced on schools and members of the military, and much more.

Cahn, on Biden's ascension to the White House, noted the pattern of God's judgment from the Old Testament that he discovered were remarkably repeated in the Sept. 11, 2001, attacks, including on the spot where George Washington stood and prayed on the day of his inauguration. For Israel, he noted that after such a warning, there was a window of time of 19 years to return to God before judgment, or "great shakings" began. Clearly, 19 years after 2001, America suffered a year of "great shakings."

He directed his words to the current president.

"Mr. Biden, you have called for unity and peace. But how can a nation have unity and peace when it wars against the very foundation on which it stands?" he said.

Cahn said the nation can't have unity and peace when it has "turned against the God who brought it into existence."
There was no mention of the adulterous, immoral, thrice-married Donald Trump.
Posted by Terry K. at 4:53 PM EST