CNS Wants You To Know Monkeypox Is A Gay Disease
Topic: CNSNews.com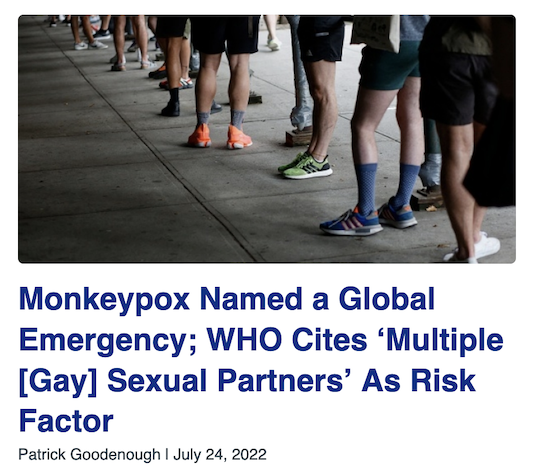 As with its homophobic columnist Bill Donohue, the similarly homophobic "news" side of CNSNews.com was quick to blame gay people for the spread of monkeypox. In a June 24 article, Patrick Goodenough initially focused on efforts to rename monkeypox over possible racist connotations in a June 24 article, then made sure to hype the gay angle:
While the scientists focused in their article on the associations with Africa, the WHO has also raised concerned about another "stigmatization" concerns, arising from the fact that most of the cases reported in the "newly-affected" countries are in "men who have sex with men."
Goodenough hammered the narrative home in a July 24 article:
As he declared monkeypox to be a "public health emergency of international concern," World Health Organization (WHO) director-general Tedros Adhanom Ghebreyesus noted on Saturday that the viral disease, now recorded in more than 70 countries, is currently "concentrated among men who have sex with men, especially those with multiple sexual partners."

"That means that this is an outbreak that can be stopped with the right strategies in the right groups," Tedros said during a briefing in Geneva.

[...]

Data collated by the U.K. Health Security Agency show not only that most of those infected in that country are men who have sex with men, but that in almost one-third of cases multiple sexual partners have also been recorded.

Of 699 cases with information available in Britain, 97 percent (681 out of the 699) are in what the calls "gay, bisexual, and men who have sex with men (GBMSM)."

In 31 percent of the cases for which information was known, the individuals concerned reported having had "10 or more sexual partners in the last 3 months."

A study in the New England Journal of Medicine, covering 528 monkeypox infections in 16 countries between April and June, found that 98 percent of those infected were "gay or bisexual men."
The article's rubbed in further, stating: "Monkeypox Named a Global Emergency; WHO Cites 'Multiple [Gay] Sexual Partners' As Risk Factor." In fact, WHO did not use the word "gay"; CNS inserted it, presumably to make gay people appear more evil.
Susan Jones complained that gay descriptors weren't used enough by the White House in discussing monkeypox in an Aug. 12 article:
The word 'gay' was mentioned just once Tuesday in a press briefing by the White House Monkeypox Response Team and public health officials, but the fact remains, the disease so far affects mostly homosexual men.

[...]

While the Biden administration avoids mention of men having sex with men, WHO does not:

"Although I am declaring a public health emergency of international concern, for the moment this is an outbreak that is concentrated among men who have sex with men, especially those with multiple sexual partners," WHO Director-General Tedros Adhanom Ghebreyesus said on July 23.
Jones pushed the narrative as well in an Aug. 19 article, headlined "CDC Director: 98 Percent of Monkeypox Cases Are Occurring in Men":
Health and Human Services Secretary Xavier Becerra on Thursday repeated something he's said before: "It's important that we all take monkeypox seriously, and it's critical that we do all we can to keep this dangerous virus from spreading."

Becerra told a video conference that more than 60 jurisdictions have reported approximately 13,500 cases of monkeypox across the country," but given the demographics, most Americans are not at risk.

CDC Director Rochelle Walensky told the same news conference, "As of August 17th, over 39,000 cases have been detected globally in 94 countries. Here in the United States, there have been over 13,500 cases of monkeypox identified across 49 states, as well as Washington, D.C., and Puerto Rico.

"Monkeypox case data reported to CDC show that 98 percent of cases are occurring in men," she said.
After noting that the CDC "will publish 'a toolkit for health departments to assist with planning of these large events,' which are intended to attract people most at risk for monkeypox," she made sure to add that "According to a White House fact sheet, the "large events" envisioned by CDC must attract "gay, bisexual, and other men who have sex with men."
CNS loves portraying gay people as filthy and diseased.
Posted by Terry K. at 6:05 PM EDT
Updated: Friday, August 26, 2022 11:10 PM EDT