MRC's Jean-Pierre-Bashing, Doocy-Fluffing Watch, New Year Edition
Topic: Media Research Center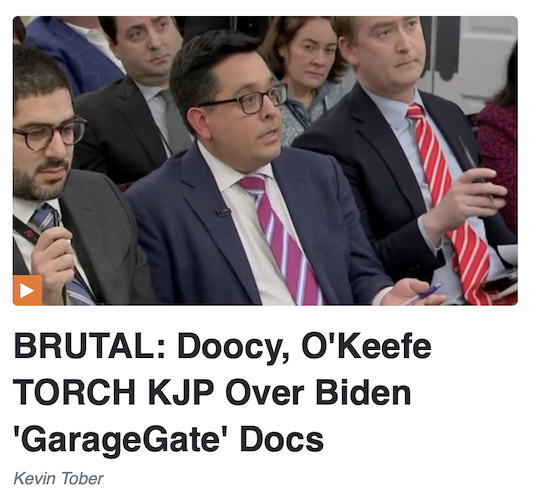 After taking a lazy attitude toward her in the final few months of 2022, the Media Research Center suddenly decided to amp up its attacks on White House press secretary Karine Jean-Pierre. The year started a bit lame, with Curtis Houck writing up the Jan. 3 briefing with his usual blend of Karine-bashing and Doocy-fluffing:
Tuesday marked the first White House press briefing of 2023 and, in her ninth month as press secretary, Karine Jean-Pierre continued to stammer and stonewall her way through even the most benign questions. Meanwhile, Fox's Peter Doocy kept up the heat by wondering whether anyone in the White House could say with a straight face whether "the southern border is secure" and if President Biden lied about not being involved in his family's corruption.

After some friendly banter about the upcoming due date of Doocy's wife Hillary Vaughn of Fox Business, Doocy cut to the chase: "Does anybody around here think that the southern border is secure?"

Jean-Pierre didn't offer anything new and wouldn't even directly answer the question (though she had used the word "secure" in the past): "What I can tell you is: This is a President who has been working since day one to work on border security, to make immigration a priority. That's why he put forth a comprehensive immigration reform plan".

She went onto offer more boilerplate nonsense, lamenting that while Biden has "solutions...Republicans...are doing political stunts".
It was another week before the MRC wrote up another briefing -- and only because of the emergence of classified documents found at places once frequented by President Biden. And writing up the Jan. 12 briefing, Houck was positively gleeful he didn't have to cite only his biased right-wing buddies asking questions:
Thursday's White House press conference was as contentious as you would've imagined after the announcement that President Joe Biden kept classified documents in the garage at his home in Delaware. The reckless disregard for America's national security by carelessly leaving classified documents in three different places was such a big story that even the leftist media couldn't hide it from their viewers and readers.

First out of the gate was Chris Megerian from the Associated Press who asked: "is the President willing to be interviewed by federal investigators about his handling of classified documents?" White House press secretary and diversity hire Karine Jean-Pierre was once again unprepared for any substantive question posed to her: "I'm just not going to get into hypotheticals," she responded.

Yet Megerian didn't back down. "It's not a hypothetical question. There's an investigation ongoing. Will the President speak to investigators?" he asked.

No matter how many times she's asked a question, Jean-Pierre proves she just isn't cut out for the job. After getting another shot at answering the question, Jean-Pierre replied: "You're asking me about something in the future, and I am telling you that I'm not going to get ahead of what the Department of Justice is going to decide."
Houck made sure to faithfully document Doocy Time, of course, since portraying Doocy as a briefing-room stud surely helps him get on Fox News:
Last but not least, Fox News White House correspondent Peter Doocy referred to the Biden classified documents scandal as "GarageGate". Doocy asked: "what is the White House trying to hide?"

"Nothing," Jean-Pierre bluntly responded.

"Someone gave the President a statement to read on Tuesday that was incomplete at best, misleading at worst. Who?" Doocy asked.

Jean-Pierre claimed Biden "did not know that the records were there," and that "we take this very seriously and the President does as well."
Houck made sure to stick "GarageGate" in his headline, presumably hoping to draw the attention of his mancrush.
Houck's writeup of the Jan. 13 briefing purported to identify "the Smartest and Dumbest Questions on the Biden Docs from Friday's WH Briefing." Of coufse, the "dumbest" questions were the ones that didn't ask about the docments.
Then, in a Jan 16 post, Mark Finkelstein laughably complained that MSNBC's Joe Scarborough called out Republicans for smearing Jean-Pierre as an incompetent diversity hire:
Spit it out, Scarborough! Instead of making ugly, thinly veiled accusations against Republicans, have the guts to flatly say what you think!

On today's Morning Joe, Scarborough, discussing the performance of Biden spox Karine Jean-Pierre, said:

"When you look at the briefings [on Biden's docs situation], you know, there have been a lot of Republicans who have been critical of Karine Jean-Pierre, of course they have been from the beginning. I'll let people draw their own conclusions as to why. It seems pretty obvious to me."

Gee, wonder what Joe might have been implying? Let's see: Jean-Pierre is celebrated as a black lesbian immigrant from Haiti. Certainly sounds like Scarborough is accusing Republicans of hitting the bigotry trifecta of homophobia, racism, and sexism.

Typically, Mika chimed in to agree with Joe, adding "yeah."

So is there no proof that Jean-Pierre isn't quite up to the press secretary's job?

[...]

The bottom line is that anyone who has followed Jean-Pierre's embarrassing career behind the briefing-room mic knows that she is utterly unfit for the job. And it's not just Republicans who are dissatisfied with her performance. For example here 's a White House reporter for CBS, hardly a conservative outlet, clashing with the press secretary over her obfuscation on Biden's classified documents.
Finkelstein didn't mention that his MRC colleagues have quite literally called Jean-Pierre an incompetent diversity hire, which supports what Scarborough said.
Posted by Terry K. at 7:28 PM EST