The MRC's DeSantis Defense Brigade: Migrant Division
The Media Research Center became a cheerleading squad for Florida Gov. Ron DeSantis after he dishonestly flew duped migrants to Martha's Vineyard for an own-the-libs moment.
By Terry Krepel
Posted 1/27/2023
---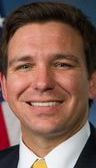 Ron DeSantis
Because the Media Research Center is all about owning the libs and hating the immigrants (despite none of that being "media research") -- and because it absolutely loves right-wing Florida Gov. Ron DeSantis -- it was totally jazzed about DeSantis' stunt of spending state money to fly undocumented immigrants from Texas to Martha's Vineyard. Curtis Houck gushed over the owning-the-libs and abusing-immigrants-for-partisan-purposes angles, along with parroting DeSantis' PR flacks, in a Sept. 15 post:
On Thursday, CBS Mornings and NBC's Today were nearly apoplectic over Governor Ron DeSantis (R-FL) sending two flights of illegal immigrants Wednesday to the rich, white, and liberal Martha's Vineyard, Massachusetts, calling it "inhumane" behavior "us[ing]" so-called "migrants" to play "politics" and overwhelm such a "great, great place."

"Migrants are flown to Martha's Vineyard not knowing where they are. How they wound up being used for politics," fretted CBS Mornings co-host Nate Burleson.

Socialist and fellow co-host Tony Dokoupil said DeSantis caused "an escalation in the political fight over immigration" by sending "[d]ozens of apparent migrants" to Martha's Vineyard, which he attempted to paint like an East Coast Alcatraz by calling it "a rocky island in the Atlantic."

[...]

For their part, Team DeSantis spokesman Taryn Fenske said the governor wanted to make sure illegal immigrants were sent to places like "Massachusetts, New York, and California" to "better facilitate the care of these individuals who they are invited into our country by incentivizing illegal immigration through their designation as sanctuary states."
Houck didn't explain why he was so offended by calling migrants "migrants" that he employed scare quotes and the "so-called" modifier. He also didn't explain what evidence he had to support his description of Dokoupil as a "socialist" or what relevance calling him that had to this discussion.
Nicholas Fondacaro brought his misogynism to attack the co-hosts of "The View," whining that "the cackling coven of ABC's The View started Thursday's show by raging at Florida Republican Governor Ron DeSantis for sending a load of illegal immigrants to the liberal safe haven of Martha's Vineyard, Massachusetts" and going on to snark that "Martha's Vineyard wasn't as happy actually dealing with the illegals."
Kevin Tober cheered DeSantis' stunt as well while complaining it was called a stunt:
On Thursday, the three evening news broadcasts continued their meltdowns over Florida Governor Ron DeSantis sending two fights of illegal aliens Wednesday to the ritzy white liberal enclave of Martha's Vineyard, Massachusetts. Despite their calls for diversity, the left threw a temper tantrum over 48 illegal immigrants from Venezuela landing in their overwhelmingly white and rich vacation spot.

"It's a stunt using human beings to score political points. 50 undocumented migrants, including several children, arriving in Martha's Vineyard. Flown in by Florida Republican Governor and presidential hopeful Ron DeSantis. An effort to turn the spotlight to immigration just two months before the midterm elections," ABC's senior White House correspondent Mary Bruce cried during her report on World News Tonight.

Bruce didn't finish her tantrum, she went on to kvetch that "Local officials had no idea the families were coming, but DeSantis made sure cameras were there to capture it all."

[...]

The leftist networks should explain how it is okay for Texas and Arizona border towns to be overrun by illegal immigrants but it's frowned upon when they are inhabiting Martha's Vineyard. Perhaps it's because the elite leftists in the media and politics all vacation at Martha's Vineyard and their lectures about how immigration is virtuous was all a lie.
Despite all his name-calling and whataboutism, Tober didn't dispute the truth of anything Bruce reported.
Tober apparently also believes that criticizing his beloved DeSantis makes one a "leftwing crackpot":
On Thursday night's edition of MSNBC's The 11th Hour, leftwing crackpot and MSNBC political analyst Fernand Amandi had a complete meltdown over Governor Ron DeSantis (R-FL) sending two planes filled with illegal migrants to Martha's Vineyard. Amandi cried that it wasn't a political stunt but was instead "an act of evil being done by evil men">because DeSantis is apparently using the migrants as"political pawns, and political props."

Amandi wanted everyone to know that "this is not a political stunt."Doctor Oz running for the Senate in Pennsylvania when he resides in New Jersey."
Again, Tober didn't dispute the accuracy of anything Amandi said.
Alex Christy whined that DeSantis -- along with Texas Gov. Greg Abbott, who his pulled similar stunts of shipping migrants against their will to "liberal" areas outside his state -- were being called out for who they were:
Punchbowl News co-founder Jake Sherman sounded more like a Democratic politician or left-wing activist when he joined Friday's Katy Tur Reports on MSNBC to accuse Governors Ron DeSantis and Greg Abbott of human trafficking for sending 50 migrants to Martha's Vineyard.

Talking about the issue of immigration in more general terms, Tur wondered where Congress is in terms of solutions, "Well, that's what I was going to ask, where's the solution from Congress? They're all, you know, fighting over this and pointing fingers, well the Republicans are pointing fingers saying everything is too loose, well where is the solution? Where is the legislation? Where's the compromise?"

Sherman lamented that, "The solution is nowhere. I mean—it's-- Congress has tried multiple times over the last couple of years, and the last two presidencies, it has not tried in Joe Biden's presidency, I think because of COVID and just the political dynamics in the post-Trump era, but again, this is a very easy problem to solve."

Turning his attention to the governors, Sherman added, "Now, on the Ron DeSantis, Greg Abbott angle, I just got off with a Republican consultant who was on when I was on my way to be on TV with you, who said that the donor class, the far-right conservative donor class, likes this."

Under no credible interpretation of federal law could sending 50 migrants to blue cities be construed as human trafficking, unless Sherman is prepared to accuse Massachusetts of the same thing.
Just because something is legal doesn't make it right, Alex.
Houck got all snarky in a Sept. 16 post:
Friday morning's network news programs featured the third set of newscasts kvetching and screeching about how the liberal elite's beloved Martha's Vineyard, Massachusetts was beset with a "humanitarian crisis" of just under 50 illegal immigrants, who were turned into "pawns" thanks to "an audacious stunt" from Governor Ron DeSantis (R-FL).

Thankfully for them, the brown-skinned individuals were deported from the island by midday Friday, so they won't have to worry about them anymore (and in turn only the ones whom they pay to clean their mansions and mow their lawns).
Of course, Houck isn't going to mock DeSantis for getting rid of "brown-skinned people," even though that's the point of his stunt -- instead, he's cheering DeSantis' lack of compassion and abuse of them just to own the libs. (Also, it's more than a little racist of Houck to dismiss these migrants as "brown-skinned individuals," as if it's OK for DeSantis to mistreat them because of their skin color.)
Kathleen Krumhansl read from the right-wing talking points playbook in attacking Spanish-language media coverage:
The corporate media went berserk on Thursday calling Florida governor Ron DeSantis "inhumane" for sending undocumented migrants to Martha's Vineyard, but one Telemundo correspondent reported that the label seemingly described residents of the elite playground upset at the arrival of the new visitors.

Watch as Cristina Londoño confirms the double standard of those from the Massachusetts island - a sanctuary state - upset about having a border crisis in their own backyard. But instead of facing the cameras for all to see, those against the presence of the migrants at their exclusive haven chose anonymity rather than "be depicted as inhumane." That was their excuse for turning down an interview with Telemundo.

[...]

What a relief that must have been for the residents of "the rich and powerful seaside resort of Martha's Vineyard" who found themselves, as per Londoño, "in the midst of a border crisis." At the very least, they got a sample of what the Biden Administration border crisis means; about the tolling effects it has on the far-from-rich border towns, not just one day, not with 50 persons, but hundreds, thousands, pouring in daily through the wide open southern border.
Krumhansl did at least refer to them as "undocumented migrants" -- which seems to have slipped past editing, given how the MRC loves to dehumanize them by referring to them as "illegals."
Mark Finkelstein complained that MSNBC's Joe Scarborough "repeatedly accused Republicans of "grotesque" human trafficking, for their practice of sending migrants to northern locations," sneering that "You'd have thought the migrants were being stranded on a barren rock in the ocean. Willie never mentioned that the island in question is Martha's Vineyard, the tony isle second in elitism only to Scarborough's favored island summering spot: Nantucket."
Tim Graham devoted his Sept. 16 podcast to cheering that DeSantis and Abbott's stunts were working in pushing right-wing narratives and trying to spin away their lack of humanity:
Suddenly, when Gov. Ron DeSantis sends about 50 illegal immigrants to Martha's Vineyard, the networks discover an "immigration crisis" in America. They denounced this "audacious stunt" -- but they prefer to avoid the border crisis entirely. DeSantis is forcing this into the "news."

The networks are heavily covering this story of DeSantis (as well as Texas Gov. Greg Abbott busing migrants to Kamala Harris's street in DC. This is a victory of sorts. They prefer to bury the border story. MRC Research Director Scott Whitlock found on five different months, the ABC, CBS and NBC evening newscasts managed ten minutes or less of border coverage. In three other months, they allowed no time at all.

Then came the media anguish on Twitter. MSNBC host Chris Hayes said it was "deeply sick and dehumanizing to fling human beings somewhere vindictively." Asawin Subsaeng of the Daily Beast also said DeSantis was "hurling migrants at liberal cities and towns." They weren't launched out of a catapult, they flew on an airplane.
In the podcast itself, Graham gushed at how "conservative Twitter and the conservative media would love" DeSantis' stunt (which they did), adding: "Yes,it's true -- this is a stunt, and it's audacious in getting right in the liberal media's face,"adding that it's "designed to upset people like Gayle King," who "parties with the Obamas as their mansion in Martha's Vineyard." He also insisted that "it's also making a serious point" regarding border states -- though it's telling that "getting right in the liberal media's face" is more important to Graham than any supposedly "serious point" DeSantis was purportedly trying to get across.
Graham also whined that these migrants were being called "asylum seekers," which he dismissed as a "term of art" that lets people "pretend that they're all being persecuted in their homeland instead of coming from countries that are just plain poor." Graham didn't explain why "illegals" isn't also a "term of art" designed to help right-wingers like him dehumanize them. Graham then ranted:
But I just take exemption to this whole idea that they're going to say, "well, the immigrants are pawns." OK, maybe they're -- yes, they're bit players in this play. But the reality is they're the ones -- they're aggressors, I'm sorry. They're the ones marching into this country by the thousands, and when they get here, the media treats them like, poof, what do you need? Poof, what do you need? Oh, these people need jobs and these people need food and these people need clothes. Like, they're the most entitled people in America, and they're not even from here! ... What I don't like is this whole idea of, yes, what about people who are, you know, scraping by on low salaries, working two jobs maybe, and then it's like "Excuse me, I'm going to take some of your money and give it to the guy who just walked from Venezuela, and you're not allowed to be upset about that."
All in service of owning the libs, apparently.
Jeffrey Lord continued the MRC's DeSantis praise narrative in his Sept. 17 column:
Suddenly the media is freaking out over the flood of illegals into wealthy, white and liberal Martha's Vineyard in the sanctuary state of Massachusetts — a "flood" of fifty sent to the far left Martha's Vineyard by Florida's Governor Ron DeSantis.

[...]

What the liberal media has vividly illustrated here is the sheer hypocrisy of -the liberal media. Illegals crossing the southern border and flooding into Texas and Arizona by the tens of thousands? No big deal.

But bring in fifty to the left-wing and white paradise of Martha's Vineyard? And bam.

To borrow from the filmmaker Ken Burns, the authoritarian fist of the left comes down like a hammer.

As I said: You can't make it up.
Tober cheered right-wing talking points being parroted on TV in a Sept. 18 post:
During Sunday morning's "Powerhouse Roundtable" segment on ABC's This Week, former Chief of Staff to Vice President Mike Pence, Marc Short slammed co-anchor Jon Karl for crying about Governors Ron DeSantis (R-FL) and Greg Abbott (R-TX) sending migrants to Martha's Vineyard and Vice President Kamala Harris's residence respectively. Short accurately pointed out how the United States didn't have this problem under the Trump-Pence administration because they actually worked to secure the border.
Houck denounced commentators who argued that DeSantis could be jailed for his stunt:
While real Americans were either getting ready to return to work on Monday or watching NFL games, MSNBC had dialed up a Sunday night episode of The Medhi Hasan Show with a panel fit for some sort of hall of fame for idiots that called for Governor Ron DeSantis (R-FL) to face "human trafficking" and "kidnapping"charges for flying illegal immigrants to the ultra-liberal, white vacation spot Martha's Vineyard, Massachusetts.

Hasan set the table by claiming that Republicans aren't actually Christians because, if they had accepted Jesus as their Lord and Savior, they knew He "wouldn't be playing a glorified game of hot potato with babies" and "flinging unwanted brown people across the country.

He added that DeSantis broke the law and if what he did was "not what most people would call kidnapping" or "human trafficking, I don't know what is." To address this, he said the federal government should use its full force to "see if there is a legal, crime case to be made" or risk more "brown families, brown children, brown babies [being] hurled...like political footballs."

The Nation's Elie Mystal was the main draw for this panel of kooks, but he first had to burst the bubble of his fellow nuts that "[n]ot every evil, sadistic, twisted, bigoted, racist thing these people do is illegal" because "some of those evil, sadistic, racist, bigoted things are just allowed in this country."
Houck was paid to watch this segment and write this post about it instead of watching football or getting ready to go to a real job. Does that mean he's not a "real American"?
Alex Christy got mad that DeSantis' callous stunt was mocked:
Monday's edition of The Late Show on CBS resembled more of an Orwellian Two Minutes Hate than a comedy show as host Stephen Colbert led a booing audience in wondering "how big of an a-hole is Ron DeSantis?"

Colbert began by showing an unflattering picture of DeSantis, "There's an update about who might want to be the president next: Florida Governor, Ron DeSantis seen here—"After several seconds of booing from the audience, Colbert continued, "seen here watching your grandma fall into a ditch."

Getting to the Martha's Vineyard news, Colbert absurdly accused DeSantis of "kidnapping two planeloads of migrants and then flying them to Martha's Vineyard."

For Colbert, it only gets worse, "Well, it turns out, it was way worse than we imagined, because he actually abducted them from Texas. For a guy who acts so concerned about borders, he doesn't seem to know where his state ends. So why is the governor-- why? why, I say. Why? So, why is the governor of Florida spending his taxpayers' money to snatch asylum-seekers in Texas? Because he can read their minds."

[...]

Following another clip of DeSantis declaring people arriving in Florida in cars makes it more difficult to track these people, Colbert wondered, "Oh, I remember that one from the SAT "If two people are traveling in a car, and there are hundreds of different cars, how big of an a-hole is Ron DeSantis? Gaping. Gaping."

Apparently Colbert got the question on what makes something funny wrong because all he's got is name calling.
That's an odd complaint, given how endemic name-calling is in the MRC's "media research" (i.e., fat jokes about Lizzo).
Speaking of name-calling, Houck was angered that someone was going to look into DeSantis' stunt:
The major broadcast networks of ABC, CBS, and NBC have spent days bellyaching and screeching about Governor Ron DeSantis (R-FL) sending flights of less than 50 illegal immigrants to ultra-liberal Martha's Vineyard, Massachusetts, so it was only natural Tuesday that their morning shows would be ebullient over a far-left Texas sheriff launching a criminal investigation of DeSantis.

"Immigrant showdown. Overnight, a new criminal investigation targeting Florida Governor Ron DeSantis, who flew that group of migrants to Martha's Vineyard. This as new numbers show record apprehensions at the border," boasted ABC's Good Morning America co-host and former Clinton official George Stephanopoulos.

Liberal correspondent Rachel Scott accepted Bexar County, Texas Sheriff Javier Salazar's framing as gospel:
Houck called Salazar a "lefty" in the headline of his piece, but provided no evidence to back up the assertion.
Tober turned to an anonymous source -- which the MRC makes a big show of professing to hate -- to attack another DeSantis critic:
On Tuesday's The ReidOut, MSNBC host Joy Reid attempted to pass off Roberto Rodriguez Tejera, a well-known left-wing Democrat Party [sic] activist in South Florida as an objective Spanish radio host. According to a source who spoke to our colleagues at MRC Latino on the condition of anonymity, Rodriguez Tejera is paid by the Democratic Party a "monthly sum for alleged advertising for a weekly show on Actualidad Radio 1040 AM."

[...]

According to a source who spoke to MRC Latino on the condition of anonymity, "Roberto Rodriguez is a known Democratic activist, the Democratic party pays him a monthly sum for alleged advertising for a weekly show on Actualidad Radio 1040 AM and for segments with RoRo, as he is known in Democrat circles. He served as director of Radio and TV Martí under a Democrat administration."

Rodriguez Tejera's bio on the radio station Actualidad Radio 1040 AM doesn't disclose that his show is paid for by the Democrat Party [sic].
Tober gave no evidence that he fact-checked his anonymous source's claims -- making this the kind of anonymous one-source story the MRC tried to discredit when it involved a raped child being forced to go to another state to get an abortion.
Scott Whitlock took up the Colbert-bashing baton:
It's beyond obvious that the late night hosts have no interest in appealing to any part of the country outside the rabidly liberal Democratic base. But Late Show host Stephen Colbert on Tuesday night proved that his obsession with Ron DeSantis has ruined any possibility of "comedy" on the show. In a rant about the Florida Governor sending illegals to liberal enclaves like Martha's Vineyard, Colbert abandoned jokes for cheap partisan gibes.

Colbert attacked the possible 2024 contender: "You'll recall that Governor DeSantis tried to score cheap political points in Florida by dragooning people off the streets in Texas and smuggling them to Massachusetts." Cheering Democratic stunts, the host continued, "Well, good news we found out that a Texas sheriff is investigating DeSantis' role in flying migrants to Martha's Vineyard. Hell yeah! Get him!"

"Hell yeah"? "Get him"? Can you imagine Johnny Carson even or Jay Leno even trying anything so nakedly partisan? After all that build-up, here's Colbert's lame "joke."

You can catch it all on the new TV show Walker Texas Florida Martha's Vineyard!"
Given that the MRC thinks making fat jokes about Lizzo is the height of comedy, perhaps Whitlock should sit this one out.
And it wouldn't be the MRC if someone wasn't playing the George Soros bogeyman card, and Jeffrey Clark obliged:
A group funded by George Soros with nearly $1.4 million is behind a legal effort to punish Florida Gov. Ron DeSantis for shipping migrants to Martha's Vineyard, Mass.

Immigration activists sued the Florida governor just days after DeSantis took credit for sending about 50 migrants by plane from San Antonio to the liberal paradise island of Martha's Vineyard on Sept. 14. Lawyers for Civil Rights (LCR) filed on behalf of the group Alianza Americas, "a class of affected immigrants, including the immigrants" on Martha's Vineyard, according to a LCR press release.

Soros funded Alianza Americas with a total of $1,383,947 between 2016 and 2020, according to Open Society Foundations records. The group describes itself as "the premiere digital organizing site for the Latinx community" on its website.

[...]

This is nothing new for Soros, who has bankrolled several far-left, pro-open borders organizations. In January 2022, a Soros-funded group secured a $158 million government contract to help illegal immigrants avoid deportation, in what appears to be a violation of U.S. policy.

DeSantis, on the other hand, has voiced support for strong national borders.
Clark didn't explain why migrants must be deprived of legal representation or even basic rights.
Tober returned to defend DeSantis' own-the-libs mentality in a Sept. 27 post:
While real news outlets were tracking the path of incoming Hurricane Ian and covering the preparations that local authorities were executing in their towns, MSNBC's Joy Reid went on another hate-filled rant Tuesday night about how allegedly terrible Florida Republican Governor Ron DeSantis is. Reid couldn't even make it a full minute into her show The ReidOut before falsely accusing DeSantis of spending his entire term "owning the libs" instead of preparing his state for hurricanes.

"Florida prepares for a monster storm, with landfall expected tomorrow. Governor Ron DeSantis is going to be put to the test, forced to actually do his job. When he's used to spending most of his time hanging out on Fox News and owning the libs," Reid hatefully claimed in the opening preview of her show.

[...]

Obviously, DeSantis is doing his job as governor of the state of Florida. He consistently receives high marks for his job performance and is currently on track to win reelection decisively. Reid can't stand that he's successful and lashes out every chance she gets.
Look for DeSantis to copy Tober's statement and paste it into future campaign literature.
'Reverse freedom rides'
When critics pointed out that DeSantis' stunt smacks of the "reverse freedom rides" in the 1960s -- in which Southern segregationists sent black families to live in northern states by falsely promising them free housing and good jobs -- the MRC got a bit upset.
Related articles on ConWebWatch:
Graham spent part of his Sept. 16 podcast -- which, as noted above, praised DeSantis' stunt largely because "it's audacious in getting right in the liberal media's face" -- complaining that the JFK Library sent a tweet reminding people of the reverse freedom rides. First, he sneered that "I like to call it the John Adulterous Kennedy Library, because you always gotta take the Kennedys down a bit," then whined that the library is "taxpayer-funded liberal trolling because the Kennedy Library and Museum receives an annual federal appropriation for building maintenance and pays a portion of their personnel costs." Graham finally got around to grousing about the tweet:
So they're comparing Ron DeSantis sending Venezuelans to Martha's Vineyard to basically the Klansmen sending Negroes, ad they called them in the headline in this thing, with one-way tickets to northern cities. Liberals are so gross. They think they're so smart, and this isn't smart at all.
Alex Christy whined about the comparison in a Sept. 17 post:
Friday's CNN Tonight came up with several comparisons for Governors Greg Abbott and Ron DeSantis sending 50 migrants to Martha's Vineyard and none of them were good. Host Laura Coates compared the governors to segregationists while theGrio White House correspondent April Ryan cited the debunked scandal where border patrol agents were said to have whipped migrants with horse reins.

Coates kicked off the segment by trying to give viewers a history lesson, "they echo something that happened some 60 years of our past. Back to something called the 'Reverse Freedom Rides.' And maybe you've never heard of what this is. You certainly heard of Freedom Riders, right? But the Freedom Rides in the Reverse, were Black families who were tricked by white supremacists. They were lured by the promise of a job or a better home and they were bused to Hyannis, Massachusetts, right near John F. Kennedy's holiday home."

[...]

Those victims would be Americans who were uprooted from their homes under false pretenses. These migrants are from outside the U.S. and even if they are granted asylum, they likely would not all have settled down in Texas.

However, not only did Coates compare Abbott and DeSantis to segregationists, she argued they could be considered even worse, "Now, the numbers, racked up by Governors Abbott and DeSantis put the segregationists of that dark period, well, frankly, to shame in the numbers alone. Now, the Reverse Freedom Riders, they tricked about 200 people into getting onto a bus. 199 or maybe even 200, far too many. While today's Republicans have moved more than 9,000 people, and are promising more."
But it turns out those migrants were, in fact, being deceived as well. Christy failed to mention that the migrants were given a brochure that promised they would be eligible for "8 months cash assistance," "assistance with housing," "food," "clothing," "transportation to job interviews," "job training," "job placement," "registering children for school," "assistance applying for Social Security cards," among other benefits, when the arrived in Massachusetts -- which wasn't true.
The MRC seems to be conceding this point. Aside from an Oct. 1 post by Geoffrey Dickens that repeated Christy's attack -- without admitting just how apt the comparison is -- it hasn't complained about the comparison again.
Christy also referenced "the debunked scandal where border patrol agents were said to have whipped migrants with horse reins" -- in fact, the only debunked scandal ConWebWatch found is the MRC falsely asserting that certain media outlets accused those agents of using whips.
The latest from