CNS Managing Editor Tries To Spin Capitol Riot
Topic: CNSNews.com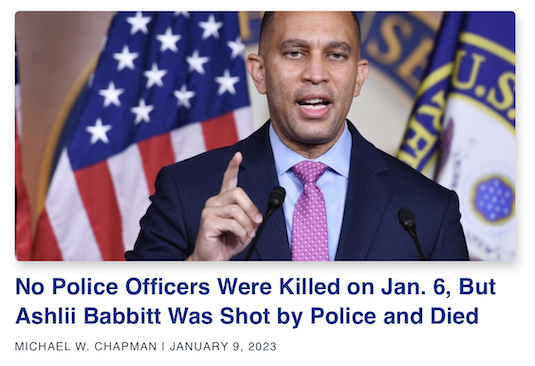 We've documented how CNSNews.com uncritically repeated unproven conspiracy theories from Donald Trump and his supporters that the 2020 presidential election was stolen from him, then was briefly shocked into being a fair and balanced news organization after the Capitol riot, though it eventually descended into whataboutism over protests against police brutality. For the second anniversary of the riot, CNS managing editor Michael W. Chapman worked to spin the events of the riot in a Jan. 9 article:
Contrary to the claims and inferences by Democrat [sic] Party leaders and many people in the left-wing media, not one Capitol Police officer was killed during the Jan. 6, 2021 riot at the U.S. Capitol.

However, three Trump supporters at the event died, two by natural causes and one by accident. Also, a fourth Trump supporter, Air Force veteran Ashlii Babbitt, was shot and killed by Police Officer Lt. Michael Byrd.

In a Jan. 6, 2023 tweet, House Rep. Adam Schiff (D-Calif.), former chairman of the House Intelligence Committee, commented, "Thinking of the families of law enforcement officers we lost that dark day."

On Jan. 5, 2023, President Joe Biden at a public event said, "Jill and I have mourned police officers in this Capitol rotunda not once but twice in the wake of January 6. Once to honor Officer Brian Sicknick, who lost his life the day after the attack. The second time to honor Officer Billy Evans, who lost his life defending the Capitol as well."

As the autopsy report by the D.C. Chief Medical Examiner documents, Officer Brian Sicknick died of "natural" causes on Jan. 7. He died from "acute brainstem and cerebellar infarcts due to acute basilar artery thrombosis," states the report. In layman's terms, Officer Sicknick died from strokes. The "manner of death" was officially declared "natural."

Police Officer Billy Evans did not die "defending the Capitol" on Jan. 6, 2021. He was deliberately hit by a car at the Capitol on April 2, 2021; the driver of the vehicle was Noah Green, a "vocal defender of the Nation of Islam leader Louis Farrakhan."
We've noted how CNS largely ignored Sicknick's death until after that medical examiner's report came out blaming his death on "natural causes."Then as now, CNS censored the fact that the medical examiner also said that "all that transpired" at the Capitol riot "played a role in his condition."
Chapman further complained:
Speaking on the House floor on Jan. 2, 2023, newly elected Minority Leader Hakeem Jeffries (D-N.Y.) stated, "We are gathered here to honor their memory and acknowledge with deep gratitude the tremendous bravery of the hundreds of officers who defended us at this citadel of democracy that fateful day."

"As a result of the events on January 6, the lives of five heroic officers were lost," he added.

Yet not one police officer was killed (or died) on Jan. 6, 2021.
Chapman went on to list thet names of those officers who committed to make the point that they did not die the day of the riot. But again, he censored the fact that the suicide of at least one officer has been ruled a death in the line of duty.
Chapman then invoked ranty Fox News host Tucker Carlson to defend Babbitt and attack Byrd:
Commenting on Babbitt's death, Carlson said on Jan. 6, 2023, "Two years ago today, a Capitol Hill police officer called Michael Byrd shot an unarmed woman in the neck. At the time of that killing, Byrd had a documented history of gross negligence with a firearm. He left a loaded Glock pistol in a public men's room at the Capitol, which for a law enforcement official is a firing offense.

"But for some reason, Michael Byrd was still on the force that day. The woman he killed was called Ashli Babbitt. Babbitt was a married 14-year veteran of the US military. She ran a pool cleaning company with her husband in San Diego. Physically, she was tiny. She was also unarmed.

"Michael Byrd later admitted he had no indication at all that Babbitt was carrying a weapon. She posed no visible threat. He killed her anyway.

"Under normal circumstances, Byrd would have been fired immediately and charged with murder, which he clearly committed, but that's not what happened.

"After doing essentially no investigation into the shooting, Nancy Pelosi's congressional police force declared Byrd a national hero and the media strongly agreed."

In February 2019, Officer Byrd left his gun, a Glock 22, in a bathroom in the U.S. Capitol. It was found later that day in a routine security sweep. Byrd said the incident was a "terrible mistake" and he "was penalized for it."

Byrd's shooting of Babbitt was the first time he had discharged his weapon in 28 years as a policeman.
Neither Carlson nor Chapman explained why Babbitt was climbing through a broken window, nor did they mention any of the other acts of violence that day that made law enforcement less inclined to give domestic terrorists the benefit of the doubt. Neither was it explained why they are being so harsh on Byrd when these law-and-order conservatives normally stick up for law enforcement no questions asked.
Posted by Terry K. at 1:02 AM EST
Updated: Thursday, February 9, 2023 5:38 PM EST