MRC Manufactures Poll To Attack CNN
Topic: Media Research Center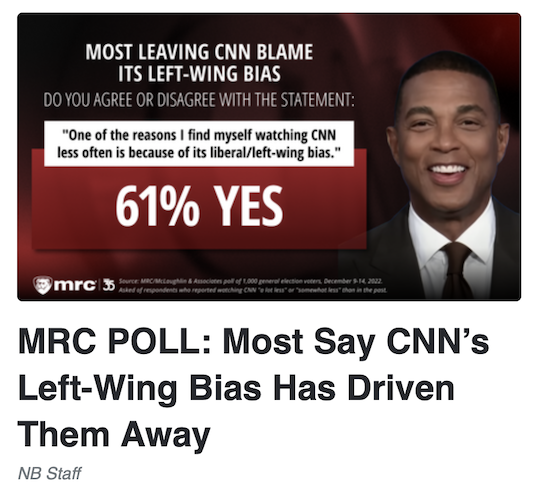 The Media Research Center is buzarrely obsessed with constantly attacking CNN for pretty much any reason -- so much so that it feels it must manufacture reasons to attack it. It even bought a poll to bash CNN, as detailed in an anonymously written Jan. 6 post:
A new poll from the Media Research Center, conducted by McLaughlin & Associates, finds a majority (54%) of CNN viewers say they are now watching the network less than they used to, and most of those people (61%) agree that "one of the reasons I find myself watching CNN less often is because of its liberal/left-wing bias."

CNN's ratings collapse is well known; this summer, for example, its audience slipped to levels not seen in 22 years. "CNN is in a bad place," one media executive told The New York Post in September. "The ratings are down really dramatically year over year."

The Media Research Center poll demonstrates that CNN's biased political coverage is a likely reason many of these viewers have been driven away.

[...]

People who reported watching less were then asked to react to the following statement: "One of the reasons I find myself watching CNN less often is because of its liberal/left-wing bias." A majority (61%) said they agreed, including a majority of self-identified moderates and liberals (52% for each group), and a whopping 80 percent of conservatives.
The MRC didn't disclose that McLaughlin was Donald Trump's 2020 pollster, meaning that its work is highly biased and its fairness is in question -- as demonstrated further by the biased framing of the question. You might recall that McLaughlin was one of the pollsters the MRC hired to push its conspiracy theory that the 2020 election was stolen from Trumnp.
Alex Christy spent a Jan. 17 post bashing CNN for considering adding a comedian to its late-night coverage:
CNN's new boss, Chris Licht, is looking to counter the narrative that late night comedy is dying by bringing a comedian to the network's primetime lineup, Semafor reports.

Max Tani reports that, "CNN executives have floated names including Bill Maher, Trevor Noah, Arsenio Hall, and Jon Stewart, and have looked at other comedic news-focused talk shows for inspiration."

Tani writes that of these names, Maher is probably the most realistic hire as Noah recently stepped away from The Daily Show, Stewart remains under contract by Apple, and despite having previous late night experience, Hall is not a serious candidate. CNN has already been in talks with Maher to use his Overtime segments. Both CNN and HBO are owned by Warner Bros. Discovery.
Christy then touted how CNN is emulating Fox News while trying to avoid acknowledging the fact that Greg Gutfeld is, in fact, a comedian:
FNC's Gutfeld! dominating the traditional late night hosts may be another reason why Licht may seek to bring a comedian on board, according to Tani. But hiring simply another liberal would not make CNN stand out against its competitors like Gutfeld does and whether Maher could be accepted by the more politically correct CNN is an open question.

Licht hiring another liberal also challenges Licht's own stated desire to make the network less partisan because there is no reason to believe CNN's comedian will be less liberal than ABC, NBC or CBS's.
In portraying Maher as a "liberal," Christy is ignoring how his employer has repeatedly touted Maher's right-wing leanings.
Posted by Terry K. at 11:04 AM EST
Updated: Saturday, February 25, 2023 11:07 AM EST