Newsmax Still Screaming Victimhood In Week 2 Of DirecTV Deplatforming
Topic: Newsmax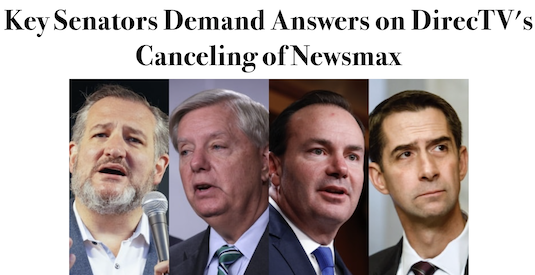 Newsmax entered its second week of loudly screaming victimhood and dishonestly elevating DirecTV dropping its TV channel in a business dispute into a "censorship" case and trying to get the government to interfere in it and punish DirecTV and its AT&T parent for its business decision. It has seemingly called in every right-winger who has ever appeared on the channel to register a complaint:
By our count, this makes at least 82 articles Newsmax has published attacking DirecTV in the first 10 days since it was deplatformed.
Newsmax CEO Chrstopher Ruddy also spoke out in a Feb. 1 article that began by complaining that DirecTV wouldn't negortiate with it, then ramping up the victimhood and unproven conspiracy theory that Newsmax was targeted for being right-wing:
"It makes you wonder if there's something bigger behind this that they're so inflexible," Ruddy said.

There has been a "targeted" attack on silencing conservative dissent of liberal political views, he added.

"It was a political decision," Ruddy said, rejecting DirecTV's claim the deplatforming was a "business decision." "They know the elections are coming up. They want to silence conservative voices. They got away with deplatforming One America News, and they hope that they can get away with this, and I think they were shocked and surprised by the outcry."

[...]

"They really were selectively trying to target us to essentially put us out of business, because they know a cable news channel needs to have license fee income to exist, and they didn't want us to be treated like another cable news channel," Ruddy told Van Susteren, maintaining that DirecTV's "cost-cutting" explanation does not hold water.

"Usually you do it by eliminating the very costly channels that have very little ratings," Ruddy continued. "And with us, they're taking a highly rated channel — we're No. 5 for cable news in the United States, we reach 25 million Americans, and we're top 20 of cable overall.

"We're a big deal in cable, and they're saying that we're not eligible for a fee."
Ruddy pompously thinking Newsmax is "a big deal in cable" doesn't mean it actually is.He also didn't mention that DirecTV replaced Newsmax with another right-wing channel, The First.
Newsmax columnists have also had their say.A Jan. 31 column by Craig Shirley weirdly blamed the "dark forces of Wokeism" for Newsmax being kicked off DirecTV:
Newsmax is the vision of founder Christopher Ruddy along with his flagship magazine and radio networks.

But collectivism cannot stand the dissemination of conservative ideas simply because, freedom is better than tyranny.

At the very least, DirecTV — and AT&T are guilty of violating the constitutionally protected right of free speech.

In other words, Direct TV is interfering with Newsmax audience's right to hear all the information on breaking news.

And Direct TV is disrupting Newsmax's right to do business with you, the viewer.

You don't get news and information anymore from NBC News' "Meet the Press," they are interested only in shrinking knowledge, not expanding it.

The program's ratings are abysmal.

Same too with The Washington Post, The New York Times, ABC and CBS.

In fact, all the left-wing news outlets.

And forget about NPR. You might as well be reading Mao's "Little Red Book."

The left just doesn't want your hard-earned money.

They want to regulate and control you.
In fact, "Meet the Press" garners more than 2 million viewers weekly, while Newsmax TV hovers around 100,000 viewers on a daily basis.
A Feb. 2 column by Dave Donaldson offered another reason to oppose Newsmax's deflatforming -- it gave right-wing and religious groups (he runs a religious group called CityServe) free publicity:
Each week, Newsmax TV gives scores of nonprofits, especially faith-based organizations, valuable airtime to communicate with a broader audience. They get to talk about their projects and why they matter to the broader community. And Newsmax has a reputation for being very generous with its airtime.

Newsmax sees the world in a way that transcends the common partisan struggles over money and politics. Now, I'm sure losing the opportunity to reach 13 million DirecTV viewers will impact Newsmax's carriage and ad revenue. But AT&T and DirecTV need to understand who else is going to suffer.
By the way, none of these people, including Ruddy, have mentioned the fact that DirecTV replaced Newsmax with another right-wing channel, The First, meaning that claims of viewpoint "censorship"are completely inoperative.
Posted by Terry K. at 1:24 PM EST