MRC Lashed Out At Anyone Who Praised Biden's State of the Union Address
Topic: Media Research Center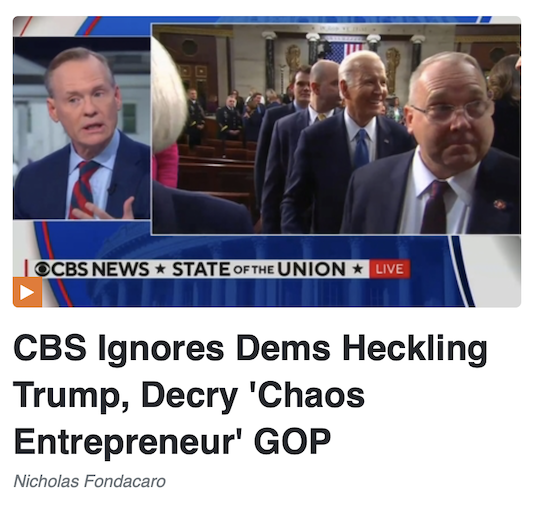 Before President Biden's Stateof the Union address, the Media Research Center was in prebuttal mode, as exemplified in a Feb. 7 post by Nicholas Fondacaro:
Hours ahead of President Biden's Tuesday State of the Union address, the ladies of ABC's The View shared their demands for what they wanted him to talk about. But their shrieking was willed with disinformation, misinformation, and lies about what was going on in the country, and smears against Republicans. So, NewsBusters thought it was pertinent to address and debunk the poison they were pumping into the public discourse.

Racist Whoopi Goldberg kicked off the segment by boasting that Biden would give the address with "historically low unemployment, more jobs with higher wages, lower gas prices, and less inflation than the previous months."

FACT CHECK: Misleading. Workforce participation was still below pre-pandemic levels, gas prices had been going up again as well the fact they're far above what they were when Biden took office, and inflation (which was way up since Biden took office) was still hurting Americans and would continue to hurt for some time.
Focusing on workforce participation instead of unemployment rates to make Biden look bad? That's a trick Fondacaro picked up from his employer's "news" division, CNSNews.com. He's also following in the narratives of his employer by blaming Biden for higher gas prices despite naming no policy that could be directly tied to them.
After the address, Kevin Tober tried desperately to set up an anti-Biden narrative by insisting that he was "bitterly partisan and divisive":
In the immediate aftermath of President Joe Biden's bitterly partisan and divisive State of the Union address, MSNBC host Alex Wagner went after House Speaker Kevin McCarthy for not showing enough allegiance to the left's latest obsessions like the war in Ukraine and "democracy" at home and abroad. Wagner was outraged that McCarthy didn't stand up when he clapped for Biden's applause lines and went after his House members as being against democracy and wanting to "subvert the will of the people."
Of course, the actual partisan and divisive people at the address were the right-wing Republicans who petulantly heckled Biden. Fondacaro tried to play cleanup by playing whataboutism:
Immediately following the conclusion of President Biden's State of the Union address, the commentary cast of CBS News attempted to clutch their pearls into diamonds as they decried heckling of Republicans in the chamber. Ignoring how Democrats routinely used former President Trump's address to protest, heckle make statements, and tear up his speech, the Biden-friendly network declared Republicans "chaos entrepreneur[s]."

"Speaker Kevin McCarthy is trying to present a new image, standing on many occasions but there were a lot of disruptions from the crowd," huffed CBS Evening News anchor Norah O'Donnell.

Chief White House correspondent Nancy Cordes framed the heckling as something only Republicans do at these addresses:
Kevin Tober lashed out at a person who committed the offense of saying something nice about Biden:
During the midnight hour of MSNBC's State of the Union address coverage, pseudo-historian Michael Beschloss made a fool of himself during his analysis of Biden's speech. After being asked by MSNBC's Stephanie Ruhle what he thought of Biden's speech, Beschloss declared Biden to be "Mr. Smooth." Biden is many things, but everyone can agree that smooth isn't one of the adjectives most Americans would use to describe him.

"That was a wonderful speech. Didn't you think he was sort of Mr. Smooth? This guy's been in national politics for 50 years. You don't always see the result of that, but you sure saw it tonight," Beschloss proclaimed.

"He was elegant, he was civilized, he was conciliatory, he was reasonable, and maybe most of all, he sounded like a centrist, which is exactly where he wants to be," Beschloss added.

It's unclear what speech he was watching but it's safe to assume that he wasn't watching Biden's State of the Union address. Since Biden's speech was extremely divisive and partisan, and at times incoherent.
Tober clearly knew he had to woprk in that "bitter and partisan" narrative, though he cited the highly biased and partisan Daily Caller to back up the claim.
Alex Christy further whined at another non-right-wing outlet that wasn't following the right-wing media narrative:
Amid plenty of laughter from the panel, MSNBC Morning Joe co-host Joe Scarborough's Wednesday reaction to the State of the Union was more cathartic group therapy than serious analysis as he wasted no time in calling Republicans "stupid" and "the dumbest political party that's ever existed" while labeling them "jackasses" for daring to object to President Biden's lie about them cutting Social Security and Medicare.

Morning Joe kicked off the program with a highly and selectively edited montage of Biden's speech as well as Arkansas Gov. Sarah Huckabee Sanders's response. The quick edits made it look like Biden was an uplifting unifier while Sanders was a bitter divider.

Of course, Sanders's whole job was to provide a rebuttal to Biden's self-congratulatory speech and five second clips can be deceiving, but facts were in short supply as co-host Mika Brzezinski led off, "Very different tones last night between President Biden's mostly optimistic looking State of the Union—"

An overly theatrical Scarborough then interrupted, "Wait, wait, wait! Can't anybody play this game! Why is my former party so stupid?"

Brzezinski then tried to claim that Biden plaid Republicans like a fiddle, "he fed it to them and they – boop."
Curits Houck served up the same tone about another non-right-wing show:
ABC's Good Morning America pitched a torrent of slobber Wednesday over President Biden's 2023 State of the Union address, gushing over Biden as "fired up and fiery" offering "a message of hope" in "one of the best speeches" ever with the White House "riding high" against raucous" Republicans who were bitter", childish, and "rude" in "jeering" Dear Leader.

[...]

[Correspondent Mary] Bruce framed Biden as the statesmen and not the taunter, saying he started "with a hand extended across the aisle" even though Republicans replied with "outbursts." In response, she bragged that Biden "seiz[ed] the moment to turn the tables on Republicans trying to get them to commit" to protect entitlements.
Houck similarly attacked another morning show a couple hours later for not adhering to right-wing narratives:
While ABC's Good Morning America was swooning over a "fired up and fiery" President Biden's "message of hope" in his State of the Union address, NBC's Today was similarly at a fever pitch of enthusiasm Wednesday as they proclaimed the "[made] an appeal for...unity" to an "unserious" Republican Party that created a "spicy" atmosphere inside the House chamber.
Co-host Savannah Guthrie came off like a state-run news reader, boasting in the opening tease that "Biden deliver[ed] his message to Congress and the American people" and "urg[ed] the parties to come together to finish the job in a boisterous House chamber."
Again: The MRC's rage is solely partisan, becaue it can't handle anyone in tihe media saying anything nice about a Democrat and because it believes that all news should have the same right-wing bias as Fox News. Speaking of which, MRC chief Brent Bozell ran to Fox Business to push that anti-Biden narrative because he knows he will never be challenged on it:
Media Research Center Founder and President Brent Bozell joined the Wednesday edition of the Fox Business Network's Varney & Co. to analyze the media's over-the-top praise of President Joe Biden's State of the Union Address.

Substitute host Ashley Webster aired highlights of journalists hailing Biden's performance with the likes of CNN's Jake Tapper claiming Biden seemed "invigorated from the address."

Webster turned to Bozell and inquired: "Well into his eighties. I think he's already there. Isn't he? Brent Bozell joins me now. Brent? Did that speech invigorate you?"

Bozell had fun mocking the media's feeble attempts to prop-up Biden: "Invigorated is code word for not senile....He's into his eighties. He's invigorated. Which means….the defibrillator worked, he's alive."

Bozell then offered what the media's take should have been, if they weren't so in the tank for this administration:
Apparently Bozell does not consider Fox News to be part of "the media," because he offered no critique of its biased coverage. Further, Bozell's interviewer was so in the tank for Bozell that he served up a softball that allowed Bozell to rehash the MRC's conspiracy theory about the election being stolen from Donald Trump because not enough people purportedly knew about Hunter Biden's laptop: "National surveys show had they known 9.4 percent would not have voted for him, Donald Trump would have won 317 electoral votes, would have won an absolute landslide. This is dynamite! This is kryptonite for the Democrats and for Joe Biden." That conspiracy theory is based on polls it bought from Trump's 2020 election pollster and the polling firm founded by Trump adviser Kellyanne Conway, so it is not remotely credible.
Posted by Terry K. at 9:49 PM EST