WND's Orient Tries To Exploit NFL Player's Collapse To Fearmonger About Vaccines
Topic: WorldNetDaily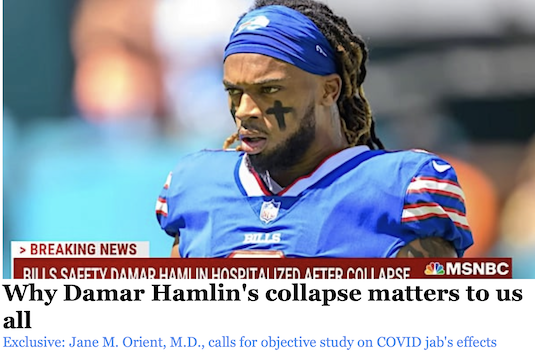 We've shown how WorldNetDaily columnist Jane Orient of the fringe-right Association of American Physicians and Surgeons has bought into the conspiracy theory that people -- particularly athletes -- are dropping dead because of the COVID vaccines, despite a complete lack of credible evidence to back it up. When NFL player Damar Hamlin collapsed during a game. Orient made sure to shoehorn that into her conspiracy, writing in her Jan. 5 column:
Millions of people saw Buffalo Bills player Damar Hamlin collapse on the football field on Jan. 2. He was tackled, fell down and at first stood up. Even to aficionados of the sport, this looked no different from what usually happens throughout the game. But then his heart stopped, and he collapsed. At this moment, Hamlin is reportedly in critical condition despite vigorous CPR on the field. In all likelihood, his promising career is over.

There is an outpouring of sympathy for this young man and his family, suddenly struck by a terrible tragedy. And also a flood of social media posts from both sides of the political narrative: It must have been the COVID shot, or the "safe and effective" COVID shot had nothing to do with it.

People are learning from well-polished presentations about commotio cordis, an extremely rare event. A sudden impact to the chest throws the heart into a fatal rhythm disturbance. Classically, it occurs in young boys not wearing protective gear who get hit in the chest with a baseball or similar projectile traveling around 40 mph – not an older, well-protected football players. Still, Hamlin did get hit in the chest.

By now, people have noticed that a lot of athletes have been collapsing on the field, and a high percentage of them die. Many are not even engaged in contact sports. Sudden death when engaged in strenuous activity that triggers a surge of adrenalin is not new. Certain congenital heart conditions, such as hypertrophic obstructive cardiomyopathy, predispose to it, and aspiring athletes should be carefully screened for this. There are also several possibilities for which screening is not ordinarily done.

Is sudden death occurring more commonly, or is it just getting more attention?
Of course, Orient offered no proof that the former is happeningh; the real situiation is the latter, fed by anti-vaxx conspiracy theorists like her.
Even though Orient offered no proof whatsoever that what happened to Hamlin had anthing to do with a vaccine, she demanded that we get "serious about avoiding future tragedies in case the COVID shots just might play a role" through things like "Suspend[ing] further injections until damage from the shots can be ruled out" and doing "a study that screens a large population of vaccine recipients with cardiac enzymes (troponins), ultrasound, and MRI to check for inflammation." She concluded by invoking another conspiracy: "Which, after all, is more important: the hearts of our people, or the profits of the vaccine purveyors?"
Orient tried to exploit Hamlin's condition for her conspiratorial cause again in her Jan. 24 column:
Cases like Hamlin's, however, may be the stimulus for very important research. It is not only that the spectacular collapse of an NFL star or other celebrity attracts a lot of sensational media coverage. It's not just the individual tragedies. The actual number of cases is increasing at such a disturbing rate that the public is finally noticing it.

A surge of adrenalin with extraordinary exertion may trigger the fatal rhythm disorder. A surge of hormones just before awakening might explain how young people die in their beds. But what makes the heart's electrical system more irritable?

The current spike in reports of SCD just happens to coincide with push to get everybody injected with COVID-19 vaccines. Although your vaccination status must be made known to ticket takers at a concert, it seems to be too sensitive to include in news reports on sudden cardiac death.

What can impair your heart's electrical system? The differential diagnosis includes trauma, a congenital (birth) defect, infection, inflammation, autoimmune damage, toxic effect and drug effect. Damage from the spike protein that COVID injections cause your body to make, and/or the immune response to it, is a plausible mechanism. How to demonstrate it? Patients who die should have an autopsy, with tissue preserved for tests, such as histopathological staining or chemical analysis for toxins, that may become available later. An autopsy should be standard in all unexpected deaths, but is rarely done, for financial reasons. This should be a priority for SCD research funding.

[...]

The COVID products are so different that some say they should not be called vaccines. However, all vaccines affect the immune system, by design. Immunology is extremely complex, varies greatly in individuals and is not well understood.

Instead of speculating about climate change, gas stoves, minuscule increases in dust particles in the air, 5G, plastic bottles, etc., let's try to find an answer to an age-old but dramatically increasing problem.
Again, Orient couldn't be bothered to offer any actual evidence there's any link between vaccines and Hamlin's collapse. But then, fearmongering about vaccines is the point, and actual evidence would complilcate her agenda.
Posted by Terry K. at 5:24 PM EST