MRC Continues Hypocritical Obsession With Soros' Donations
Topic: Media Research Center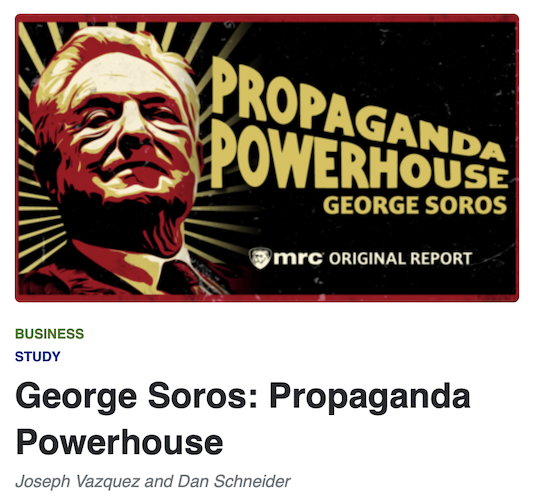 In December, the Media Research Center continued its obsession with George Soros by tallying up the money he has given to various causes -- you know, like like right-wing moneybags have donated to the MRC (not that it will bring up that part). It kept up the manufactured outrage that Soros does what every other politically inclined billionaire does throughout January. The MRC's chief Soros obsessive, Joseph Vazquez, complained in a Jan. 4 post:
Leftist billionaire George Soros was apparently more heavily involved in the 2022 electoral cycle than previously thought.

CNBC reported that Soros' Open Society Policy Center "quietly" spewed $140 million "to advocacy organizations and ballot initiatives in 2021," which is in addition to the over $170 million he "personally" spent to bolster Democratic candidates and campaigns in the 2022 midterm elections. It gets worse.

CNBC noted that the new numbers bring Soros' multimillion-dollar agenda to buy up elections and political influence to roughly $500 million since January 2020.

[...]

Soros once stated that his goal was "to become the conscience of the world," according to late New York Times reporter Michael T. Kaufman's 2002 book Soros: The Life and Times of a Messianic Billionaire. He clearly wasn't kidding.
In this regard, Soros is no different from other billionaires, including the right-wing ones who help fund Vazquez's paycheck -- that that Vazquez will tell you that, of course, and he would never accuse, say, the Mercers of having "spewed" donations to the MRC.
This was followed by the MRC's own work the next day, as compiled by Vazquez and Dan Schneider:
Leftist billionaire George Soros has been using his enormous fortune to buy influence around the world through news and activist media organizations for decades.

A new MRC Business analysis revealed that Soros specifically funneled at least $131,111,250 between 2016 and 2020 into 253 journalism and activist media groups worldwide to spread his radical leftist ideas on abortion, Marxist economics, anti-Americanism, defunding the police, environmental extremism and LGBT fanaticism. Soros pumped a whopping $103,236,632 into media groups that circulated his extreme views throughout the U.S. and abroad between 2000 and 2014. Fast forward to the period between 2016-2020, and Soros blew past the $100 million global media funding milestone again in just a four-year timespan.
Vazquez and Schneider offered nothing but cherrypicked examples that are really no worse than the anti-abortion extremism pushed by their employer. Still, the point of all this was to get a TV hit out of it, and as it was going live, MRC chief Brent Bozell ran to Fox Business, where he knew he could spout his talking points at Stuart Varney without challenge :
One-hundred and thirty-one million dollars is "far more than any entity, any foundation, anyone else probably in the world investing in [media]," Bozell noted. "This is a man who wants to fundamentally change the world." Bozell also rebuked the media, remarking that it's the "tip of the spear for the left and it's George Soros who's funding it."
The MRC's anti-Soros activistm got even more attention in the right-wing media bubble, and Vazquez dutifully transcribed in in a Jan. 6 post:
Conservative radio host Mark Levin has apparently had it with leftist billionaire George Soros wielding colossal influence over American politics and society.

Levin tweeted on Jan. 5 that "Soros has spent decades using enormous sums of money to overthrow our society." He then called on the "[t]he GOP [to] look at what [Soros'] massive network of anti-American groups are doing." MRC Business can help with that. Levin's tweet came just before MRC Business released its second report in its three-part research series on Soros' enormous ties to the global media.
Vazquez hyped the work of other fellow Soros-haters in a Jan. 11 post:
New research has put a dollar amount on the ungodly amount of cash leftist billionaire George Soros has poured into global politics in the past 23 years, and it's in the billions.

The Capital Research Center (CRC) reported Jan. 4 that new filings reveal that Soros' "nonprofit empire has poured out nearly $21 billion since 2000, making him perhaps the biggest ATM for leftist political causes in the world."

To put that into perspective, The University of California Berkeley projected that if one were to save money at a rate of $100 per day, it would take 27,397 years to save $1 billion. That means it would take a person saving $100 per day roughly 575,342 years to save up to the $21 billion Soros unleashed since 2000 in an effort to secure the leftist political outcomes he desired in the U.S. and around the globe.
Vazquez seems jealous that Soros has that kind of money to spend. He also didn't mention that the CRC has a history of shoddy "research" that, when we exposed it, caused it to accuse us of inciting civil unrest for doing so.
Vazquez found another bubble person to spew anti-Soros hate from the MRC's favorite misinforming podcaster in a Jan. 13 post:
Podcast host Joe Rogan was blunt in calling leftist billionaire George Soros's vast political power in global politics "terrifying" and equated him to a Batman villain.

Soros is like "an evil person in a Batman movie,"Rogan quipped during the Jan. 12 edition of The Joe Rogan Experience with guest and former CIA covert operations officer Mike Baker. Rogan referenced Soros' gambit to spend millions of dollars to elect leftist extremist district attorneys and politicians in order to advance his radical agenda.

"It's fucking terrifying," Rogan said. "He donates money to a very progressive, very leftist — whether it's a DA or whatever politician — and then funds someone that's even further left than them to go against them."

According to Rogan, "[H]e's playing like a global game and then he enjoys doing it." Recent research suggests Soros has spent $21 billion on global politics since 2000 to move the societal needle towards his dystopian worldview.
Vazquez and Schneider served up the finalpart of their anti-Soros screed in a Jan. 17 post:
The over $32 billion that leftist billionaire George Soros poured into his organizations to spread his radical "open society" agenda on abortion, Marxist economics, anti-Americanism, defunding the police, environmental extremism and LGBT fanaticism around the globe has paid dividends.

In fact, his funding has helped him establish ties with some of the biggest name media personalities in the United States and abroad which help indoctrinate millions with his views on a day-to-day basis. MRC Business found at least 54 prominent media figures (e.g. reporters, anchors, columnists, editors, news executives and journalists) who are tied to Soros through their connections to organizations that he funds. These include personalities like NBC Nightly News anchor Lester Holt and The Washington Postexecutive editor Sally Buzbee.

[...]

Soros' $131 million in media spending has virtually insulated him from any serious investigations by journalists. If anything, media figures tied to Soros tend to smear anyone who criticizes him as being anti-Semitic. CNN Chief International Anchor Christiane Amanpour harassed Hungarian Minister of Foreign Affairs and Trade Péter Szijjártó and accused his boss, Hungary Prime Minister Viktor Orbán, of "stoking anti-Semitism" because he opposes Soros' radical open border agenda. NBC Nightly News anchor Lester Holt exploited a violent attack on Soros' home to take a generalized swipe at his critics by painting Soros as a "target of conspiracy theories."
Vazquez made sure not to mention that his employer has a history of using anti-Semitic tropes like "puppetmaster" to attack Soros, and his uncritically repeated the false conspiracy theory that a young Soros was a Nazi collaborator during World War II. There was also no mention of the fact that the MRC operates its own propaganda operation masquerading as a "news" outlet, CNSNews.com.
But, again, the point is to get a TV hit out of this, not fess up to double standards. So Bozell ran to Fox News the next day to serve up more manufactured outrage:
Soros "understands the importance of media and the power of media," Bozell told Fox News anchor Trace Gallagher. Bozell also took time to slap down a common leftist deflection whenever a conservative criticizes the enormous influence of George Soros. "Remember David Koch and the Koch Brothers? Remember the Mercer family," asked Bozell. "What they've given is a spit in the bucket compared to George Soros. All the hundreds of stories on [the Kochs and the Mercers] and this 'right wing conspiracy,' nothing on George Soros."
Needless to say, Bozell didn't disclose that his MRC has received large amounts of Mercer money.
Vazquez touted more complementary attacks in a Jan. 23 post:
Bongino Report Content Manager Matt Palumbo peeled back "the layers" of leftist billionaire George Soros' global political and media influence during a recent interview with The Epoch Times.

Palumbo noted that his book — The Man Behind the Curtain: Inside The Secret Network of George Soros — includes a "list of publications that are linked to Soros."

Palumbo told The Epoch Times that Soros' well funded media empire gives him connections with some of the biggest names in journalism, which in turn allows him to be shielded him from serious journalistic scrutiny. In addition, Soros' influence encourages media figures to call anyone who dares criticize him "anti-Semites."

"Just go on any of the publications that are Soros-linked: ABC, CBS, CNN, Washington Post, New York Times — the list, it's a very long list — type in Soros' name, and look at how they cover him," Palumbo said.
Vazquez smugly added. "MRC Business' research directly corroborates Palumbo's analysis." And neither he nor Palumbo seem particularly curious about the shady, opaque funding behind the Epoch Times; then again, it's in the right-wing media bubble with them, so there will be nothing but softball direct the Epoch Times' way.
Vazquez and Schneider wrapped things up with a Jan. 31 summary post in which they unironically demand even more investigations of Soros. They will not be turning a similarly close eye to, say, the Mercers anytime soon -- don't want to bite the hand that feeds you, after all.
Posted by Terry K. at 9:56 PM EST
Updated: Wednesday, February 22, 2023 6:41 PM EST