Newsmax Touts Trump's NFT Trading Cards, Buries Criticism
Topic: Newsmax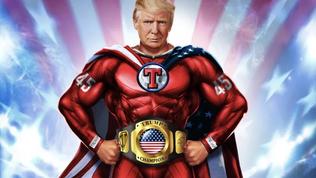 Newsmax -- always a shill for all things Donald Trump -- pl;ayed along with yet another tease in a Dec. 14 article by the apparently unironically named Charlie McCarthy:
Former President Donald Trump said he will make a major announcement Thursday concerning America's need for a "superhero."

"America Needs a Superhero! I will be making a Major Announcement tomorrow. Thank you!" Trump posted in all-caps Wednesday morning on Truth Social.

Trump's post was accompanied by a video, which begins with him restating the country's need for a superhero.

The video then gives way to animation showing the former president, standing before Trump Tower, with a buttoned-down shirt torn open to reveal a Superman-like outfit with the symbol "T" on his chest. Light beams protrude from Trump's eyes.

The spot ends showing "Major announcement. Thursday, December 15th."
Trump's post gave no indication what the announcement would be about.
McCarthy did, interestingly, hint that this was a distraction from bad news, noting that the post "came on a day that The Wall Street Journal reported its new poll showed Florida Gov. Ron DeSantis holding a 52%-38% lead over Trump among Republican primary voters."
The next day did indeed bring that "major announcement" -- and, yes, McCarthy was there for that too, while seeming to concede it was a tad underwhelming:
Former President Donald Trump's self-proclaimed "MAJOR ANNOUNCEMENT" concerns a new digital trading card collection.

Trump on Wednesday teased that he would have a "MAJOR ANNOUNCEMENT on America's need for a "superhero." He followed through with a Thursday morning post on Truth Social.

"MAJOR ANNOUNCEMENT! My official Donald Trump Digital Trading Card collection is here!," Trump posted with an image of the former president standing Superman-like in a costume showing a "T" on his chest and an American flag cape.

"These limited edition cards feature amazing ART of my Life & Career! Collect all of your favorite Trump Digital Trading Cards, very much like a baseball card, but hopefully much more exciting. Go to collecttrumpcards.com/ & GET YOUR CARDS NOW! Only $99 each! Would make a great Christmas gift. Don't Wait. They will be gone, I believe, very quickly!"

Trump last month officially kicked off his campaign for the 2024 Republican presidential nomination.

After Trump's Wednesday post, some wondered if the announcement would concern a running mate, or the former president's return to Twitter, Newsweek reported.
Newsmax didn't report on related issues with the cards, such as lauching them as the NFT market decllines (and the value of the Trump NFTs fell quickly), criticism of such a money-grubbing venture by even his allies, and using images into which Trump was photoshopped that may or may not have been stolen. Instead, a Dec. 16 article by Nicole Wells bragged about how the NFTs had sold out, with only a token noting of criticism:
The entire collection of former President Donald Trump's digital trading cards reportedly sold out within 12 hours of launching — raising millions in the process.

Trump teased a "major announcement" earlier this week on his social media platform Truth Social. While some people thought he could be announcing a running mate for the 2024 presidential election, the news that he was releasing a digital trading card or nonfungible token (NFT) collection was criticized by both supporters and detractors.
Wells also included a very defensive statement from the marketer of the NFTs:
It was not immediately clear who receives the money and how it will be used.

NFT INT, which created the digital cards, said that money from their sale will not be used to fund Trump's 2024 bid for the presidency, which he announced last month.

"These Digital Trading Cards are not political and have nothing to do with any political campaign," the company said on the cards' website. "NFT INT LLC is not owned, managed or controlled by Donald J. Trump, The Trump Organization, CIC Digital LLC or any of their respective principals or affiliates. NFT INT LLC uses Donald J. Trump's name, likeness and image under paid license from CIC Digital LLC, which license may be terminated."
As it turns out, NFT INT has its headquarters in a mailbox at a UPS Store in Park City, Utah, and is owned by a different company run by a current Trump lawyer and a former Trump adviser, the mailing address for which is the Trump International Golf Club in Palm Beach.
In between all this, Luca Cacciatore cranked out a Dec. 15 stenography piece gushing over how "Trump unveiled a five-point plan to tackle censorship Thursday night, vowing to protect 'lawful speech' from being labeled as disinformation. Newsmax provided coverage of the strategy rollout." Cacciatore made no mention of the NFT imbroglio, even though that and not this five-point plan was what people would be talking about.
Posted by Terry K. at 3:12 PM EST
Updated: Tuesday, January 17, 2023 10:41 PM EST