MRC Keeps On Musk-Fluffing As 'Twitter Files' Slow
Topic: Media Research Center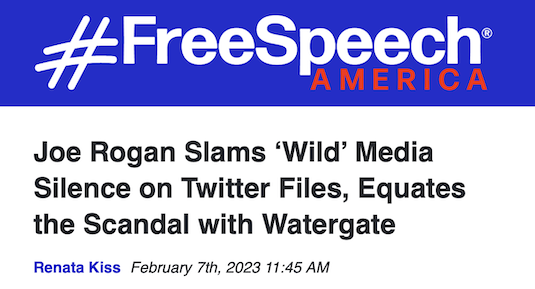 The saga of Musk-fluffing at the Media Research Center continued with a Jan. 20 post by Paetin Iselin hyping how "JPMorgan Chase CEO Jamie Dimon dealt leftists a dose of energy infrastructure reality" by noting that thte world's oil and gas usage will not stop immediately and that "Billionaire and Tesla CEO Elon Musk joined the conversation in support of Dimon." Autumn Johnson used a Jan. 27 post to dutifully parrot a new selective release of "Twitter files" given to Musk's hand-picked journlaists:
New Twitter Files show the pre-Musk, pro-censorship Twitter regime lacked "the guts to out" a watchdog group with ties to government officials that falsely labeled American accounts "Russian bots."

Journalist Matt Taibbi detailed the reportedly fraudulent work of the Hamilton 68 dashboard, a project of the "neoliberal think tank" Alliance for Securing Democracy in the latest round of Twitter Files released today. Taibbi previously reported that FBI counterintelligence official Clint Watts created Hamilton 68, which describes itself as a "Tool to Track Russian Disinformation on Twitter." Hamilton 68 claimed to have a list of "600 Twitter accounts to Russian influence activities online." In reality, most of the "Russian" accounts turned out to be American, British and Canadian accounts. "It's a scam," Taibbi summarized.

Hamilton 68 was "used as a source to assert Russian influence in an astonishing array of news stories" and "as evidence of the spread of 'fake news' on sites like Twitter," he continued. "It was a lie."
But as right-leaning Sinclair Broadcasting noted but Johnson wouldn't, the Alliance for Securing Democracy responded to Taibbi's (and, thus, Musk's) attacks on Hamilton 68, pointing out that it worked with right-wing websites like the Daily Caller to provide context -- namely, that it wasn't exclusively tracking Russian bots:
The ASD claims "members of the media, pundits and even some lawmakers often failed to include the appropriate context when using the dashboard's data, despite ASD experts' extensive efforts to correct misconceptions at the time."

Those efforts included ASD voluntarily working with right-wing media publications like The Daily Caller to push back against how many media organizations were using, or misusing, the data. In an article titled "'We don't track bots': what the media's Russian bot coverage is getting all wrong" from April 9, 2018, Bret Schafer, the ASD's then-communications director, said that most of the reporting on the dashboard was "inherently inaccurate" and "Most notably, and this is the most common errors, we don't track bots, or, more specifically, bots are only a small portion of the network that we monitor."

[...]

It is this point of nuance that the ASD repeated Friday in its fact sheet pushing back against Taibbi's allegation and emphasized in its self-published guide to the Hamilton methodology. In the section "Understanding the Content" in the methodology guide, author J.M. Berger, an expert on extremism, writes "While the users in the network generally serve to promote Russian influence themes, the content within the network is complex and should be understood in a nuanced way."
After that, there was another fallow period without new "Twitter files" to promote, so the MRC was reduced to lashing out at anyone who dared criticize Musk. P.J. Gladnick groused in a Feb. 5 post that a Politico article on Europe unifying aginst Russia in which "revelations about Twitter are transformed into just another rant against Elon Musk's takeover"-- that is, it pointed out Musk's pro-Putin leanings and how Twitter service in Ukraine has degraded during the Russian invasion. Ultimately, of course, Gladnick is mad that Politico wouldn't parrot the right-wing pro-Musk narrative: "Sniff! Gone are the glorious days of the FBI censors behind the scenes at Twitter, tragically replaced by someone who promotes the free speech that seems to be so despised by Politico and its fellow liberals. Goodbye cruel world!"
A Feb. 7 post by Renata Kiss hyped podcaster Joe Rogan complaining tha the "Twitter files" haven't gotten traction outside the right-wing media bubble and insisted that the story "as big a scandal as Watergate," going on to note that "YouTube even censored Rogan's interview with Dr. Peter McCullough, a consultant cardiologist, for his criticism of the COVID-19 vaccines." Actually, that interview was filled with COVID misinformation, but the MRC defended him anyway.
Another post that day from Paeten Iselin expressed horror that Twitter "censored" a photo of a Republican senator posing with a dead animal he apparently shot, but praised Musk for fixing the situation:
On Tuesday, Twitter restricted Senator Steve Daines's (R-MT) account when he shared a photo of himself and his wife antelope hunting — something he called their "Montana way of life."

Daines thanked Twitter owner Elon Musk for stepping in to resolve the issue. "I am grateful Elon Musk reached out to me to resolve this issue and am glad that he recognizes that free speech is a bedrock of our country, and acted quickly to reinstate my Twitter account after being made aware of its suspension," he said.

[...]

Even Musk admitted the censorship was ludicrous.

"This is being fixed," Musk tweeted. "Policy against showing blood in profile pic is being amended to 'clearly showing blood without clicking on the profile pic'. The intent is to avoid people being forced to see gruesome profile pics."

Musk later added, "Going forward, Twitter will be broadly accepting of different values, rather than trying to impose its own specific values on the world."
Note that Iselin only euphemistically described the photo as on involving "hunting" and didn't describe what it actually depicted, which was Daines posing with a dead animal.
Posted by Terry K. at 9:09 PM EST