The MRC's Loud And Lame War On NewsGuard Continues
Topic: Media Research Center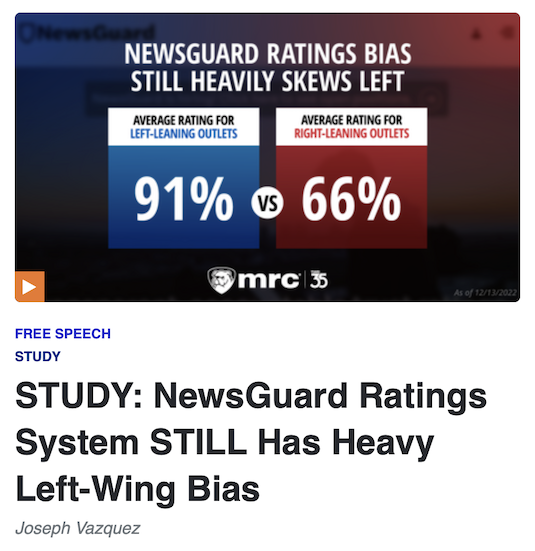 For the past couple of years, the Media Research Center has repeatedly attacked website-ratings service NewsGuard for committing the sin of pointing out how unreliable right-wing media is, demanding that outlets like Newsmax and OAN -- which are currently being sued for defamation by voting-tech firms Dominion and Smartmatic after they made false claims of ballot manipulation and election fraud -- be rated higher than they are. Despite all that whining, the MRC has never presented any evidence to argue that those right-wing media outlets be ranked higher than they are.
Well, the MRC's loud and lame war on NewsGuard is contining. Joseph Vazquez ranted in a Jan. 6 post:
Discredited leftist website ratings firm NewsGuard has had a year to prove that its ratings system isn't prejudiced against conservative media, but it's failing miserably. A new analysis shows that liberal media outlets were rated 25 points higher on average than right-leaning media outlets illustrates how NewsGuard's self-projection as a credibility gatekeeper is a complete joke.

MRC Free Speech America analyzed the NewsGuard ratings of media outlets based on a list compiled by AllSides that classified their "bias" on a left-to-right scale. The average NewsGuard score for the "left" and "lean left" outlets — which included leftist outlets like USA Today — was a "green shield" rating of 91/100. USA Today was embroiled in a scandal after former reporter Gabriela Miranda was found to have fabricated sources. While the average rating for "right" and "lean right" outlets — which included Fox News, The Daily Wire and New York Post — was a low 66/100.

That's a 25-point disparity.
As we've noted, USAToday dealt with the situation with that reporter in a forthright manner by identified the problem and corrected the situation while explaining to readers what happened. By contrast, the MRC still has yet to make any sort of public statement about the Brent Bozell ghostwriting scandal or how one of its bloggers used white nationalist links to flesh out his posts. Also, AllSides is hardly an objective observer; it's a right-leaning fact-checker that uses sloppy labeling, and the MRC has previously praised it for leaning into its "liberal bias" narratives.
Vazquez continued:
NewsGuard's bias has barely budged in over 365 days of ever-changing nutrition labels either praising or demonizing the "credibility" of news outlets. But NewsGuard as an organization is in no place to virtue-signal about "credibility" given that its CEO Steven Brill tried to cast the now-verified Hunter Biden laptop scandal as a Russian "hoax" just prior to the 2020 presidential election. Even after the emails from the laptop were verified, NewsGuard maintained perfect scores for outlets like Politico, The Washington Post and USA Today, which all interfered in the 2020 election by trying to bury the Biden family scandal as some kind of disinformation operation.
Only in the right-wing bubble would refusal to report an unverified story be considered election interference. Note that Vazquez is blaming non-right-wing media for not parroting the story and not the New York Post -- a right-wing outlet that was in the tank for Trump's re-election in 2020 -- for failing to provide any sort of independent verification of the laptop story that would have elevated it above the October surprise-grade attack it clearly appeared to be. Vazquez clearly does not understand that it's good journalistic practice to not amplify an unverified story.
The worst thing Vazquez could apparenlty come up with regarding the Washingon Post's purported unreliablity is that it "was recently caught stealth-editing a report that falsely labeled journalists Matt Taibbi and Bari Weiss as "conservative." The erroneous characterization came after both reporters' separate coverage exposing the internal communications behind Twitter's massive campaign to censor speech and ban former President Donald Trump." Vazquez offered no evidence to support his claim that Taibbi and Weiss are not conservative, and his description of them offering "separate coverage" of Twitter ignores the fact that both were hand-picked by Elon Musk to write about selective releases of internal Twitter documents to push a right-wing narrative of "censorship" under previous owners.
Vazquez again ranted that "BuzzFeed News continues to host the bogus January 2017 Steele dossier it published that made erroneous claims about alleged collusion between Trump and Russia. However, NewsGuard still gives the outlet a perfect 100/100 score" -- censoring the fact that BuzzFeed never claimed the dossier was accurate, told readers it was unverified and explicitly stated that it published the dossier "so that Americans can make up their own minds about allegations about the president-elect that have circulated at the highest levels of the US government."
Vazquez went on to attack USA Today again for an accurate fact-check on history:
In a so-called June 30, 2020, "fact-check", the outlet tried deflecting from the historical fact that Democrats started the white supremacist Ku Klux Klan and were responsible for the Civil War by drawing a flimsy distinction between the Democratic Party and Democrats:

Historians agree that although factions of the Democratic Party did majorly contribute to the Civil War's start and KKK's founding, it is inaccurate to say the party is responsible for either.

The headline for the propagandistic fact-check was deceptive: "Fact check: Democratic Party did not found the KKK, did not start the Civil War." The Democratic Party may not have officially started the Civil War, but the Confederacy was indisputably made up of strident Democrats, which USA Today arbitrarily glossed over to protect the left. In fact, one of the KKK's founding members was Confederate veteran Nathaniel Bedford Forrest, a Democrat. But according to NewsGuard's nutrition label, "[A]voids deceptive headlines" and "[g]athers and presents information responsibly."
Note that Vazquez actually concedes that USA Today was correct by pointing out that the KKK was not "officially started" by the Democratic Party. He didn't explain how it was "propagandistic" to state something even he admits is accurate.
The results of MRC Free Speech America's latest analysis are especially damning in light of NewsGuard's latest expansion into rating TV shows. Variety reported Dec. 1 that NewsGuard's ratings of "140 cable, streaming, and network television shows and networks will be available to advertising agencies, marketers, and others starting January 2, 2023." NewsGuard's TV show ratings are structured based on a 0-10 scale as opposed to the 0/100 scale used for websites. NewsGuard scored Fox News's Tucker Carlson Tonight at rock bottom, giving the show a 0/10. NewsGuard claimed Carlson's show "regularly advances false, misleading, and unsubstantiated claims on topics of importance such as COVID-19 and U.S. and international politics."

By comparison, CNN's Inside Politics received a NewsGuard rating of 9/10, because host John King supposedly provides "multiple viewpoints in his reports, mostly through his own summary of dissenting views on a story, and interviews with prominent Republican lawmakers, pollsters, and consultants." But King is blatantly biased. For example, King and his panel recently used Trump's dining with Ye (formerly known as "Kanye West") and Ye's guest, white supremacist Nick Fuentes, and the GOP's quiet response to imply that Republicans are an anti-Semitic party that encourages hate crimes. King ignored the fact that Trump is transparently pro-Israel, while certain Democrats consistently spread anti-Israel rhetoric.
That's right -- just a few paragraphs after getting mad that USA Today wouldn't equate Democrats who founded the KKK with the entire Democratic Party, Vazquez got mad that the leader of the Republican Party hanging out with anti-Semites was elevated to reflect the entire Republican Party. Be consistent in your arguments, Joey! Also, one can criticize Israel without being anti-Semitic, and one can harbor anti-Semitic sentiments (Trump frequently invokes anti-Semitic tropes when talking about Jews) while also supporting Israel as part of a political agenda.
The MRC's anti-NewsGuard propagandagot repeated in a Feb. 6 podcast in which she declared that "I exposed NewsGuard and its checkered past of bias" by parroting her employer's earlier attacks. She even repeated one of the MRC's lamest attack lines: "NewsGuard also rated several Chinese Communist Party-controlled media outlets as more credible than independent American outlets such as One America News Network (OANN), Newsmax and LifeNews." Again, Newsmax and OAN are being sued for defamation, while anti-abortion proaganda operation LifeNews has reported numerous falsehoods.
Posted by Terry K. at 6:08 PM EST