MRC Writer Freaks Out At Reid For Criticizing His Boss
Topic: Media Research Center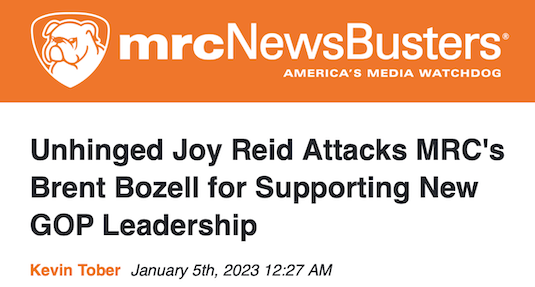 It seems that Media Research Center employees are mandated to defend their boss, Brent Bozell, from even a glancing reference in the media. Witness this Jan. 5 freakout by Kevin Tober:
On Wednesday night's The ReidOut on MSNBC, Joy Reid took to the airwaves to attack MRC president Brent Bozell for daring to sign on to a letter in his personal capacity from the Conservative Action Project, that called for fresh, new conservative leadership in the United States House of Representatives. When listing off prominent names who signed the letter, Reid pretended to not know the name of the organization Bozell founded, calling it the "right-wing media research thing."

Reid started off by trashing the GOP base which she claimed, without evidence, "at some point stopped wanting actual policy and stopped wanting things out of Washington." What they really want according to Reid is "the theater of owning the libs."

"There's a group of 26 conservatives who put out a letter backing this, and it's not regular Joe average voters. It's people like Ginni Thomas, it's people like Cleta Mitchell who helped in the insurrection, it's Jenny Beth Martin, the co-founder of the Tea Party Patriots who was at the stop the steal rally," Reid bitterly listed off.

Continuing to read from the letter, Reid kvetched: "Brent Bozell, this guy who does this right-wing media research thing. You can go on—Ed Meese, Ed Meese III, Reagan's Attorney General! So there's a group of people who are serious right-wing people who are now backing this effort."
In fact, the letter does not state that any signatory did so in their "personal capacity," and Bozell is clearly identified by his MRC affiliation. Also, it's not an "attack" if you're just listing who signed this petition, and Tober doesn't not dispute Reid's characterization of any of the names listed other than to whine that she didn't the MRC's name right.
Tober also left out the context that the "fresh, new conservative leadership" being sought was much farther to the right than their target, Kevin McCarthy, whom the letter accused of criticizing far-right Repubicans; the letter also cheered that McCarthy was failing to get a majority of votes needed to be speaker. Among Bozell's fellow signatories are Jim Hoft of the wildly inaccurate Gateway Pundit and former WND writer and Obama birther Jerome Corsi.
Tober went on to huff that Reid was "smearing the conservative movement" -- by reading a list of names -- then grumbled that "turncoat Republican former Congressman Denver Riggleman got his turn to level smears." But Tober didn't dispute anything Riggleman said either.
Tober concluded by laughably calling this a "demonic segment." Yes, right-wingers tend to believe that any criticism of them is of the devil. This kind of hypersensitivity demonstrates why the MRC's "media research" is too partisan to be taken seriously.
Posted by Terry K. at 10:12 AM EST