MRC Cooked Up Outrage Over Talk Of Gas Stove Regulations
Topic: Media Research Center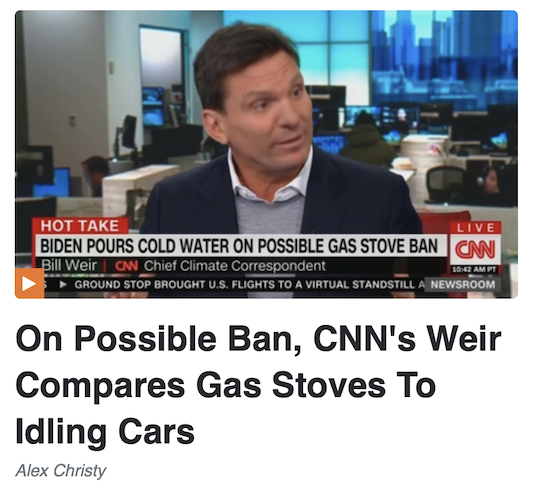 As befits its role as a narrative manufacturer for right-wing political interests, the Media Research Center manufactured outrage over discussions of possible regulation of gas stoves -- then, as befits its role as a hypocritical whiner, complained when that manufactured outrage was called out. Alex Christy set the tone -- which is to say, the tone of a PR hack for the gas-stove industry -- in a Jan. 11 post:
CNN climate correspondent Bill Weir offered up a strange analogy on multiple Wednesday installments of CNN Newsroom when discussing the possibility of a ban on gas stoves. As Weir tells it, having a gas stove, particularly in small apartments, is akin to an idling car.

During the 9 AM Eastern hour reported that, "They've banned it in new construction in New York City, out west in California, Washington State, but a lot of states have preemptively banned gas bans and you can imagine they're usually red states and Texas leading the way, they want to stop this because it's an existential threat to that business."

However, "the science is showing us having a gas stove, in a small apartment especially with bad ventilation is like having a car idling there. And if you have young kids, it can affect cognitive abilities and, as well as asthma."

[...]

Carbon monoxide from a car running in an enclosed space will eventually kill you. One can be concerned about childhood asthma and still see that they are different and, again, this is mostly a problem with poor ventilation. Other household appliances that emit carbon monoxide include your water heater and older dryer models.
Tierin-Rose Mandelburg took a break from hating drag queens and transgender people to attempt to play gotcha in a Jan. 12 post:
Alexandria Ocasio-Cortez has become notorious for being a hypocrite.

Recently she took to Twitter to push for people to ditch their gas stoves, meanwhile she herself owns a gas stove.

The U.S. Consumer Product Safety Commission has discussed stopping production of new gas appliances and encourage people to discontinue using them if they do have one in their home - supposedly for the environment.

Congressman Ronny Jackson (R-Tex.) took to Twitter, saying "I'll NEVER give up my gas stove. If the maniacs in the White House come for my stove, they can pry it from my cold dead hands. COME AND TAKE IT!!"

AOC quote-tweeted Jackson's tweet and said, "Did you know that ongoing exposure to NO2 from gas stoves is linked to reduced cognitive performance."

AOC is Capitol Hill's queen of drama.

[...]

What did she say again? That exposure is linked to "reduced cognitive performance?"

Well, well, well, I guess she too has been around gas stoves too much!

Boom roasted.
Because Mandelburg was more interested in going for the roast than imparting facts, she censored the fact that AOC later pointed out that her apartment is a rental and, thus, she was stuck with a gas stove, adding that "by that logic, these are the same people who would have said we should have never gotten rid of leaded gasoline just because someone may have driven a gasoline car."
Joseph Vazquez rantily insisted that the right-wing freakout was "legitimate" in a Jan. 16 post:
A babbling MSNBC analyst with a history of Trump Derangement Syndrome is in no place to throw the word "addiction" at legitimate concerns of government reaching into American kitchens.

MSNBC National Affairs Analyst John Heilemann kicked off Martin Luther King Jr. Day with a tirade on GOP opposition to gas stove bans. On the Jan. 16 edition of Morning Joe, he said "[The GOP is] addicted to this culture of lies and conspiracy theories that they have fomented, right?" Except, the proposed ban wasn't fictitious nor conspiratorial.
Vazquez went on to declare that any talk of regulating gas stoves was "dystopian."
Nicholas Fondacaro went on thte warpath in a Jan. 16 post as he laughably tried to play fact-checker by citing a biased right-wing website to support his attacks:
Amid the blow-up last week after an unelected bureaucrat with the Consumer Product Safety Commission floated the idea of a national ban on gas stoves, NBC's Today came out against your freedom of choice in how you cook your food. During their Friday news show, the liberal journalists pushed the debunked study that purportedly linked gas stoves to asthma and lobbied heavily for people to buy induction stoves, omitting the fact that they could cost over three times as much as a gas stove.

At the top of the segment, wealthy liberal anchors Hoda Kotb, Savannah Guthrie, and Craig Melvin shared a laugh at how people were outraged and decried the floated draconian measure[.]
"Wealthy liberal anchors"? We thought the MRC hated class wars. Fondacaro continued:
The first accusation against gas stoves he addressed in his report was the dubious link between gas stoves and asthma. Claiming there was "mounting research" that confirms the link, he pointed to "a recent peer-reviewed study from a prominent medical journal found nearly 13 percent of childhood asthma cases in the U.S., are attributable to gas stove use."

Brock failed to be honest and note that the study flies in the face of a 2013 study from the International Study of Asthma and Allergies in Childhood that found "no evidence of an association between the use of gas as a cooking fuel and either asthma symptoms or asthma diagnosis," as reported by the Washington Examiner.
Yes, Fondacaro is pushing a decade-old study in favor of a newer one. You know where that talking point came from? The American Gas Association, the trade group for the natural gas industry, which opposes any regulation.
Fondacaro further complained:
One of the study authors cited by Brock has even walked back their findings, telling the Examiner that the study "'does not assume or estimate a causal relationship' between childhood asthma and natural gas stoves."

But what Brock did have was an anecdotal and non-scientific account from ONE mother who claims her son's asthma improved after moving out of a house with a gas stove.
We remember that the MRC repeatedly pushed the claim that that a study concluded that Gmail disproprotionately marked political emails from Republican candidates as soam even though one of the researchers explicitly pointed out that was not what his study concluded, so it's hyporitical for Fondacaro to make that argument.
Clay Waters spent a Jan. 16 post whining not only that the New York Times pointed out the right-wing hysteria over gas stoves but also for arguing that it wouldn't be a bad idea to evolve from them:
The federal government banning gas stoves? What a deluded notion, sneered the New York Times. Yet a short time later the paper published articles outlining alternatives to hazardous gas stoves.

Thursday's dismissive story by Elena Shao and Lisa Friedman appeared under the dismissive print-edition headline: "No, Biden Is Not Trying to Ban Gas Stoves."

[...]

But the Times soon betrayed its own mocking spin with follow-up stories suggesting Biden should be banning gas stoves, despite the actual study (a meta-study sponsored by the Rocky Mountain Institute, which wants everything electrified).
Waters didn't mention that his fellow gas-stove defenders were taking their talking points from natural gas lobbyists.
Waters returned for a Jan. 24 post that again complained right-wing gas-stove hysteria was being called out:
National Public Radio's Morning Edition tried to have it both ways Friday, both mocking right-wing concern over banning gas stoves and also suggesting a ban could be in the works after all.

The set-up was galling. Why would taking the head of the Consumer Product Safety Commission seriously when he said a gas stove ban was on the table require the expertise of NPR's "conspiracy theory" reporter to debunk?

The segment featured climate reporter Jeff Brady and Lisa Hagen, "who reports on how conspiracy theories work." Co-host A Martinez identified a "cycle of outrage, mostly from the right," and played a clip of Sean Hannity on Fox News claiming "not only is Biden coming for your paycheck, but he's also coming for your stove. You heard me right. The White House is now attempting to ban all gas ovens and burners."

Martinez actually validated concerns about a ban by assuming gas stoves were dangerous, asking Brady, "What do we know about the risks gas stoves pose to both the environment and public health?"

[...]

For evidence, we could always tell Morning Edition about....Morning Edition, which inveighed against gas stoves last October, asking "Will America ever give up the gas stove?" touting leftists who said "the stove is seen as a "gateway appliance" that drives the building of a vast fossil fuel infrastructure from wellhead to home." It's a gateway drug for petroleum addicts.

Suddenly, it's bad when people pay attention to the news and take it seriously.
Waters didn't explain why it's such an offensive thing to raise questions about gas stoves. Is he on the natural gas industry's payroll too? Apparently so, because he spent a Feb. 3 post once again raging at the Times, this time for pointing that a prominent gas-stove advocate is on the industry payroll:
The New York Times was going all-out with its gas-stove "eliminationist rhetoric," (to coin a phrase) putting this snotty headline over a front-page story Monday:"Gas Stoves Are Just Fine, Claims the Scientist Paid to Say So."

The story was written by investigative climate desk reporter Hiroko Tabuchi, who has shown herself hypersensitive to the supposed corporate and even "white supremacist" corruption of scientific research, while ignoring all conflicts of interest on the left-wing, environmental side of the issue.

She's uncovered a dissenter from the narrative and was trying to wreck her credibility by raising questions of funding or conflict of interest -- questions that never get applied to environmental organizations that could make a profit off of environmental regulations.

[...]

Tabuchi tellingly does not analyze that "study" (actually a meta-analysis of many studies) for possible conflicts of interest, even though its sponsor, the Rocky Mountain Institute (according to the Free Beacon) "boasts of its attempt to drive an 'economy-wide transformation' away from oil and gas in the name of the 'climate crisis' and is led by green energy executives who stand to profit from such a transformation."
Waters did not dispute the results of that meta-analysis despite attacking its sponsor.
UPDATE: Waters also whined in a Jan. 22 post that on PBS, a correspondent "condescendingly mocked anyone who would dare not throw out their gas stoves and purchase more expensive induction stoves, given the obvious health hazards of natural gas (a danger the liberal press learned about a few days ago and won't stop shrieking over)" further huffing that "No dissent appeared in the segment, certainly no mention of studies with opposite conclusions," like that decade-old study referenced above.
Posted by Terry K. at 10:02 PM EST
Updated: Thursday, February 16, 2023 6:45 PM EST