MRC's Vazquez Obsesses Over George Soros' Donations
Topic: Media Research Center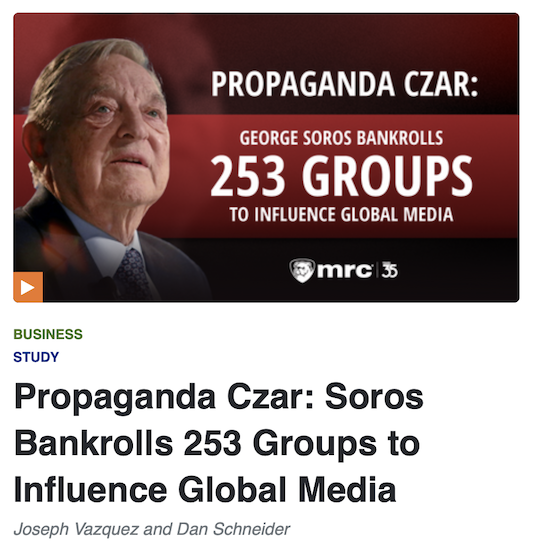 Another part of the Media Research Center's recent round of attacks on George Soros has been a series of so-called studies that boil down to complaining that Soros funds things like any billionaire does. This was kicked off in an Dec. 6 post by the MRC's point man on hating Soros, Joseph Vazquez, and Dan Schneider who runs the MRC's Free Speech America program:
Leftist billionaire George Soros used his charities to build ties with hundreds of media organizations around the world involved in news and activist media. The journalism and activist media groups Soros supports mold public opinion on practically every continent and in many languages. They also insulate him from inquiry because reporters see him as an ally, not a target for investigation.

The 92-year-old philanthropist's multimillion-dollar efforts promoting his bizarre "open society" agenda encompass some of the most radical leftist ideas on abortion, Marxist economics, anti-Americanism, defunding the police, environmental extremism and LGBT fanaticism.

His global media clout is massive. An extensive analysis by MRC Business discovered at least 253 news and activist media organizations across the world financed by Soros' philanthropic organizations. These groups wield massive power over information in international politics.

This report is the first in a three-part series that reveals the extent of the reach Soros wields over international media to influence the world population. Soros once told The New York Times that he was working to "bend" the arc of history "in the right direction." He means it.
Which makes Soros no different than the right-wing billionaires that fund the paychecks of Vazquez and Schneider, such as the Mercers.
This particular segment complained about a website called Project Syndicate that Vazquez and Schneider hyperbolically describe as "A Global Soros-Funded Behemoth" and a "Global Propaganda Operation" despite few in the U.S. even being aware of it.They also laughably called the Poynter Institute "A Global Soros-Backed Ministry of Truth" mainly becuse it fact-checks right-wing falsehoods and misinformation, and bashed the group Free Press as "anti-American" despite quoting co-founder Robert McChesney saying that that group engage in things like "democracy, social justice, and, dare we say it, socialism," none of which sound particularly anti-America. They go on to apply more overheated language to the Media Demnocracy Fund, declaring it "A Soros-Funded Gargantuan Dedicated to Woke 'Social Justice'" and "a Money-Spewing Cog in Soros' Sphere of Influence," then describe National Public Radio as "Soros and State Media" and "Soros' Taxpayer-Funded Radio Propaganda Mill."
Language like this makes Vazquez sound like they're cranking out a partisan hack job, not engaging in sober or legitimate "media research." But that is the tone they use throughout. Because this is, in fact, a partisan hack job, exposure in the right-wing media bubble is the coin of the realm, not reasoned debate -- so MRC chief Brent Bozell ran to Fox News to promote it and spew hate at Soros: "He hates the Judeo-Christian tradition. He is out to destroy the underpinnings of Western civilization and he's using $36 billion that he is spending on it. ...This is a dangerous man." Keeping the promotion in-house, Tim Graham parroted the study on his Dec. 7 podcast, and Vazquez plugged it on Paiten Iselin's Dec. 9 "CensorTrack" podcast. Even the MRC's "news" division, CNSNews, performed an act of whoredom and reprinted Vazquez's hit job.
Vazquez took a break from hyping his own work to note a complementary finding in a Dec. 8 post:
Liberal billionaire George Soros is upping his accolade as the "largest donor" for the 2022 midterm elections to the next level by reportedly signaling that he's ready to buy the 2024 presidential election.

Politico revealed Dec. 7 that Soros pumped a whopping $50 million into his leftist super PAC — Democracy PAC — "building on an already large investment in Democratic groups and candidates for the 2024 election cycle and beyond." This is on top of the $128 million he spent during the 2022 midterm elections. Politico noted that it's "the latest sign that Soros will continue to play an enormous role in the Democratic campaign finance ecosystem, particularly ahead of the next presidential election." The talking heads at the ABC, CBS and NBC evening news shows predictably ignored the report during their Dec. 7 broadcasts.

[...]

It looks like he's not done yet as he bids to buy the presidency in 2024.
Vazquez failed to mention the right-wing billionaires who are similarly trying to "buy the presidency in 2024."
Vazquez had another Soros donation spree to complain about in a Dec. 22 post:
Leftist billionaire George Soros apparently kept himself very busy last year by funneling millions into groups and causes spreading anti-police hatred across the country.

Fox News Digital reporter Joe Schoffstall reported Dec. 21 that Soros' Open Society Foundations "dropped at least $35 million into anti-police groups and initiatives in 2021," according to reviewed tax forms.

Overhauling the American criminal justice system is a "high priority" for Soros, wrote Schoffstall. Soros' millions went toward "groups that back defunding police, hubs used by progressive activists aiming to dismantle law enforcement, and even funding databases to track donations to police department foundations and unions." Schoffstall also mentioned Soros' record of financially backing "dozens of far-left prosecutor candidates as part of the efforts."

Open Society-U.S. co-director Laleh Ispahani apparently didn't mind using Schoffstall's discovery to smear police officers across the country and push defunding police departments in comments to Fox News.

"The level of police violence, particularly impacting communities of color, has spurred reform efforts across the country," Ispahani reportedly said. "Open Society supports the exploration and development of policies that actually work to reduce crime and defers to communities regarding what alternatives make sense to them. Whether that includes shifting funding currently allocated to policing into services that actually work to address crime and improve public safety is up to them." [Emphasis added.]
As Ispahani's statement makes clear, Open Society favors more effective policing and not defunding -- which would seem to be the oppposite of the "anti-police" pejorative Vazquez and Schofstall are trying to hang on the group -- and Vazquez did not explain how seeking more effective policing equates to "smearing police officers." But for these two, clinging to this right-wing narrative -- no matter how it's been debunked -- is more important than reporting facts.
(Vazquez also didn't disclose that Schofstall is a former MRC employee who, like so many others, have entered the pipeline to work for Fox News.)
Posted by Terry K. at 10:04 PM EST