MRC's Anti-Abortion Extremists Rage Against Abortion Pills
Topic: Media Research Center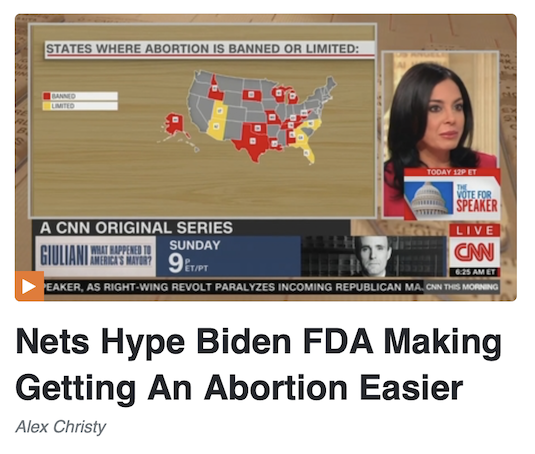 As befits an anti-abortion extremist, Media Research Center writer Tierin-Rose Mandelburg has been lobbying hard against abortion pills. A Nov. 18 post by Mandelburg cheered right-wing efforts to outlaw them:
The Conservative legal group, Alliance Defending Freedom (ADF), sued the Food and Drug Administration (FDA) on Friday over the FDA's illegal approval of abortion pills. The group represents four healthcare organizations and four doctors in the first lawsuit of its kind.

ADF filed the lawsuit on behalf of the Alliance for Hippocratic Medicine, the American Association of Pro-Life Obstetricians and Gynecologists, the American College of Pediatrics, the Christian Medical & Dental Associations and doctors Shaun Jester, Regina Frost-Clark, Tyler Johnson and George Delgado.

Supposedly the FDA approved the legalization of abortion drugs (mifepristone and misoprostol) in 2000 by characterizing pregnancy as an "illness," as ADF's report noted. The ADF report also indicated the FDA "never studied the safety of the drugs" before it approved them and disregarded evidence of the harm that these drugs can cause.

ADF Senior Counsel Members Julie Marie Blake said, "The FDA never had the authority to approve these dangerous drugs for sale. We urge the court to listen to the doctors we represent who are seeking to protect girls and women from the documented dangers of chemical abortion drugs."

[...]

The fact of the matter is that abortion doesn't just hurt the child who is killed, it also puts the life of the mother in danger. That's what ADF is trying to get people to recognize and understand in order to help hurting mothers and children with their lives at risk.
As we pointed out when the MRC's "news" division CNSNews.com similarly promoted the ADF's lawsuit, the abortion pill is much safer than pregnancy.
When the Food and Drug Administration announcd a plan to allow pharmacies to provide the pills for anyone who has a prescription, Alex Christy complained in a Jan. 4 post:
The morning shows of ABC, NBC, CBS, and CNN saw nothing controversial about the FDA's new policy that allows pharmacies to provide abortion pills to anyone with a prescription.

The cast of CNN This Morning spent the most time on the matter as. Co-host Poppy Harlow kicked things off with an announcement, "the FDA is announcing a big move on access to abortion. We're talking about the pill or the medication for it. This comes, of course, after the Supreme Court struck down Roe v. Wade. What's changed is that pharmacies, like your average ;pharmacy is now able to sell these abortion pills to people who have a prescription."

[...]

The move clearly had an ideological motive, which means there is another perspective on the matter, but CNN did not provide that perspective. Nor did NBC's Today, or CBS This Morning [sic] in their brief reports.
Later that day, Mandelburg served up her own rant against the new FDA policy:
The Food and Drug Administration (FDA) announced Tuesday that it would permit retail pharmacies to offer abortion pills in the United States. From "corner drugstores to major chains," obtaining a pill to end the life of a child just got that much easier, The New York Times reported.

Under the updated rule that stretched the two-pill combo (mifepristone and misoprostol) availability from a few mail-order pharmacies or specific doctors/clinics to places like CVS or Walgreens, more and more babies lives are going to end. Supposedly a prescription order is still needed but pharmacies are expected to have plenty of murder drugs on hand for when those orders roll in.

Other than the fact that "lethal poison" will be placed next to "antibiotics and allergy medication," as Live Action's Lila Rose put it, babies will be dying in masses and emergency rooms will likely be flooded with women who were injured from the pill.

Abortion pills can cause severe bleeding, infection, and require possible surgical intervention. In some cases they can kill the mother as well as the baby. In a letter to the FDA back in February, 2022, Senators James Lankford (R-Okla.) and Cindy Hyde-Smith (R-Miss.) along with 125 colleagues presented the risks of the pill. Even so, 11 months later, the FDA yet again altered their rules in order to allow these pills to be more easily accessible.
Again, Mandelburg failed to tell her readers the fact that pregnancy kills more women than the abortion pill does.
Tim Graham even whined about it in his Jan. 4 podcast: "Then there are the pro-abortion hardliners in the Biden administration, with the Food and Drug Administration pushing for abortion pills to be more broadly available in pharmacies to make abortions more plentiful. The networks announce this news as if it's utterly non-ideological, non-political, and non-controversial. There is no pro-life view on abortion pills that anyone needs to hear."
Mandelburg spews more rage at abortion pills in a Jan. 18 post:
Isn't it great when people we pay good money to do their jobs don't know how to do their jobs?!

*crickets

According to a report by the National Review, most pharmacy workers who willingly distribute chemical-abortion drugs are unaware of the negative effects and risks of the abortion drug. Though the drug is extremely dangerous, pharmacists are passing them out willy nilly.

Earlier this month President Joe Biden's Food and Drug Administration (FDA) made it possible for major chain drugstores like CVS, Wallgreens and Rite Aid to carry and distribute abortion pills. In order to obtain them it appears that a woman (or pregnant person lol) would need a prescription order but the pharmacies will be stocked and ready to fill those orders ASAP.

[...]

Oh lovely! So now pharmacies can pass out drugs that kills a child and has the potential to kill his or her mother too. No, literally, a chemical abortion is a "multi-day progression of bleeding, cramping, and contracting" that could take "up to 30 days to complete." These drugs are "four times more dangerous" than surgical abortions and have reportedly increased abortion-related ER visits by 500 percent from 2002-2015. They are NOT safe whatsoever.

Regardless, according to the FDA, not only are women able to waltz into CVS to get their prescriptions, they also don't even have to see a doctor in person in order to have a script written for them. They can virtually tell a doctor about how they want to abort their baby and that same day, visit a local pharmacy to pick up the lethal poison.
Graham clearly did notorder his subordinate Mandelburg to practice what he preaches to non-right-wing media and offer up an opposing view. Heck, Mandelburg didn't even disclose the right-wing tilt of National Review.And, again, Mandelburg censored the fact that abortion pills are much safer for women than pregnancy -- she has a narrative to perpetuate, after all.
Her rage increased in a Jan. 23 post:
New York just became the first city in the United States to offer free abortion pills at public clinics.

Just before the 50th anniversary of Roe v. Wade as well as the annual March for Life, NY Mayor Eric Adams announced free medication abortion to make it even easier for the women in New York to chemically execute their unborn children.

The city supposedly offered medication abortions at 11 public hospitals but the pills will now be free and accessible at four clinics across NYC.

The program is funded by a $1.2 million package for "sexual health services," as reported by Yahoo News, money that could have been allocated to help pregnant mothers or provide resources other than murder for women in crisis pregnancies.
Thanks, Tierin-Rose, for admitting that you believe women who have abortions are committing muirder, which means you also presumably demand that women who have abortions be arrested, imprisoned and even executed for having one.Not that you'll admit that publicly, of course -- don't want to look too much like the extremist you are, right?
UPDATE: When PBS had on a doctor who pointed out the safety of abortion pills, Tim Graham spent a Jan. 7 post raging at both PBS and the doctor, bizarrely calling the pill's safety a "creepy talking points":
On Wednesday's PBS NewsHour, viewers received a bucket of happy talk about medication abortions from Dr. Jennifer Villavicencio. Twice, she insisted the use of mifepristone was "extraordinarily safe" -- but it's not safe for the unborn baby, who is expelled from the mother and killed.

PBS emphasized support for the Food and Drug Administration trying to "expand abortion access" after the Supreme Court's Dobbsdecision reversed Roe v. Wade and returned the abortion issue back to the states..

[...]

PBS picked an expert that they presented as an objective media source, but it's easy to dig up that she's a hardcore abortion advocate. Planned Parenthood is a fan!
What Graham didn't do, of course, is go beyond spoiuting right-wing anti-abortion talking points to try and disprove Villavicencio.
Posted by Terry K. at 7:49 PM EST
Updated: Sunday, February 19, 2023 8:53 PM EST