Wayne Allyn Root Trump Sycophancy Watch
Topic: WorldNetDaily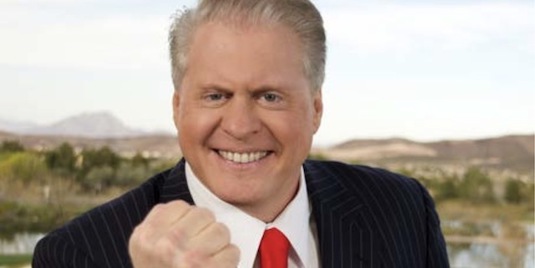 When last we checked in on Wayne Allyn Root's Trump sycophancy, he was trying to deflect from donald Trump dining with anti-Semite Kanye West and anti-Semite and white supremacist Nick Fuentes by insisting that he merely hung out with a "celebrity acquaintance" and a "stranger." For his Dec. 23 WorldNetDaily column, Root re-watched "Braveheart" and decided that it is somehow "the story of America today – with the middle class fighting for its very survival ... and one man standing in the way: Donald J. Trump":
Trump is today's embodiment of Sir William Wallace.

Trump believes in cutting back the power of the corrupt D.C. swamp and deep state. He wants to give more power, freedom and opportunity to the people – and that scares the swamp and deep state to death.

The evil villain of "Braveheart" is the king of England: Edward Longshanks. Today the embodiment of King Edward is this Biden administration – which is clearly run by Obama, back for his third term.

I call this two-headed monster "O'Biden."

Just like King Edward, O'Biden believes the citizens' money belongs to government. Just like King Edward, O'Biden believes every decision should be made by government, every conversation should be listened to, and the people's rights and weapons must be confiscated as a threat to government's rule.

I believe that, just like a tyrant, this O'Biden administration uses the FBI to rig and steal elections. Just like a tyrant, this O'Biden administration uses the FBI to frame and raid political opponents – even the former president of the United States.

Just like a tyrant, this O'Biden administration orders social media companies like Twitter and Facebook to censor, suspend and ban anyone who disagrees with their agenda. They even order the media to change the news feed to suppress any negative stories about O'Biden's corruption.

Always remember this administration wanted the FBI to arrest PTA parents. Now they've added 87,000 new IRS agents to act as enforcers and intimidate the people.

We give away $100 billion to Ukraine (the most corrupt country in the world) to protect their border from an invasion, while they leave our border open to an invasion of millions.

[...]

History repeats. It's all happening today ... in America. Trump is the only thing standing between us and them. Between freedom and serfdom.

They only attack Trump. Not DeSantis. Not any other Republican. Just Trump. What does that tell you?

Trump is taking our slings and arrows. He is being attacked from a thousand directions. He is being framed, demonized, slandered and destroyed. They want him in prison. The entire deep state is assembled against him. Think what he faces every day. Think what he has given up. For us.

This is a war to save the heart and soul of America: the great American middle class. Trump is our war general. Don't let the con men of the D.C. swamp and deep state turn you against Trump. Ever. He's all we've got.

This Christmas, please understand and appreciate that Trump is our Braveheart.
But Root shockingly disagreed with Trump for his Jan. 6 column:
McCarthy is a prime example of a UniParty fraud: He is a D.C. swamp, deep-state RINO fake who backstabbed former President Donald Trump and then raised money to attack and defeat Trump-backed, America First, MAGA candidates in the 2022 election. He is the worst kind of fraud, coward and pansy.

Trump argued with me on my Real America's Voice TV show "America's Top Ten Countdown" last week that Sen. Mitch McConnell is even worse and that McCarthy would be better than a lot of other horrible choices for House speaker. Basically, Trump was arguing "everyone in the D.C. swamp sucks, so let's settle for the best of the worst."

I disagree 110%.

I want to remind Trump of how he became one of the wealthiest and most famous human beings in world history. By never settling. By aiming for the stars. By never accepting less than No. 1. No one – including Trump – ever got famous by aiming for the lowest common denominator. You aim for the stars; you don't aim for the curb.

Kevin McCarthy is the curb.

Being "the best of the worst" is not something to vote for. I'm a Republican-conservative patriot. I want conservative, America First, MAGA patriots to lead my party. I want a general to lead us into battle. Not a wishy-washy, middle-of-the-road, RINO fraud who never fails to disappoint conservatives, but always caves to Democrats. That's McCarthy.

[...]

The entire U.S. media is gaslighting you, trying to convince you that McCarthy must be the House speaker ... his election must be rammed through ... the entire saga is a "humiliation" to the GOP ... and those 20 holdouts are "insurrectionists."

Nope. They're heroes of American patriotism, American exceptionalism, capitalism and conservative values.

Why is it acceptable to be a "Never Trumper," but not a "Never Kevin"? Since when does voting against someone who gets an "F" rating when fighting for your own top priorities make you an "insurrectionist"?
Root then rehashed one of his earlier sycophantic ideas:
I hate to say, "I told you so," but ...

President Donald J. Trump should have been our House speaker.

I was the first to publicly propose that idea on Jan. 30, 2021. I was the first to ask Trump about it. And I was the first to urge Trump to go after the House speaker position in my one-on-one interviews. I was right.

That's the solution. That's how we break this logjam. We need Trump now more than ever. Trump is the man to lead the battle. We can't wait until 2024. This is how we get Trump today.

Step up, Mr. President.
Of course, Trump is too lazy to actually do something like that (not that Root will admit it, of course).So, in his Jan. 14 column, he reframed things to portray McCarthy's eventual election as speaker as a victory for Trump:
I told you so. My plan worked. It just worked in a way I never imagined.
Like Martin Luther King Jr., I had a dream. My dream was former President Donald Trump as House speaker. I was the first in America to propose the idea in a commentary on Jan. 30, 2021. Then I talked about it nonstop for months on my nationally syndicated radio show. I personally lobbied Trump in numerous appearances on my radio and TV shows.

But Trump made it clear he never really wanted it. Trump is always No. 1. The chairman of the board. The five-star general. He doesn't take orders from anyone. I think he always looked at Nancy Pelosi, Paul Ryan and John Boehner (the last three House speakers) as errand boys and girls. Order takers. So, Trump never wanted the job. Not enough star power for him.

And who can blame him? Look at Trump's life. Trump has had the greatest life on Earth. He became not only a billionaire, but the most famous billionaire on Earth. The celebrity of all celebrities. With the most famous celebrity estate: Mar-a-Lago. And the most famous reality TV show, "Celebrity Apprentice."

Who'd give that life up?

Trump did. To save America and the forgotten middle class. To fight the D.C. swamp and the deep state. To make America great again. He gave up his one-in-a-billion life for you and me!

Now he wants to be president again. Trump never saw House speaker as his calling. He was flattered by my idea, but he never wanted the job. House speaker takes up too much time. Trump needs to be free to run for president again.

Trump plays chess at a much higher level. My idea was a good one. Trump just made it happen in a different way. You see, Trump is the newly elected House speaker – just not in name. In name, the title goes to Rep. Kevin McCarthy.

But guess who got McCarthy elected? Trump. And guess who controls McCarthy's every move as House speaker? The MAGA, America First, loyal Trump members of the Freedom Caucus.

MAGA has McCarthy by the short hairs. McCarthy can't take a bathroom break without asking the Freedom Caucus for permission. So, guess who's actually running Congress? De-facto House Speaker Donald J. Trump.

This is "the House that Trump built."
Root concluded by praising Trump's laziness some more:
Yes, Trump took my idea and ran with it. Trump is now the de-facto House speaker … without any of the day-to-day work that would prevent him from running for president. Nothing in Congress will happen without Trump's approval. And Trump runs the whole show, direct from Mar-a-Lago.

That's called having your cake and eating it too.
That's some serious spin there, Wayne.
Posted by Terry K. at 3:01 PM EST
Updated: Wednesday, February 8, 2023 3:13 PM EST