CNS' Right-Wing Catholic Priest Denounces Social Justice, Buys Into Conspiracy Theories
Topic: CNSNews.com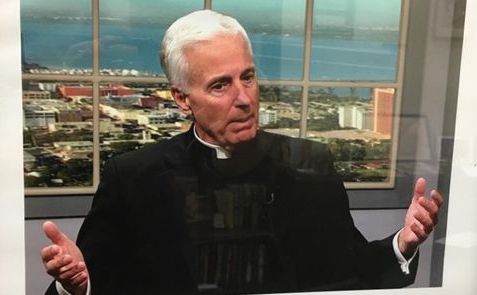 Rev. Michael Orsi has been continuing to put right-wing politics ahead of his mission as a Catholic priest in his CNSNews.com columns. He used his March 21 column to rant that the idea of social justice and equity is not Christian:
Christians are justified by Jesus Christ — living according to his Word, following his teaching. Our faith in him demands that we treat others justly. This not only involves a commitment to being charitable, but to inviting others to join us in adhering to the standards he set.

Social justice, on the other hand, holds up abstract and highly ideological conceptions of "right." It calls us to excuse (or even to encourage) ways of living that are not at all consistent with the nature by which we are made and the behavior that Jesus modeled.

A stark example of this difference is the ideology of gender that's such a prominent aspect of current social justice thinking. The very fact that God chose to come among us in the distinctive form of a man demonstrates the reality that human beings are created in his image with the complementary qualities of maleness and femaleness.

Social justice offers us an alphabet-soup assortment of gender characteristics and sexual inclinations (LGBTQ+). This is a false idea. It's heretical. And Christians are not being just when they encourage, or even accept, such a proposition.

[...]

Social justice is not Christian. It does not reflect a Christian understanding of justice. It does not fit the Christology of Jesus. It's a distorted attempt to create a "perfect" world, according to a vision of perfection that's cast in the image of man, and is quite aside from what God understands as perfection.

Sometimes even people within the Church persist in believing there are valid "truths" other than those Jesus shows us. When that happens, those "Christians" are in danger of losing their identity as human beings. They are in danger of losing their moral compass. They are in danger of losing their souls.
Orsi spent his April 28 column buying into right-wing "new world order" and "great reset" conspiracy theories:
For some time now, we've been hearing about a so-called new world order. This concept has been referred to by several names. The terminology currently favored is the Great Reset. But by whatever label, it's a way of living designed and controlled by human beings, in which God has little or no part.

Indeed, God's true world order is disparaged and rejected, because it's detrimental to the vision of the new world order based on human will.

The new world order claims a great vision for a just and equitable future, but in reality its focus is always on the now. Its dream is to make humanity conform to an image conjured up by an elite leadership. So its ongoing challenge is controlling human behavior in the present.

God, on the other hand, offers us eternity. And in the true world order, he's in charge. This imposes a cap on human efforts to exercise control.

[...]

Throw in population control initiatives, of which promotion of abortion is the most visible component. Add open borders, by which cultural identity and civic peace are weakened and people lose control of their own communities.

And don't forget about our current celebration of gender fluidity and the whole LGBT menu of sexual adventurism, an assault on marriage and family life that's unprecedented in our history.

All of this shows how intent are the advocates of the new world order on destroying God's true world order.

The essence of Christ's resurrection is freedom — the ultimate expression of which is eternal life. As Christians we are called to hold up the truth of that great event memorialized in the Octave of Easter. We're called to defend God's true world order.
Is it a good thing that ministers are so immersed in right-wing conspiracy theories? It seems not.
Posted by Terry K. at 6:35 PM EDT