MRC Making A Space As PR Agent For DeSantis' Upcoming Presidential Bid
Topic: Media Research Center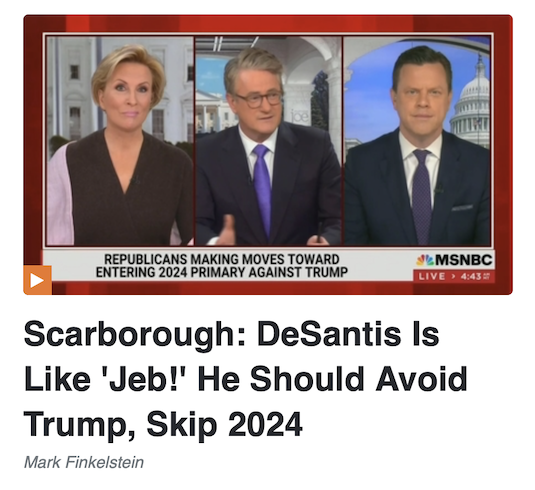 After serving as a press agent for Ron DeSantis' re-election campaign for Florida governor, the Media Research Center has moved on to serving as the press agent for DeSantis' presumed 2024 presidential campaign as part of the rapid-response team to lash out at any perceived criticism. That started on New Year's Day with a post by Kevin tober complaining that "newly elected radical leftist Congressman-elect Maxwell Frost" (a descriptor Tober didn't substantiate) noting how he crashed a DeSantis event, which Tober described as him "accosting" DeSantis with [checks notes] questions:
Frost claimed he "didn't stand up and yell and curse" at DeSantis. "I just stood up and said, Governor, what's your plan to end gun violence? We're dying."

"So we came to him more with a plea and what I got in return, was nobody wants to hear from you. Getting dragged out by security. Having popcorn thrown at me and people yelling curse words and racial slurs," Frost added to make himself seem like a victim despite willingly going to a private event where he wasn't welcome in order to further his radical gun-grabbing agenda.

Instead of challenging Frost and scolding him for his divisive and uncivilized behavior like he would if a Republican candidate for Congress behaved in this manner, [ABC interviewer Jonathan] Karl seemed to approve:
The next day, Tober complained that DeSantis' culture-war obsession was called out, again by Frost:
During the first show of the new year, MSNBC's The ReidOut host Joy Reid brought on radical leftist Congressman-elect Maxwell Frost to let him smear Florida Republican governor Ron DeSantis for daring to protect children from degenerate drag shows. During his rant, he went on to make the outrageously false claim that DeSantis "is more concerned with children going to drag shows than he is with children getting shot in their classrooms." Reid's only response to that smear was to smirk, make goofy faces, and nod along as he spewed more bile.

After appeasing Frost's entitled whining that he's somehow too poor to afford an apartment despite being less than 24 hours away from starting his $174,000-a-year job, Reid asked him about DeSantis cracking down on delinquent parents who bring their children to sexually explicit drag shows.

"He is now using the resources of the state when he could be fixing the insurance crisis in that state, and the affordability crisis in that state, he's investigating a holiday drag show in my former county," Reid cried.

Reid added that DeSantis is "threatening the people who take children to a drag show with them can have the kids -- have intervention from child protective services." She never explained why child protective services shouldn't be called on parents who bring their children to drag shows.
Again, Tober didn't explain what makesFrost a "radical leftist" -- unless he thinks that anyone who criticizes DeSantis is one.
Alex Christy joined the defense brigade in a Jan. 5 post:
If MSNBC Morning Joe co-host Joe Scarborough's new year's resolution was to avoid the death of irony, he has already failed. On Thursday's show, Scarborough took aim at Florida Gov. Ron DeSantis's inaugural address and wondered what kind of idiot believes him because such talk is what causes Republicans to lose elections. Again, this was in response to an inaugural address after DeSantis won by nearly 20 points.

[...]

Scarborough was not deterred by the chyron that read in part, "Gov. Ron DeSantis sworn into second term." Instead, he brought back the bad impression and alleged, "They're talking to each other. And for most Americans when Ron DeSantis says 'when the rest of the country consigned freedom to the dustbin of history blah, blah, blah,' they're like, what's he talking about? Is he talking about North Korea? Is he talking about Putin's Russia? Is he talking about Belarus? Oh, no, he's talking about California and Texas and Georgia and Kentucky."

He was clearly referring to COVID lockdowns and other restrictions. When MSNBC and Democrats (but who can tell the difference?) talk about the loss of freedom, are they talking about North Korea, Russia, or Belarus? No, they're talking about pro-life states, sometimes arguing they make North Korea look good by comparison.
Clay Waters spent a Jan. 15 post complaining that the New York Times pointed out his petulant refusal to talk to a media outlet that won't fawn over him:
New York Times media reporter Michael Grynbaum pouted about Florida's governor and potential Republican presidential candidate thumbing his nose at the "national nonpartisan" (!) media, in "Can Ron DeSantis Avoid Meeting the Press?" on Wednesday. None of these people have the faintest idea that skipping a beating from the national press endears you to GOP voters.

Grynbaum sympathized with a poor young ABC News reporter who couldn't get a DeSantis interview, and actually forwarded praise of Trump to make DeSantis (the new threat to Democrats and their press allies) look bad:

[...]

New York Times, please define "national nonpartisan news organization." They can't be talking about themselves, since they have published the notion that he's an "optical illusion."

Surely they don't mean CNN and MSNBC, which are partisan in favor of liberal Democrats. Grynbaum found it ominous that DeSantis wasn't giving the liberal press a target for their typical abuse of any Republican threatening to run for president.
Waters even defended a member of DeSantis' comm staff after making a statement suggesting she wanted violence against journalists:
He misled in his attack on former DeSantis press secretary Christina Pushaw, who sparred very effectively with the press on social media, by pretending that a piece of urban slang Pushaw slung online was somehow dangerous. ... "Drag them" is in fact a slang term.
Mark Finkelstein got mad that MSNBC's Joe Scarborough mocked DeSantis' presidential ambitions in a Jan. 20 post:
Are we in 2023? Or are we back in 2015? Because Joe Scarborough is back to touting Donald Trump as a juggernaut, as the heavyweight boxing champ of Republicans. This is the same pundit who couldn't stop calling Trump a "fascist" not too long ago.

On today's Morning Joe, Joe Scarborough suggested that DeSantis and his appeal is akin to Jeb Bush in 2015: someone loved by the big-business donor class, but who can't stand up to Trump. Scarborough predicted that DeSantis will decide not to run in '24 and skip the Trump "meat grinder," and instead finish his gubernatorial term with sky-high approval ratings, then start preparing a run in 2026 when he doesn't have to worry about facing Trump.

[...]

People would line up to bet Joe that DeSantis will run for the 2024 nomination. The reasons are obvious: this is DeSantis's moment. He's just coming off a tremendous re-election victory. He's got a ton of money in the campaign bank, with donors lining up to give more. He's established himself as the unquestionable leader in pushing back against the woke establishment. It looks like strike-while-the-iron-is-hot time for Ron DeSantis.
Finkelstein then appeared on Tim Graham's podcast later that day to repeat his criticism.
While the MRC hasn't given up on fluffing and defending Trump, it's definitely making sure it has a space on the DeSantis bandwagon as well.
Posted by Terry K. at 9:33 PM EST